Unboxing – Dust Studio FALLSCHIRM RSO x 3
FALLSCHIRM RSO FLAK3 / LASERKANONE / PAK40
Unassembled Kit K-AX718
[ezcol_1half]To już kolejny unboxing. Poprzednio był Stummel i zestaw Steel Walls. Tym razem chciałbym pokazać Tobie, co znajdziesz w pudełku o numerze K-AX718. A jest to zestaw FALLSCHIRM RSO. Dust Studio przygotowało wersję do składania, która jest bogatsza o kilka drobiazgów w porównaniu do zestawów PRIMED. W pudełku znajdziesz siedem woreczków części, trzy karty jednostek, instrukcję oraz dodatkowo kalkomanię. Poniżej fotki, tego co znajdziesz w pudełku. [/ezcol_1half]
[ezcol_1half_end]Today I would like to present you another unboxing. In previous unboxings were Stummel and Steel Walls. This time Dust Studio box number K-AX718. It's FALLSCHIRM RSO set. Dust Studio prepared unassembled version, which includes little more than Primed version. Seven bags of parts, three gaming cards, manual and extra decals are in the box. All content is presented on the photos below.[/ezcol_1half_end]
[ezcol_1half]Na początek załoga i małe zaskoczenia. W dwóch pierwszych woreczkach dostajemy 9 postaci, które pozwalają na dowolną konfigurację załogi i jeszcze zostają wolni spadochroniarze. Ja nadwyżkę wykorzystam do innych pojazdów, jako pilotów. Natomiast w moim pudełku nie znalazłem osobistego uzbrojenia wojaków, trzeba coś pokombinować. [/ezcol_1half]
[ezcol_1half_end]The crew and small surprise. In two bags are hard-plastic elements of the crew. You can build 9 soldiers. So many paratroopers give you opportunity for almost any crew configuration. Moreover free guys can be used in other models. On the another hand I didn't find any personal weapon of these paratroopers. I will look for alternative or use Dust Studio set of axis weapon. [/ezcol_1half_end]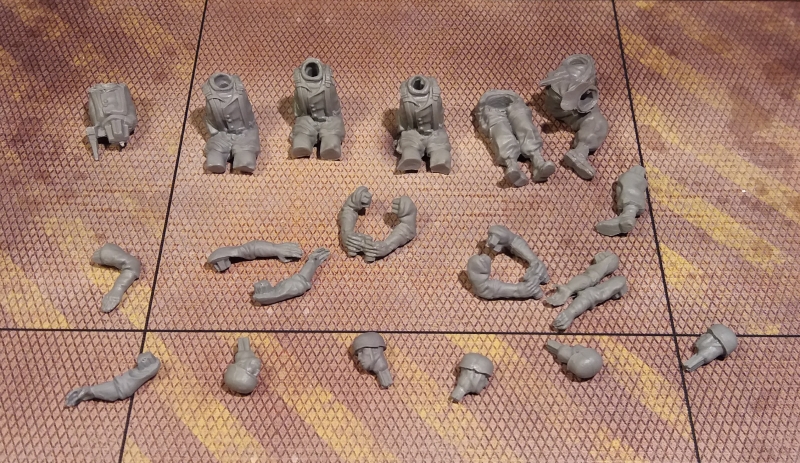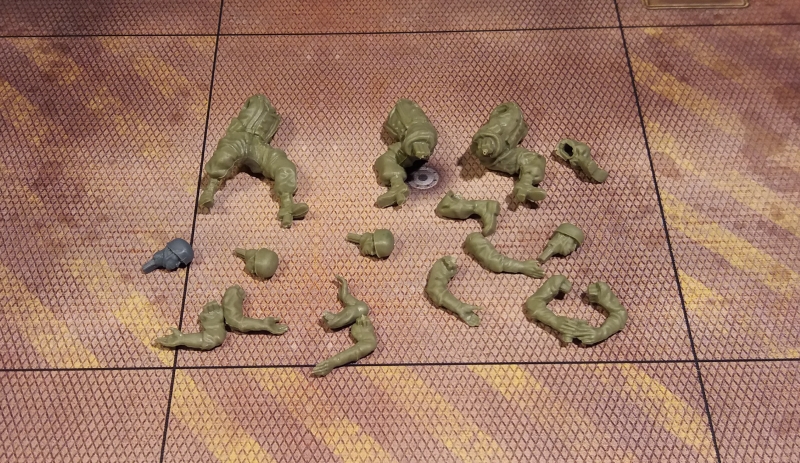 [ezcol_1half]Jeden Kadłub. W trzech następnych woreczkach są cześci, z których składa się kadłub. Polecam przyjrzeć się jakości wykonania. Zestaw pozwala na montaż wersji z zamkniętą lub otwartą kabiną kierowcy. Dla bardziej doświadczonych modelarzy pojawia się szansa na budowę otwartej komory silnika.[/ezcol_1half]
[ezcol_1half_end]One Body. All chassis is packed in three bags. Quality is very comparable to classic plastic models (Tamiya, Italeri). It's easy to see on photos with details. That's much more attractive for modelers, even if you don't play Dust1947. Set provides opportunity to build open or close cab. More advanced modelers can try to build open engine chamber. [/ezcol_1half_end]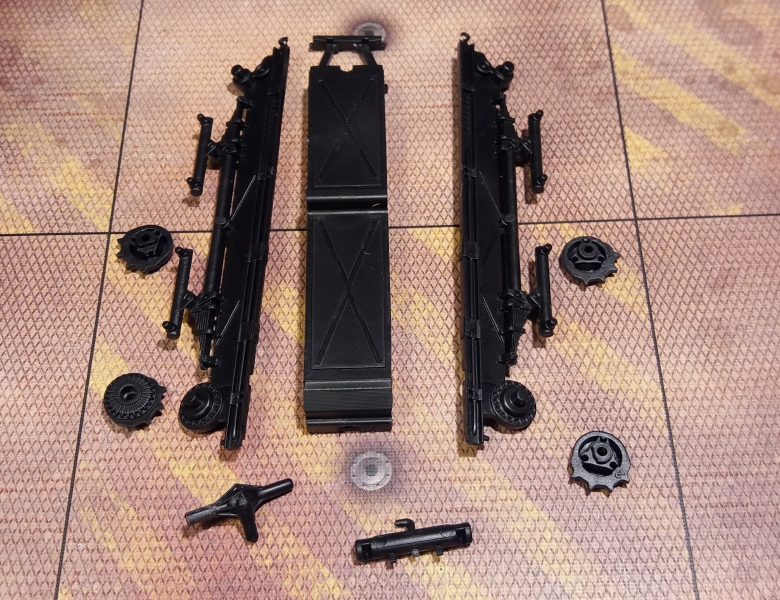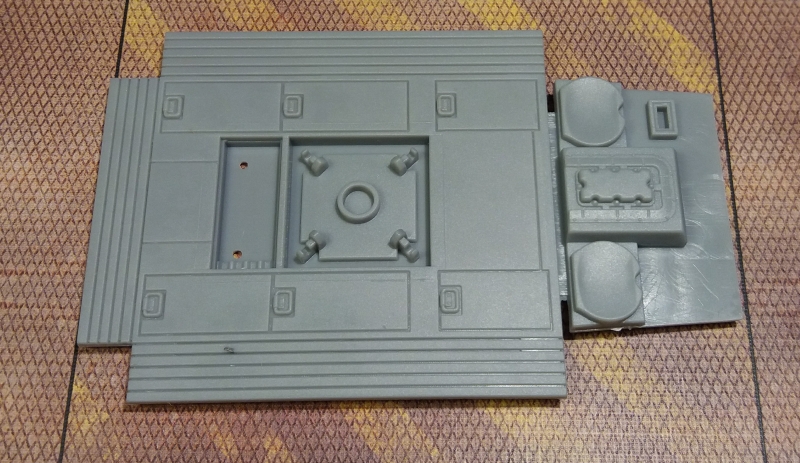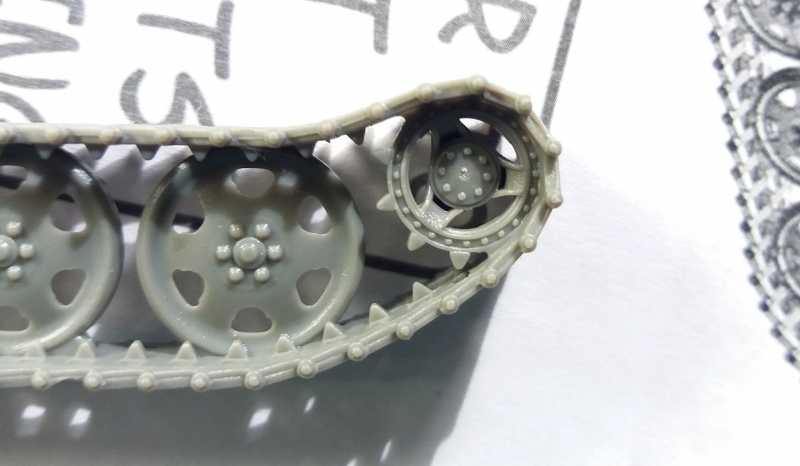 [ezcol_1half]Trzy wersje uzbrojenia. W ostatnich woreczkach są sześciolufowa armatach przeciwlotnicza, działo przeciwpancerne PAK 40 i moje ulubione działo LASEKANONE :). Próbowałem montować na sucho i bez specjalnej obróbki części pasują. [/ezcol_1half]
[ezcol_1half_end]Three weapons in one box. Unassembled version of RSO includes all optional weapons; six-gun anti-airplanes artillery, anti-tank PAK 40 and lovely LASERKANONE. Pre-assembling, even without basic grinding, is very easy. All parts fit together, of course they need grinding but still quality is very good. [/ezcol_1half_end]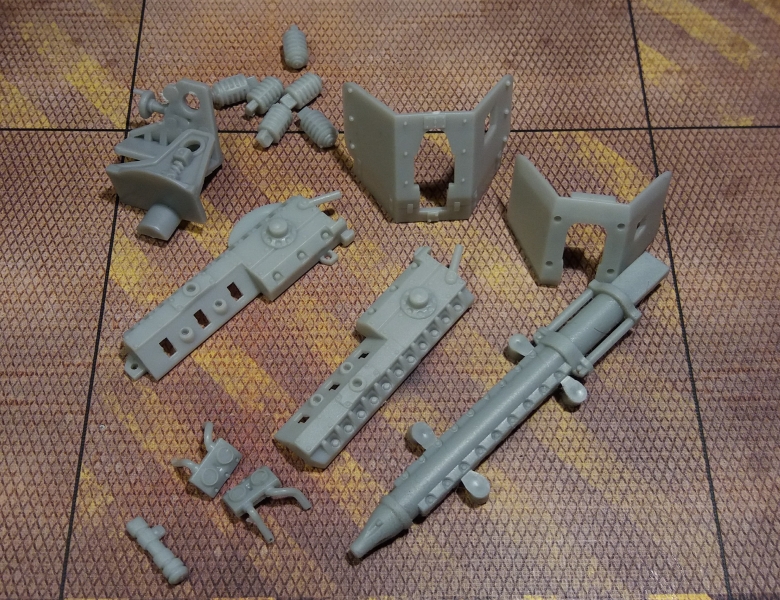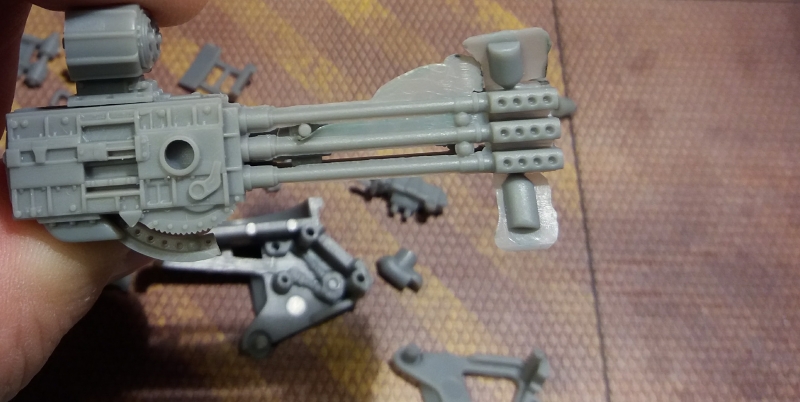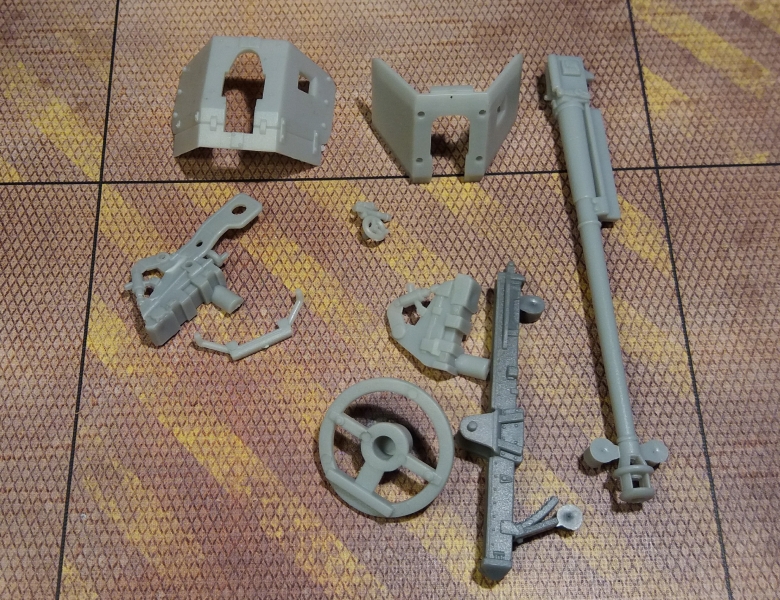 [ezcol_1half]Podsumowanie. Zestaw daje to co lubię, czyli trzy wersje modelu w cenie jednego. Zabawa dla modelarzy i super alternatywa graczy, którzy chcą mieć dowolność wyboru, ale nie przewidują używania kilku traktorów jednocześnie. Fotografie wszystkich rozpakowany cześci poniżej w galerii. [/ezcol_1half]
[ezcol_1half_end]Summary. This is another set which I look for amost every day ;). It gives me all what I need; three versions, ability to make and/or modify model, additional bonus which is decal. I'm sure, this set will give lot's of fun during building and on the table during epic Dust1947 games. All parts photos are below. [/ezcol_1half_end]
[ezcol_1half] Zestaw można kupić bezpośrednio na stronie Dust1947.com (tutaj na jedno kliknięcie). Pewnie u Marka (Warfactory.pl) dałoby się zamówić Unassembled RSO również.

Już niedługo kolejny unboxing. Powiem tylko, że tym razem będzie to bohater piekielnie mocny.
Dziękuję i proszę o Wasze opinie i komentarze.[/ezcol_1half]
[ezcol_1half_end]This set is available on Dust1947.com website (just clik here 🙂 ). I'm pretty sure, local dealer (e.g. Warfactory.pl in Poland) can order this set for you also.

Next unboxing should come very soon. Today I can tell you only, it will be very tough Hero.
Thank you, I would be grateful for your opinion or comment. [/ezcol_1half_end]
I'd like to thank Dust Studio for model delivery.
Zapisz
Zapisz
Zapisz
Zapisz
Zapisz
Zapisz
Zapisz
Zapisz
Zapisz
Zapisz
Zapisz
Zapisz
Zapisz
Zapisz
Zapisz
Zapisz
Zapisz
Zapisz