How easily transport army with A-CASE / Jak łatwo transportować armię z A-CASE
[ezcol_1half]
I had other project, but I'm back…
Some may say, my blog is dead. To be honest I was involved in totally different project called Nighthawk 450 in September.
Now it's time to show you something which is related to models and which is amazing to be honest. That's the most capacious transportation box or rather container for our small armies. In fact I test two versions of this container.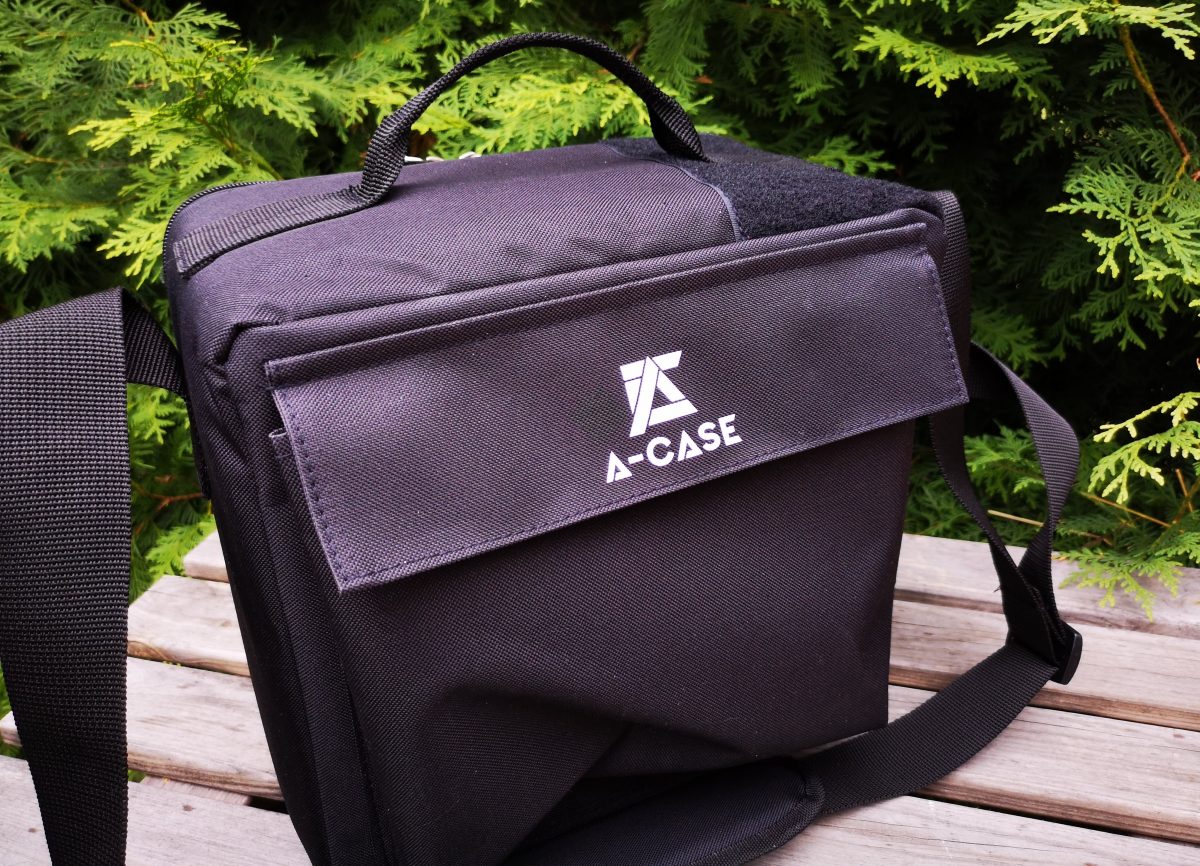 [/ezcol_1half] [ezcol_1half_end]
Miałem inny projekt, ale już jestem…
Niektórzy mogli pomyśleć, że blog już nie działa. Szczerze mówiąc we wrześniu byłem zajęty innym wyzwaniem, którym był Nighthawk 450.
Nadszedł czas, aby pokazać ci coś, co jest związane z modelami i co jest naprawdę niezłe. To super pojemna skrzynka transportowa lub raczej kontenerek dla naszych małych armii. A w zasadzie dwie wersje skrzynki firmy A-Case.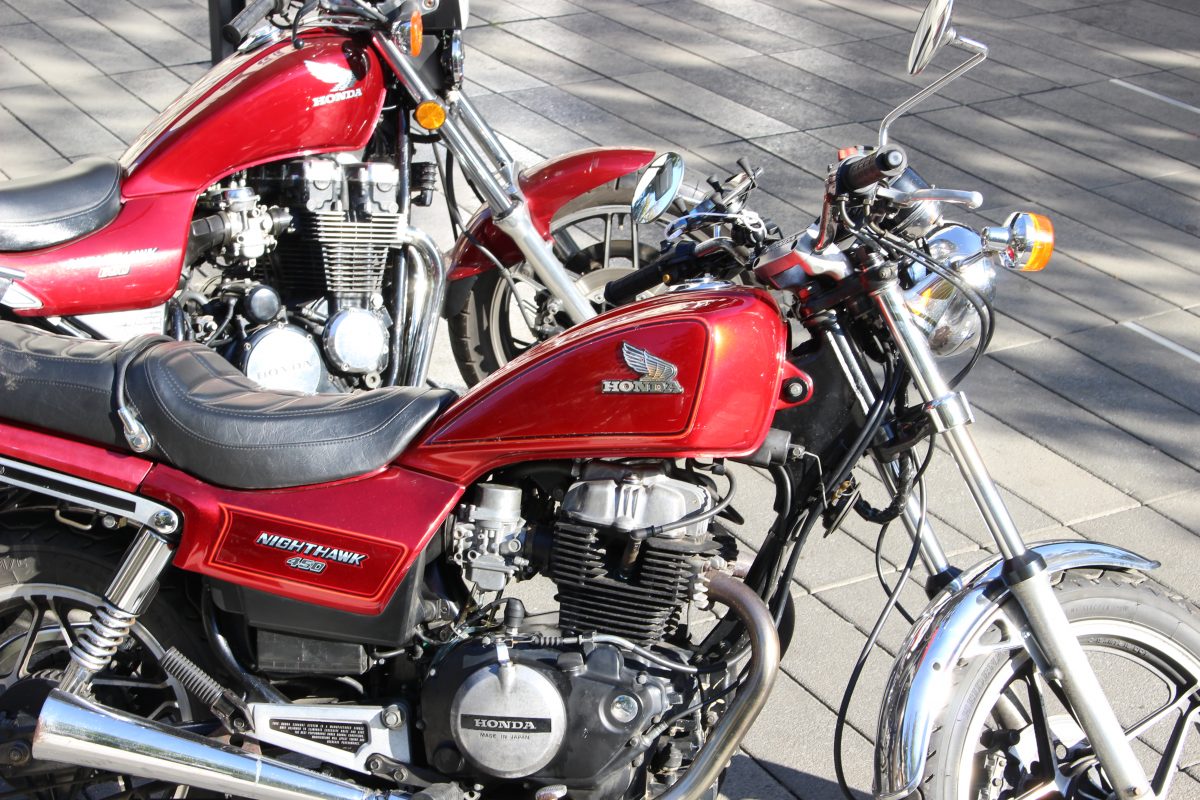 [/ezcol_1half_end]
A-Case Victory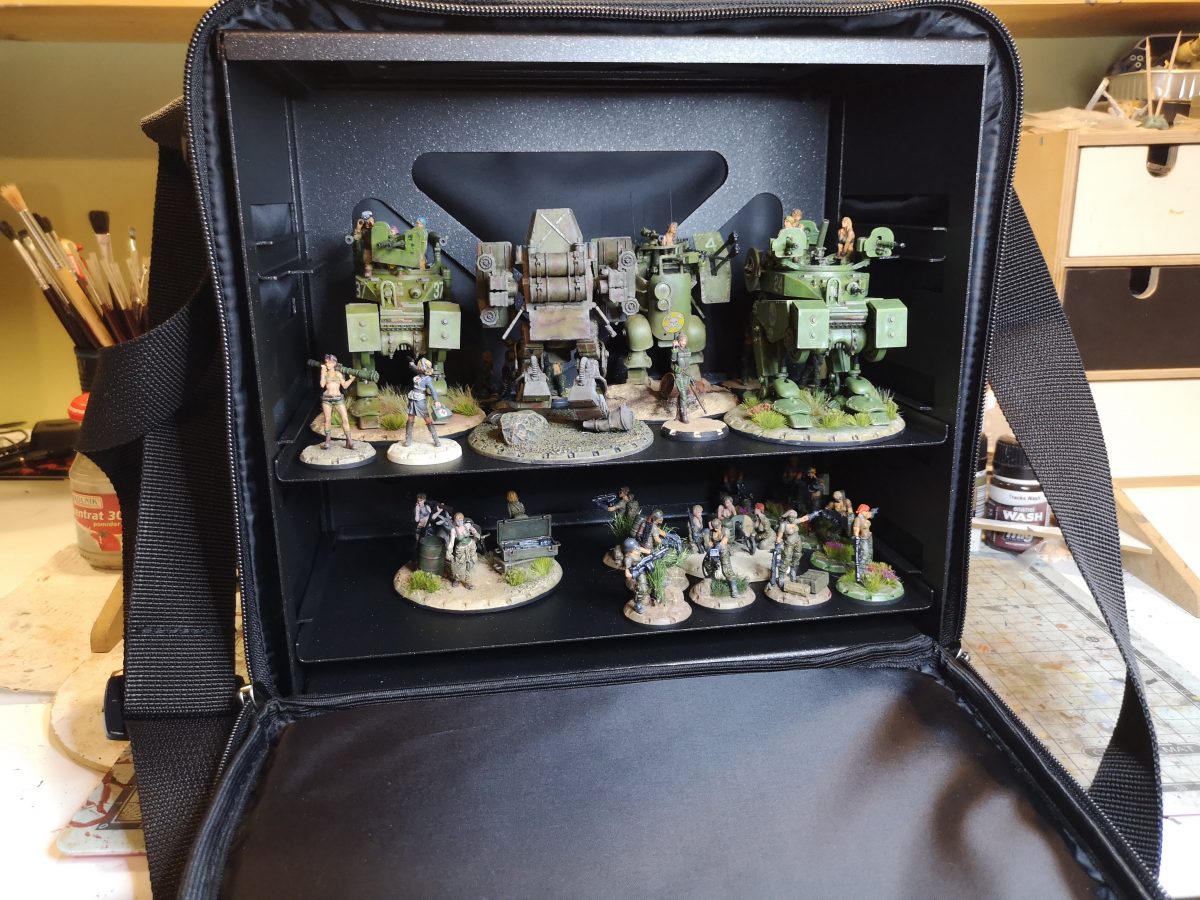 [ezcol_1half]
First one (A-Case Victory) looks like premium quality case cause it's made with solid ready to use metal plates. Case have 3 trays but you don't need to use all three. As you see on picture I used two to transport my Mercenaries.
I would say, it's product for players who don't want to spend any extra time to assembly the box. Easy to build, the highest quality, painted in black color and very durable. If you look for one case for around 100 points army it's what you should consider. A-Case Victory is definitely worth the price around 110 euro.
[/ezcol_1half] [ezcol_1half_end]
Pierwsza opcja to A-Case Victory. Wykonana jest bezbłędnie, każdy element jest wytłoczony z grubej blachy. Zestaw posiada trzy półki transportowe i stałe miejsca ich montażu, coś nie trzeba wszystkich trzech używać na raz. Jak widać na zdjęciu użyłem dwóch półek do przenoszenia armii Najemniczek.
Powiedziałbym, że to produkt dla graczy, którzy nie chcą poświęcać dodatkowego czasu na montaż pudełka. Victory jest banalnie łatwy w montażu, to produkt najwyższej jakości, pomalowana na czarny kolor i bardzo wytrzymały. Jeśli masz małą stosunkowo armię (ok. 100 punktów) , to jedno takie pudełko wystarczy do jej transportu. A-Case Victory nie jest super tani, jego cena to około 500 zł, ale jest zdecydowanie warty swojej ceny.
[/ezcol_1half_end]
A-Case+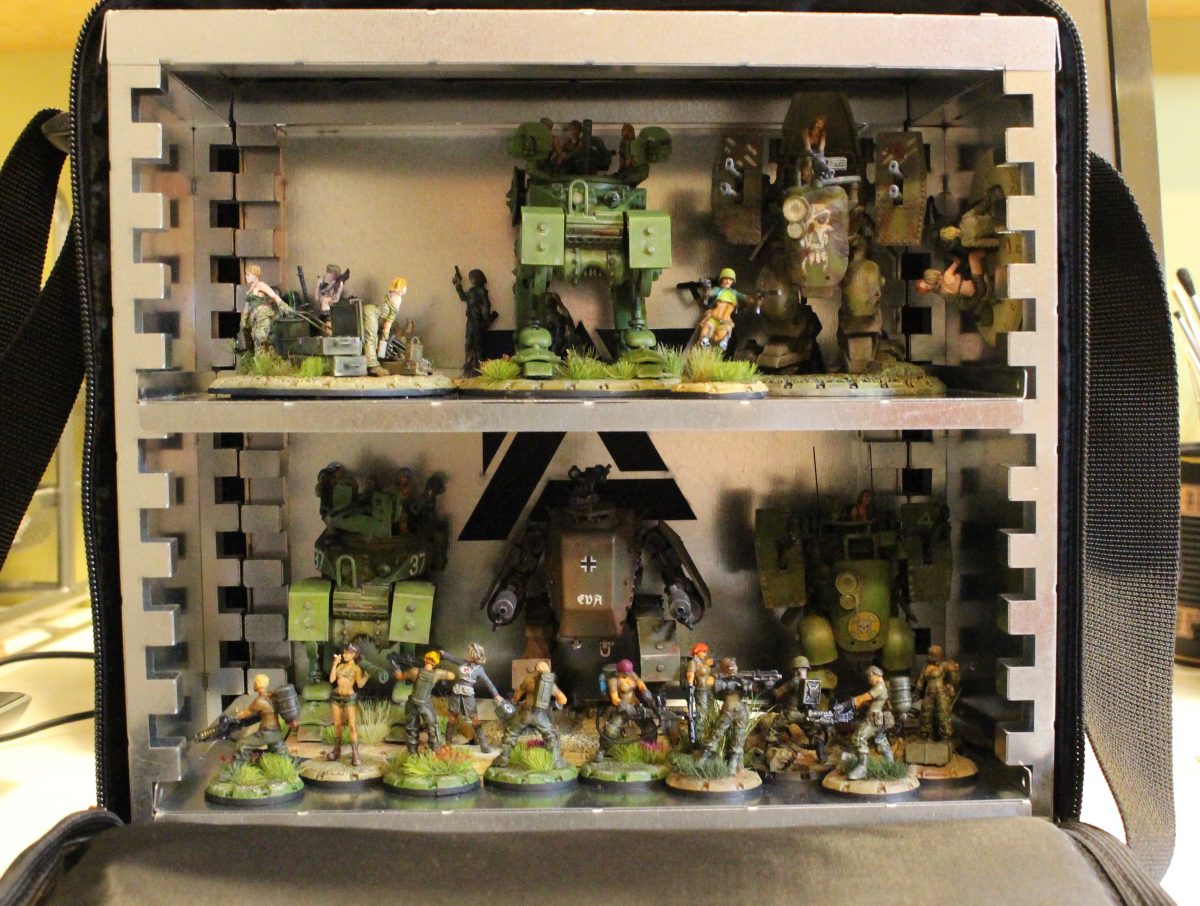 [ezcol_1half]
A-Case + represent different approach although effect is this same. Safe and comfortable transport of your army, which is easy to use as soon as you assemble the case. A-Case + has up to four shelves and full adjustment of shelves position.
To assemble the box you must first fold all components. They are packed as laser-cut metal plates which need to be folded into appropriate shapes. A-Case delivers also manual which guide you how to prepare each wall or shelf of A-Case. Whole job took me less than 2 hours and A-Case + case was ready.
What's crucial A-Case + costs half price of A-Case Victory, it's around 60 euro. Assembly process is enclosed on my pictures.
[/ezcol_1half] [ezcol_1half_end]
A-Case+ reprezentują inne podejście, chociaż efekt jest taki sam. Też zapewnia bezpieczny i wygodny transport naszych żołnierzyków i sprawdzi się jak tylko go złożysz sobie. A-Case + różni się jeszcze tym, że ma cztery półki na modele i pełną regulację ich pozycji w skrzynce.
Montaż zacząłem od złożenia wszystkich elementów, które otrzymałem w bardzo zgrabnej paczce. Znalazłem tam laserowo wycięte i odpowiednio wytrawione metalowe arkusze elementów pudełka, które należy złożyć w odpowiednie formy podzespołów. W przesyłce A-Case dostarcza również instrukcję, która pomaga na każdym kroku i podpowiada jak przygotować każdą ścianę lub półkę. Montaż zajął mi mniej niż 2 godziny i A-Case+ był gotowy do testów.
Co ważne A-Case+ kosztuje 270 zł, niewiele ponad połowę ceny A-Case Victory. Na zdjęciach starałem się uchwycić kolejne etapy składania.
[/ezcol_1half_end]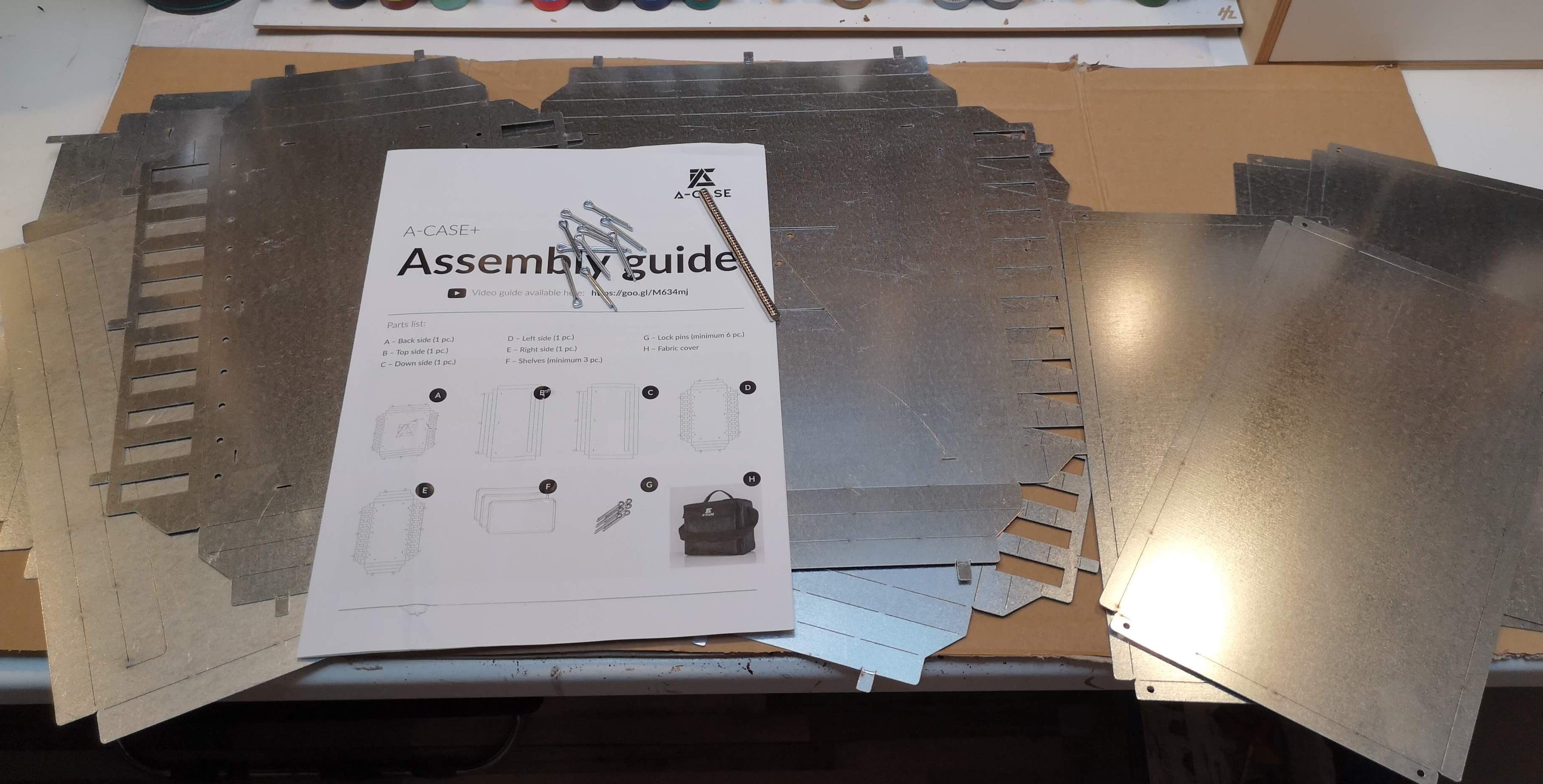 [ezcol_1half]
Instead of conclusions…
It is worth mentioning the covers. A-Case prepared several color options so every gamer will find style which would be the appropriate for him or her. A-Case Victory and A-Case + have these same dimensions thus covers are changeable.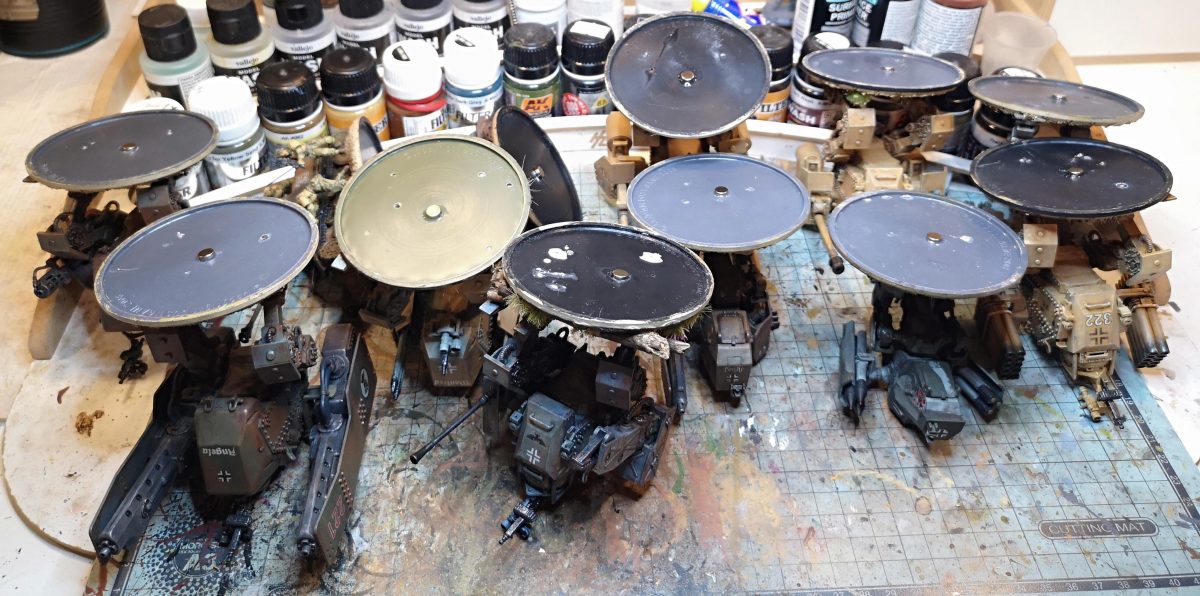 Of course there is one extra job to do. I had to magnetize each model and now it's not possible to move themselves when they are in the box. To be honest these cases seem to be one of the best to move our fragile models from one place to another.
It's main solution how I transport models since I have A-Case products and recommend you A-Case boxes 🙂 .
[/ezcol_1half] [ezcol_1half_end]
Zamiast podsumowania…
Warto wspomnieć o pokrowcach. A-Case przygotowało kilka opcji kolorystycznych, więc każdy gracz znajdzie styl, który będzie odpowiedni dla niego. A-Case Victory i A-Case + mają te same wymiary, dlatego pokrowce są wymienne.
Oczywiście, aby wszystko dobrze śmigało, jest jeszcze jedna sprawa do załatwienia. Trzeba powklejać magnesy w podstawki modeli. Tak przygotowane figurki same się nie poruszą, gdy będą transportowane w A-Case. Szczerze mówiąc, te pudełka transportowe wydają się być jednym z najlepszych i świetnie się sprawdzają przy przenoszeniu naszych kruchych modeli z jednego pola bitwy na inne.
Teraz to mój główny sposobów transportu modeli, odkąd mam do dyspozycji dwa takie zestawy i zdecydowanie polecam A-Case'y.
[/ezcol_1half_end]