FKB 50 "MONSTER"- Gregor the Defector
MONSTER EDITION by PEPE 🙂
[ezcol_1half]
The 50th Miniatures Blogs Carnival is led by Pepe from Fantasy in Miniatures blog. MONSTER is the light motive of this edition.

But before I will present my commitment, here you may find everything about past editions of this initiative.
[/ezcol_1half] [ezcol_1half_end]
50 Figurkowy Karnawał Blogowy jest w rękach Pepe z blogu Fantasy w Miniaturze. , a tematem tej edycji jest MONSTER.
Nim jednak przedstawię wam Grzesia to polecam link do wszystkich dotychczasowych edycji FKB.
[/ezcol_1half_end]
[ezcol_1half]
Gregor the Defector
[/ezcol_1half][ezcol_1half_end]
Grzesio Uciekinier
[/ezcol_1half_end]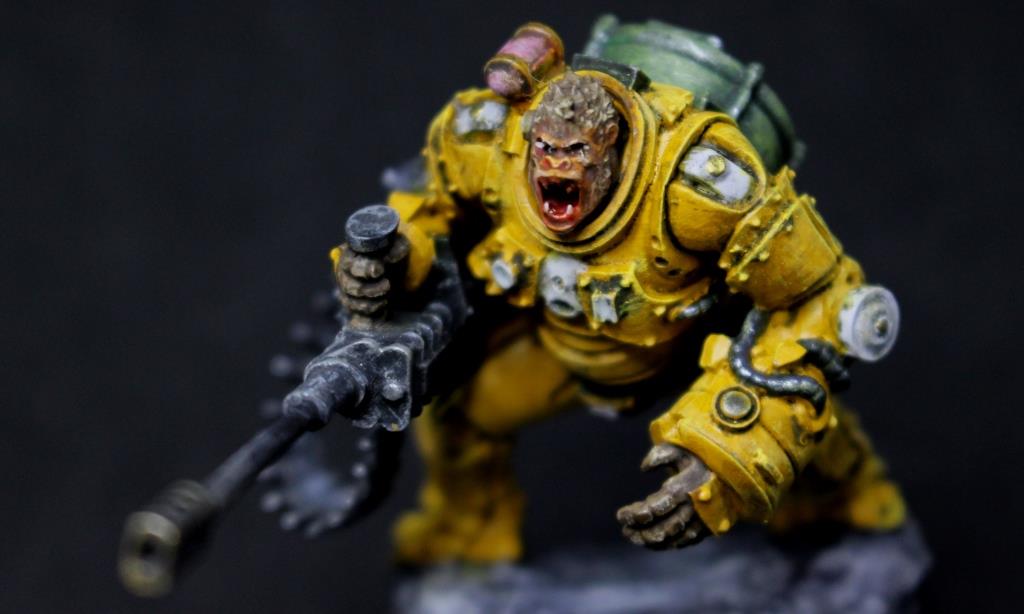 [ezcol_1half]
Today I'd like to present my first Dust1947 Gorilla Hero. He is the experiment 9, the defector who escaped from Blutkreuz Korp. Currently he is soldier for hire who is ready to fight for every fraction for worthy payment.
Gregor is the EXPERT of his Autocannon, moreover he can make SALVO. That's real MONSTER who is hard to kill due to his DAMAGE RESILIENT ability.
At the end I need to mention that Dust Studio provided this HERO with two cards, one for Mercenaries Block and second for Blutkreuz Korp, thus Gregor is playable as AXIS or Mercenaries Hero. More photos and cards with abilities are below.
[/ezcol_1half]
[ezcol_1half_end]
Dzisiaj przedstawiam Wam mojego pierwszego Goryla do Dust'a. To jest eksperyment nr 9, ociekinier z Korpusu Blutkreuz. Teraz jest typowym zabijakom do wynajęcia za godziwą sumę. Służyć może w każdej frakcji.
Grzegorz to EXPERT w użyciu swojego Auto-Cannon'a, co więcej jak trzeba to może przywalić SALWĄ. To prawdziwy MONSTER, którego trudno ubić ponieważ posiada zdolność DAMAGE RESILIENT.
Na koniec warto wspomnieć, że bohatera tego dostajemy w zestawie z dwie kartami. Może grać jako Najemniczy wojownik albo w ramach bloku AXIS jako członek Blutkreuz Korps. Poniżej trochę jego fotek, bo jest pięknisiem 😉 i jeszcze karty z jego statystykami [/ezcol_1half_end]
[ezcol_1half]
That's all today. Next articles will be about Desert Scorpions, Allies reinforcements. [/ezcol_1half]
[ezcol_1half_end]
To wszystko na dziś moi drodzy. W najbliższych wpisach pojawią się posiłki dla Aliantów z Desert Scorpions.[/ezcol_1half_end]