MEATGRINDER/PULVERIZER unboxing / Najemnicza Rozpakowaczka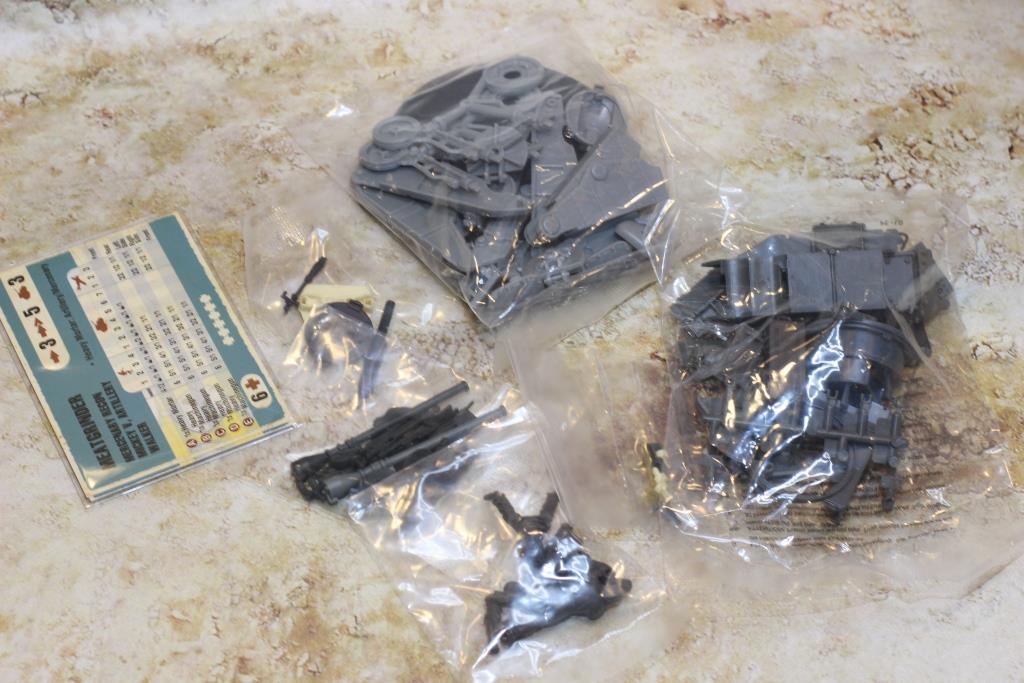 Show me girls/Gdzie są dziewczynki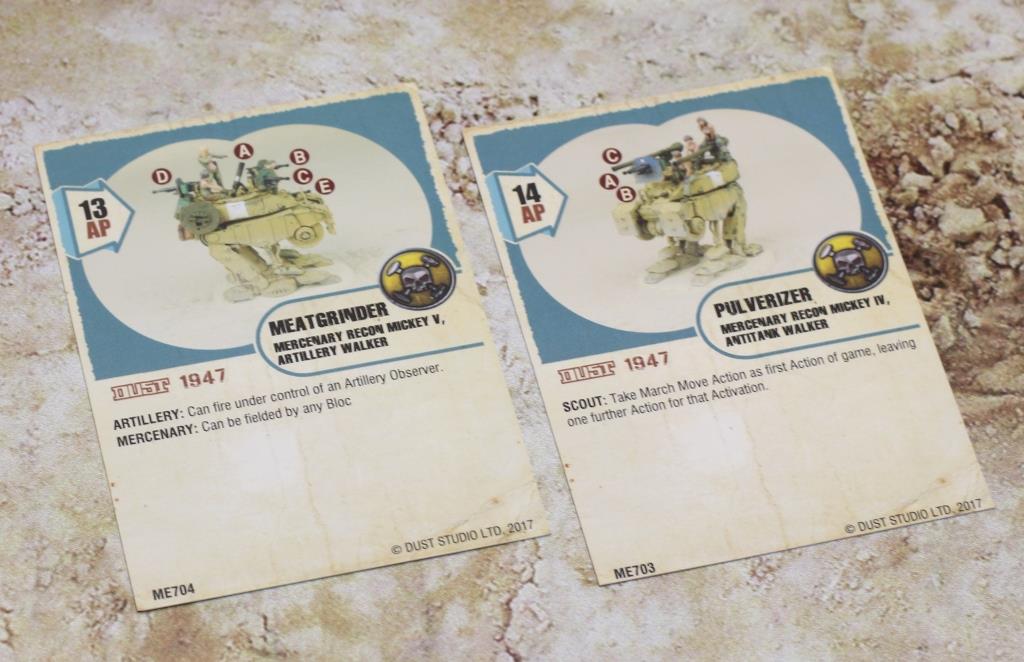 Today I 'd like to show you what is available in unassembled set. Frist of all, new box which is similar to boxes of other new models. All parts are packed in few bags. Each of these 6 bags has parts dedicated to specific part of walker. For example there is one with all weapons, one with mortar, one with legs, etc..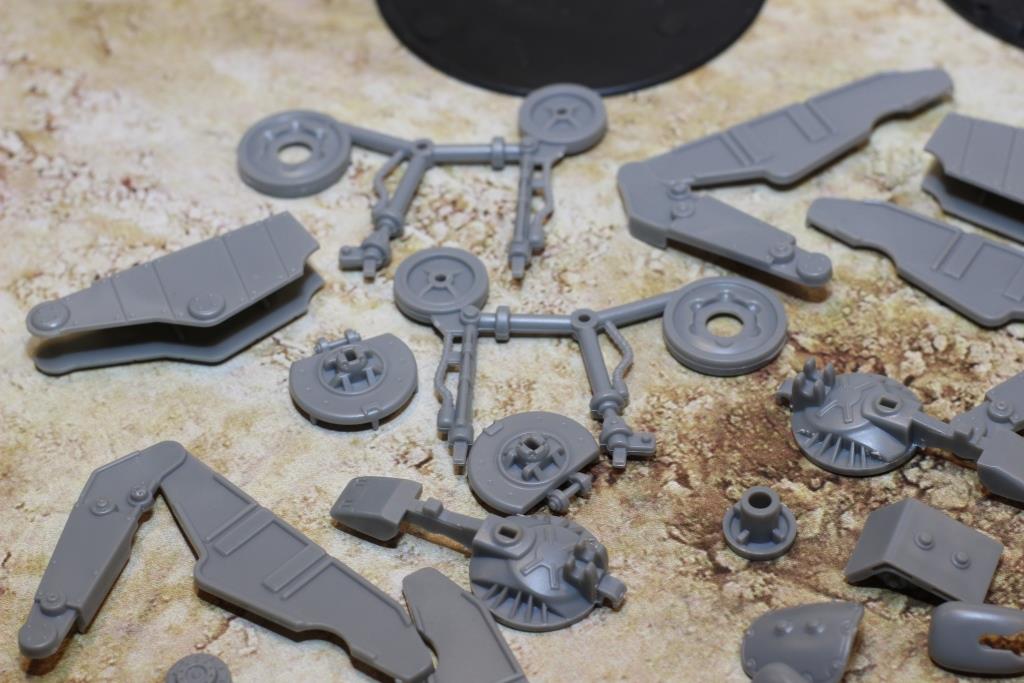 Such a way it's much easier to assembly walker and don't miss any part. Concerning quality of new models, Dust Studio has accustomed us to much better quality than previous edition. This time there is no difference.
Set is delivered with two cards, four girls and weapons for both version. Manual is available on-line, also on my blog.
Dzisiaj parę słów co znajdziesz w zestawie. Pierwsze, co rzuca się w oczy to nowe pudełko, który pojawiło się wcześniej przy wersjach zmontowanych. Części są w oddzielnych workach bardzo dobrze zabezpieczone. W sumie to 6 woreczków podzielonych, wg podzespołów pojazdu. I tak jest worek z uzbrojeniem, woreczek z nogami pojazdu, woreczek z moździerzem itd., itd.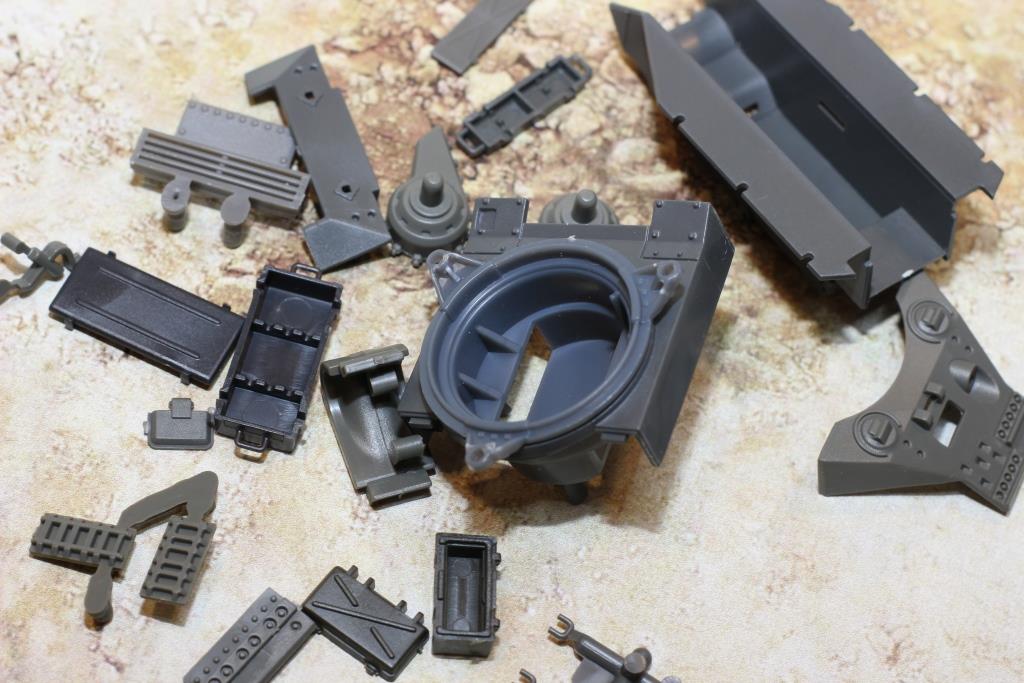 W ten sposób stosunkowo łatwo zmontować pojazd nie gubiąc przy okazji części, bo nie musisz wszystkiego otwierać na raz. Co do jakości, to Dust Studio przyzwyczaja powoli do coraz większej liczby detali i jakości wykonania. I tym razem jest dobrze.
Zestaw pozwala na montaż dwóch wersji, w pudełku znajdziecie obie karty, cztery dziewczynki oraz wszystkie niezbędne bronie. Manual jest dostępny elektronicznie, również na moim blogu.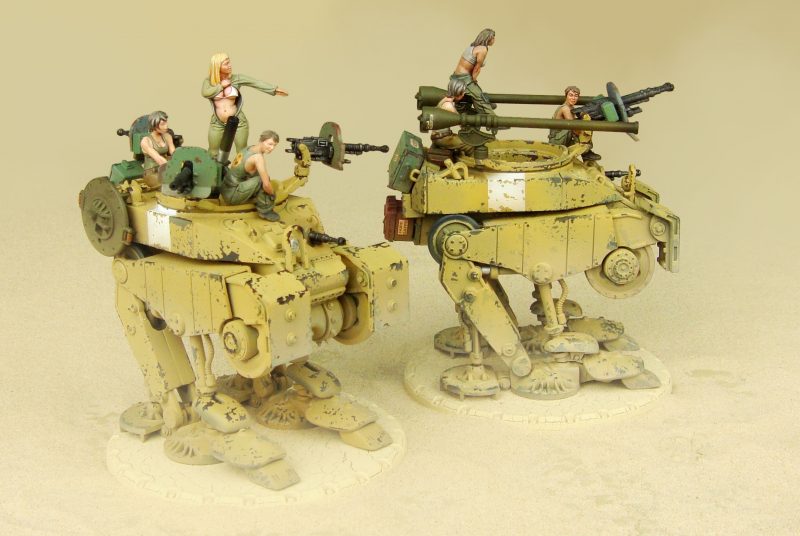 Mercenaries Walker MEATGRINDER/PULVERIZER manual
Two things/Dwie sprawy
First, girls are with plastic. Awesome !!! I like a lot, that they are made with this same material like Desert Scorpions trucks crew. Figures are much easier to work on any modification. Although still quality and level of details is comparable (or even little better) to resin version. Only part of mortar is resin.
Second is lack of special bonus within this box. To be honest, usually we expect some small incentive in unassembled version. Dust Studio used to do it in previous model, but on the other hand model it's self is a great bonus for Mercenaries Fans. Moreover, as far as I remember there wasn't any extra bonus in Desert Scorpions Trucks also.
Dziewczynki są z tworzywa innego niż żywica. SUPER !!! Wyglądają, jak wykonane z materiału takiego, jak załoga pojazdów Desert Scorpions. Są znacznie łatwiejsze w obróbce. Niemniej jednak utrzymują również wysoką liczbę detali, tak jak żywiczne modele. W zestawie, tylko jeden element moździerza jest z żywicy.
Druga sprawa to brak specjalnego bonusu, do którego przyzwyczaiło nas Dust Studio przy pierwszych modelach do składania. Z drugiej stron sam ten model jest super dodatkiem do frakcji Najemniczek. Zresztą, z tego co pamiętam, zestaw Desert Scorpions nie miał również ekstra bonusów (może z wyjątkiem główek).

Conclusions/Podsumowanie
This time it's easy. I'm great promotor of unassembled versions. Dust Studio each time improve models and here you are new box but also much better girls. What is crucial, they have different posture vs. girls with previous sets. Fluff, quality and girls are amazing. Dust1947 Fan has to consider this new model.
To jest całkiem proste. Uważam wersje do składanie, jako super opcję dla Dust'era, który jest jeszcze modelarzem. Co więcej jakość tych modeli się podnosi za każdym razem. Dziewczynki nie są już takie kruche i to są nowe odlewy, których do tej pory nie było. Klimacik, Jakość i Dziewczynki robią swoje. Każdy fan Dust1947 powinien sięgnąć to ten zestaw.