Ukraiński Specnaz batalionu "Wolna Ukraina" / "Free Ukraine" Specnaz Unit
[ezcol_1half]
Przedstawiam pierwszą pomalowaną piechotę ukraińskiego batalionu.
Pomalowałem drużynę szturmową Specnaz z zestawu startowego Róża. Zespół nazywa się "Heavies" co pewnie wynika z ich opancerzenia. To jest jedna z nielicznych jednostek Specnaz (Kampania Babilonu) z pancerzem klasy drugiej. Co więcej, chłopaki mają kilka fajnych zdolności; mają kamuflaż, więc mogą podejść niezauważeni, zdolność skauta pozwala im podbiec w pole w pierwszej turze. Ciągną ze sobą radiooperatora i dlatego mogą koordynować ataki artylerii. Bardzo przydatna umiejętność.
[/ezcol_1half]
[ezcol_1half_end]
I would like to present you my first painted Free Ukraine infantry.
It's special Specnaz Assault Team from Rosa starter. Guys are called "Heavies" which, I think, is linked with their Armour. This is one of rare Specnaz units with Armour 2. According to Statistic Card this unit has camouflage, scout ability and can coordinates artillery thanks to artillery observer ability.
[/ezcol_1half_end]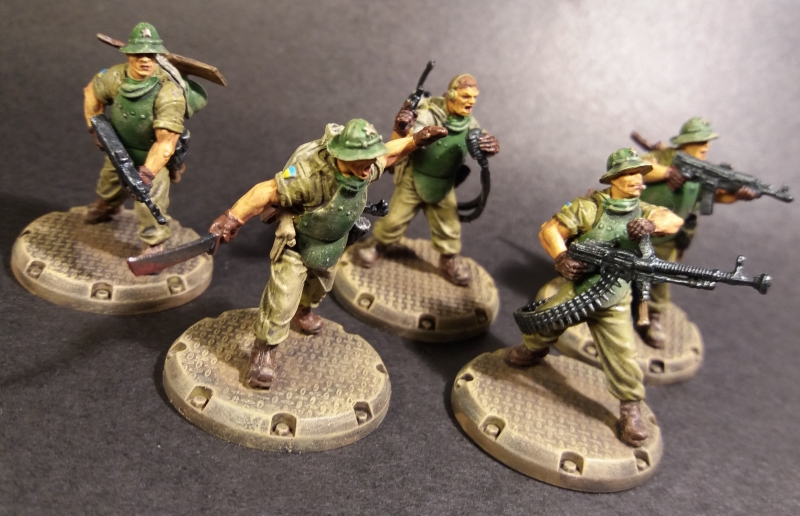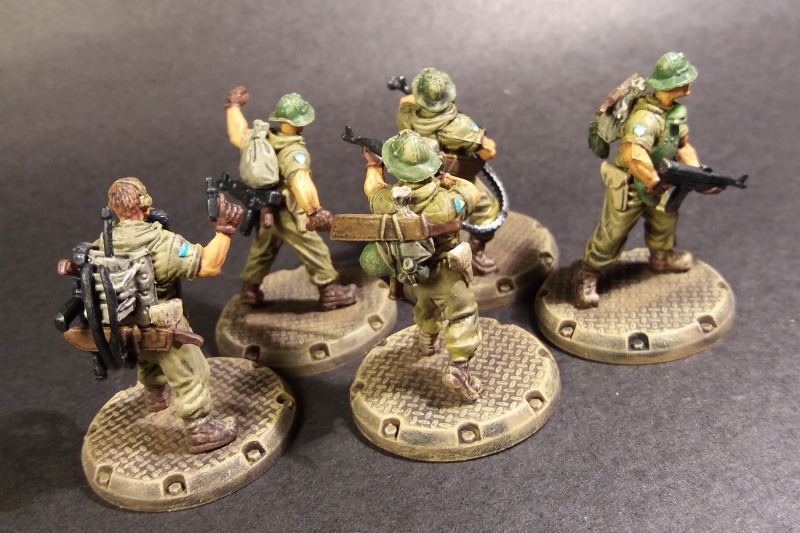 [ezcol_1half]
Te różne fajne bonusy mają tylko jeden malutki minusik. Troszeczkę więcej kosztują, jakieś 9 punktów. Jednak jestem pewien, że są warci tych punktów. Na pewno wylądują w mojej rozpisce i już niedługo odbędą się testy bojowe. Galeria poniżej.
[/ezcol_1half]
[ezcol_1half_end]
These abilities increase value of "Heavies", cause unit costs 9 points. I like these guys, I'm pretty sure that they are worth this prize. I have to test unit ASAP. Unit card and more photos you may find below.
[/ezcol_1half_end]
[BMo_scrollGallery id=85 sG_thumbPosition=bottom sG_images=1 duration=slow gallery_width=600 gallery_height=400 thumbs_width=100 thumbs_height=100 sG_caption=1 sG_start=1 sG_loop=1 sG_loopThumbs=1 sG_clickable=1 sG_opacity=40 sG_area=200 sG_scrollSpeed=2 sG_autoScroll=0 sG_aS_stopOnOver=1 sG_diashowDelay=0 sG_followImages=1 sG_responsive=1 ]
[ezcol_1half]
Model maluję farbami Vallejo, podstawowy kolor to Middlestone, natomiast płyty pancerza są pokryte kolorem Uniform Green. Choć to pierwsza piechota SSU,  to już malowałem komponent pancerny i jednostki wsparcia. Więcej o innych jednostkach w dziale SSU na jeden klik.
To wszystko na dziś. Dziękuję i napisz, co myślisz o Heavies.
[/ezcol_1half]
[ezcol_1half_end]
Main colors for my Specnaz unit are Middlestone and Uniform Green for armour plates, and hats. Basis just painted cause it's Table-Top standard.  Just click for more posts about my SSU units.
If you like, please let me know about it, thank you.
[/ezcol_1half_end]
Zapisz
Zapisz