Two Trucks / Dwie Ciężarówki
[ezcol_1half]
More Trucks
[/ezcol_1half]
[ezcol_1half_end]
Więcej Ciężarówek
[/ezcol_1half_end]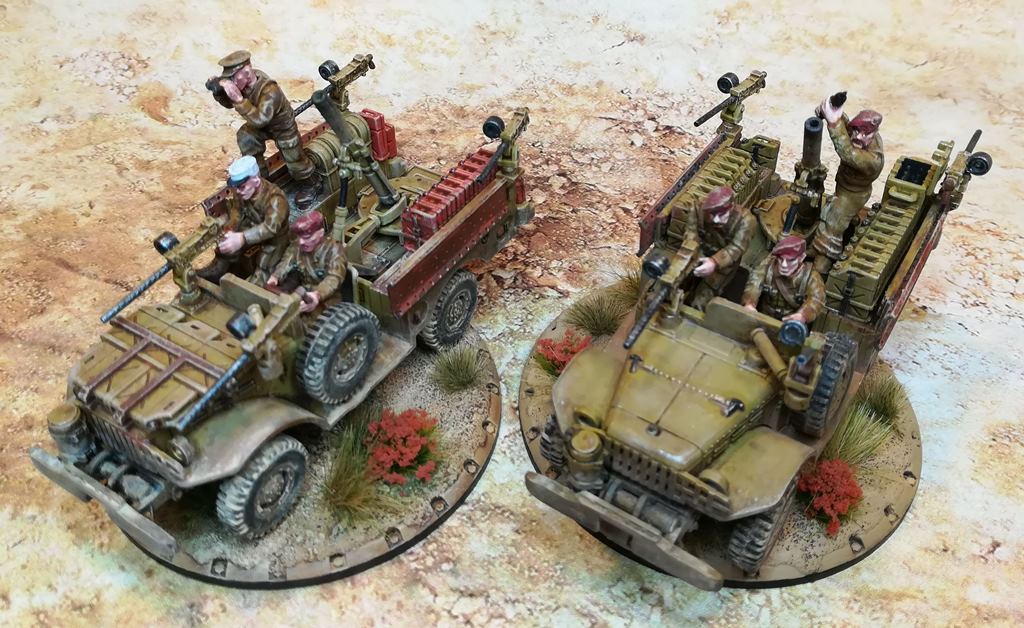 [ezcol_1half]
I present you today two trucks which I made recently for my Desert Scorpions. They are the first models with magnetized weapons. I didn't expect that it provides so many possibilities of configuration.
Now I can prepare all possible version of Dust1947 Dodge based on these chassis. You can see these options in gallery.
[/ezcol_1half]
[ezcol_1half_end]
Przedstawiam Wam dwie ciężarówki dla moich Desert Scorpions, które ukończyłem ostatnio. Są to pierwsze modele z montażem broni na magnesy. Nie spodziewałem się, że da mi to tak wiele możliwości konfiguracji.
W zasadzie mogę przygotować wszystkie możliwe wersje Dust1947 Dodge na podstawie tych podwozi. W galerii wrzucam chyba wszystkie opcje, jakie mam.
[/ezcol_1half_end]
[ezcol_1half]
Scorpions Army
These are two more Desert Scorpions trucks to my collection. My first Trucks were presented in this articles. Currently I have 5 ready to use and one which I need to assemble.
I'd like to finish my Scorpions before European Championship, which Marek plans for mid of June (link to Facebook event). I want to play this army this year.
[/ezcol_1half]
[ezcol_1half_end]
Armia Skorpionów
To kolejne 2 ciężarówki Desert Scorpions w mojej kolekcji. O pierwszych możecie poczytać tutaj. Zatem mam już 5 gotowych do użycia pojazdów i tylko jeden, który muszę złożyć.
Chciałbym zakończyć przygotowanie armii Skorpionów przed Mistrzostwami Europy, które Marek planuje na połowę czerwca (link do wydarzenia na Facebooku). Bo chciałbym tym razem zagrać aliantami.
[/ezcol_1half_end]