Preparation to DUST 1947 2016 European Masters
Jeszcze tylko miesiąc do European Masters w Brukseli/
It's only one month to European Masters in Brussels
[ezcol_1half] W listopadzie gracze z Europy będą walczyć o tytuł Master'a w Dust1947. Turniej prowadzi sam Olivier Zamfirescu wspólnie z Olivierem Joiris z Belgii. Będziemy grali wg. pełnych zasad Dust1947 oraz już na nowych kartach. Dodatkowo każdy uczestnik ma ponoć otrzymać specjalny model, snajperkę szykowaną dla Najemniczek. To miły gadżet.
Z Polski zapisało się 7 graczy, zatem szykujemy się większą grupą na wyjazd na zawody do Brukseli. Będą też gracze z Niemiec, Szwecji, Belgii, Wlk.Brytanii i Włoch. W tym roku będziemy mieli do rozegrania 6 bitew. Dwóch najlepszych zagra następnie o tytuł Mistrza. Lubię tą formułę, bo angażuje uczestników przez pełne dwa dni.
W tym miesiącu Polska ekipa trenuje na przygotowanych scenariuszach, aby godnie reprezentować środowisko Dust z Polski. Dla zainteresowany link do scenariuszy tutaj na jedno kliknięcie. [/ezcol_1half]
[ezcol_1half_end] Dust European Masters comes. European players meet again in Brussels in November 12-13. Tournament is organized by Olivier Zamfirescu. As usually Olivier Joiris from Belgium helps a lot. Players will play based on Dust1947 rules and new cards. Every player will get special bonus, dedicated model of Mercenaries Sniper.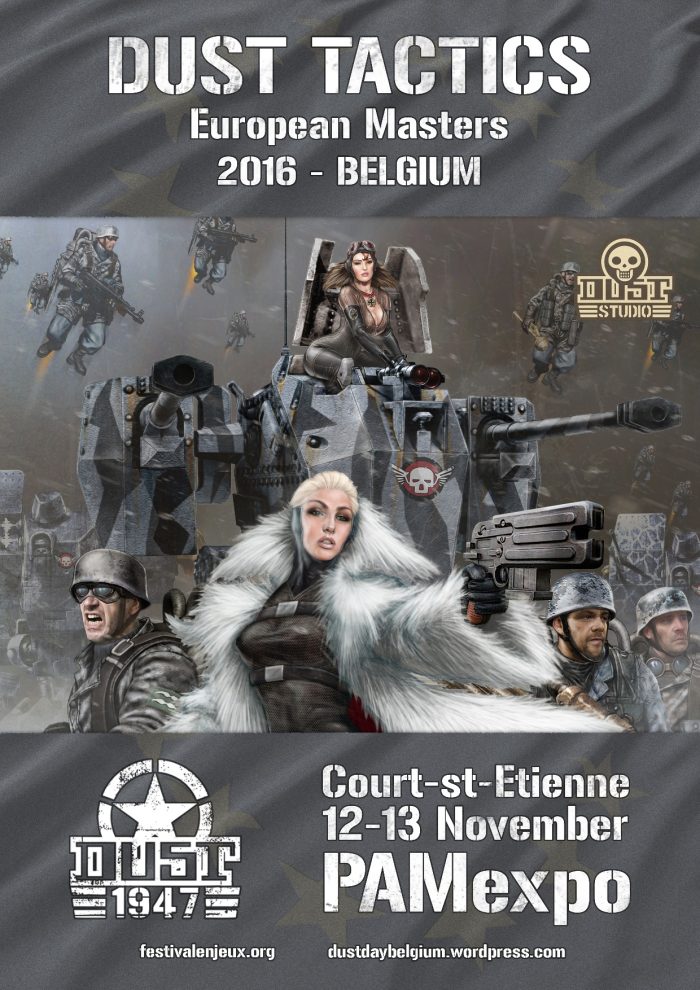 Poland will be represented by seven players, that bigger group than last time. I think it's the biggeest national representative in Brussels. We hope to meet our friends and opponents from Germany, Sweden, Belgium, UK and Italy. This each participant will play 6 games. At the end two best players will fight for title of the Dust 2016 European Master. I think it's better approach, casue all players will be engaged during two days.
Polish team train a lot based on published scenarios to proudly represent Polish Dust community. Olivier scenarios for tournament are available here.[/ezcol_1half_end]
Zapisz
Zapisz
Zapisz