Pierwsze Oddziały Generała Osi w Dust 1947 / First Units of Dust1947 Axis General
Odcinek 2 Oś / Chapter 2 Axis
K-man
A co, jeśli nie Alianci ? / What, if not Allies ?
[ezcol_1half]
Poprzedni odcinek był dedykowany Aliantom. Piotrek przedstawił kilka ciekawy rozwiązań, jak wejść w Dust'a zaczynając od Rangers'ów lub Piechoty Morskiej. To jest na pewno świetne, jeśli lubi się mech'y z wieżyczkami i klimat USMC. Ale są też inne opcje 🙂
Dzisiaj kilka słów ode mnie na temat Osi (Axis) i możliwości tego bloku. Z pewnością to jest aktualnie jeden z najbardziej rozbudowanych bloków. Oferuje trzy frakcje oraz armię blokową, do tego mnogość maszyn kroczących.
[/ezcol_1half] [ezcol_1half_end]
Previous article was about Allies. Piotr shown several options concerning Rangers and USMC armies. If you like walkers with turret or spam of Marines then Allies are for you.
This time I'd like to present you my subjective tips about Axis forces. Axis block has the biggest list of fractions and great collection of walkers.
[/ezcol_1half_end]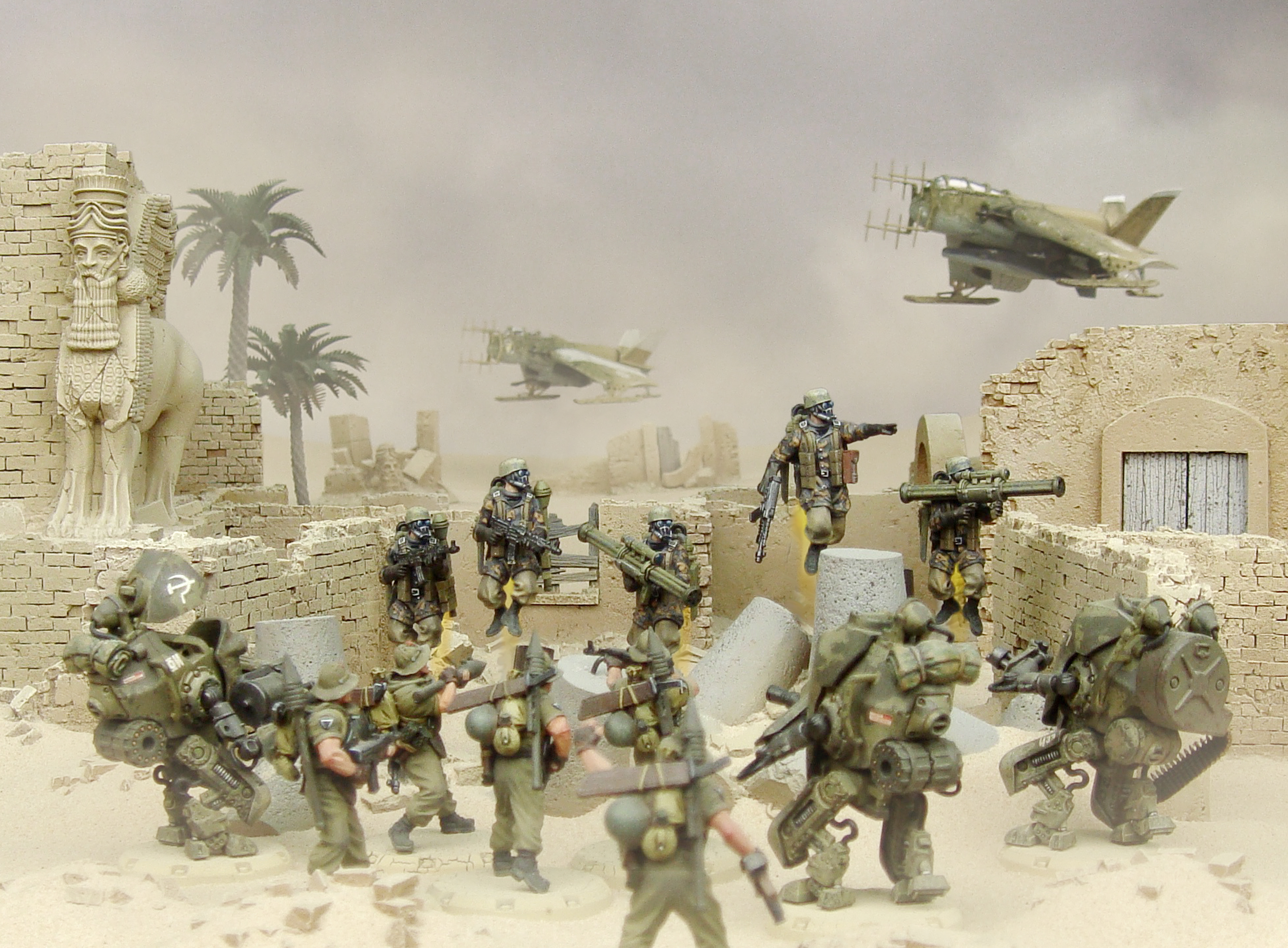 Potężna Pięść Bloku Osi – Wehrmacht / Wehrmacht, Core Axis Block

[ezcol_1half]
Wehrmacht to Ciężka Piechota oraz Grenadierzy Szturmowi oraz kolekcja maszyn lądowych i samolotów, które wspierają armie frakcyjne Osi. Aktualnie wojska te są trochę droższe w punktach niż najnowsze frakcje, ale dalej stanowią nie lada zgryz dla przeciwników. Szczególnie kombinacje SturmGrenadier Recon (Grenadierów Szturmowych Rozpoznania) oraz jednego z bohaterów blokowych (Stefan lub Manfred) to zabójcze połączenie.
Ten uniwersalny oddział może w jednym ataku rozbić jednostkę piechoty i jednocześnie wyeliminować pojazd przeciwnika ze swoich Panzerfaust'ów. A jeśli oddział połączymy ze Stefanem, możemy bardzo daleko wejść w pole przeciwnika (dzięki zdolności "at the double") no i Stefan posiada miotacz, chyba najbardziej groźna broń na krótki dystansie w grze.
Zwykle stosuję takie "combo" uzupełnione Średnim Mech'em przeciw-pancernym i snajperami , którzy mogą wyeliminować przeciwnika "na śmierć". Gdybym miał wystawić ok. 50 punktów to byłoby to taki dosyć twardy pluton dla przeciwnika.
50 (51) punktów Wehrmacht'u
[/ezcol_1half] [ezcol_1half_end]
Classic Wehrmacht provides Heavy Grenadiers, Sturmgrenadiers and is supported by walkers and planes available for all Axis fraction also. Despite of higher point costs of infantry units vs. most of Axis fractions these veterans are very effective. Especially if they are combine with Axis block Heroes such as STEFAN or Manfred.
My favorite unit is Sturmgrenadier Recon Squad. It's universal squad which is able to eliminate infantry using Machine Gun & Assault Rifles and most of walkers thanks to 3 Panzerfausts. Moreover, If you combine these guys with Stefan, then squad can move faster (at the double ability) and Stefan has flamethrower which is the most powerful close distance weapon.
Usually I combine Wehrmacht with Medium Walkers and special forces like Snipers with camouflage ability. Below my proposal of small but tough to kill platoon.
50 (51) points of Wehrmacht
[/ezcol_1half_end]
Werhmacht Gallery
Szybcy&Wściekli – NDAK / NDAK, Fast&Fury Units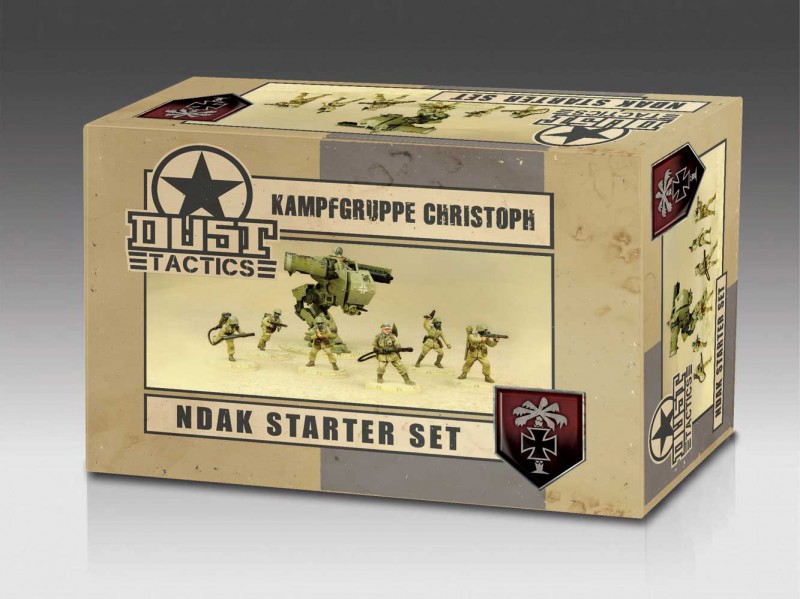 [ezcol_1half]
Neu Deutche Africa Korps to chyba najbardziej popularna frakcja teraz. Myślę, że decydują o tym trzy powody. Świetny zestaw startowy zawierający doskonałe jednostki z Krzysztofem na czele. W zasadzie to jest baza do budowy każdej armii NDAK. Tania w punktach piechota. 5 , 6 czy 7 AP to wszystko, co trzeba dać za jednostkę. Każda piechota jest wyspecjalizowana (walka w krótkim zasięgu z miotaczami, niszczyciele czołgów, czy jednostki z dużą liczbą kości przeciw piechocie), ale koszt punktowy dalej możliwość zalania pola bitwy falami NDAK. To często wystarczy, aby przełamać szale zwycięstwa. No i małe, tanie i diabelnie skuteczne walker'y NDAK. Szczególnie Tropical Hermann z podwójnym działem laserowym. A tak zacząłbym z NDAK.
51 punktów NDAK
Mix jednostek przeciw-piechotnych i przeciw-pancernych, które wspiera Moździerz. Warto przypomnieć, że moździerz jest artylerią i może siać zniszczenie na czterech polach lub stawiać zasłonę dymną. W moich rozpiskach z reguły zawsze pojawia się oficer. W przypadku NDAK to Tina z Hieną , bodajże najtańszy punktowo oficer w Dust'cie. Taka rozpiska bazuje na tzw. Plutonie Krzysztofa (plutony opisane są w pełnych zasadach Dust1947), który daje zdolność "Scout" całej NDAK co powoduje, że wojsko szybko skraca dystans i jest bardzo skuteczne na krótkich mapach.
100 punktów NDAK
To oznacza więcej piechoty, często zdublowane oddziały, czyli jeszcze więcej kłopotów dla gracza z którym grasz. Z reguły warto wtedy dorzucić ciężkie i wytrzymałe wsparcie pancerne, które mogą zapewnić Konigslothar i JagdLoki. Razem daje to silne uderzenie piechoty, które możesz wesprzeć ostrzałem artyleryjskim. W tym zestawieniu Tina pełni rolę drugiego oficera ale trzeba pamiętać, że jej Hiena może skutecznie wyeliminować bohatera przeciwnej armii w walce wręcz, dlatego jest w parze z Grenadier Security Squad z miotaczami.
Drugie "combo" w tej armii to oczywiście Krzysztof i zespół Grenadier Security Squad. Jak zawsze ta kombinacja oznacza pluton Krzysztofa obejmujący wszystkie oddziały NDAK, o czym wspominałem wcześniej. Co do wsparcia pancernego to mamy tutaj Tropical Hermann'a jako jednostkę typowo przeciw-pancerną, oraz JagdLoki jako niszczyciel piechoty i samolotów oraz Konigslothar, który jest najcięższą artylerią bloku Osi. To może być całkiem groźna kombinacja w rękach sprawnego Generała.
[/ezcol_1half] [ezcol_1half_end]
Neu Deutche Africa Korps is one of the most popular fraction of Axis now. There are a few reasons behind this; first of all very nice starter which is a must!!! as the basis for NDAK army. Second argue is cost of infantry units. Cheap (5, 6, 7 AP) but very effective and specialized units (with Flamethrowers, Machine Guns or Panzerfausts) which guarantee unstoppable waves of NDAK forces. This is something which may ruined most of the armies. Third reason is NDAK walkers, which are cool and cheap, especially Tropical Hermann (8 AP). My proposal for NDAK.
50 (rather 51) points of NDAK
It's mix of anti-infantry and anti-tank units supported by Officer Tina (again cheapest Office in whole Dust 1947) and Mortar. Don't forget that currently artillery can provide heavy (4 square) fire to annihilate enemies or put smoke to cover/protect your assault units. This set is very fast and effective on short maps due to Christoph platoon ability (All squads have scout ability. It's like march move + 1 extra action during first turn).
100 points of NDAK
100 points of NDAK mean more and often couple of this same units. Usually with heavy support infantry or walkers. This set offers NDAK for very fast assault to suppressed opponent forces and Heavy Walkers to intensify strike thanks to long range and powerful weapons. Here you are interesting example of such a combination.
This army list includes two combo's, one with Christoph and second with Tina&Hyena. Of course all NDAK units have bonus of Christoph platoon as well. Tropical Hermann is typical Anti-tank walker thanks to double laser gun. Proposed additional block walkers are the most heavies. Konigslothar is the most powerful Artillery unit in Axis forces, while JagdLoki is very effective against planes and infantry squads. This proposal seems to be very dangerous in hands of cautious General.
[/ezcol_1half_end]
NDAK Gallery
Cios z Niebia – Luftwaffe / Luftwaffe, Blow from the Sky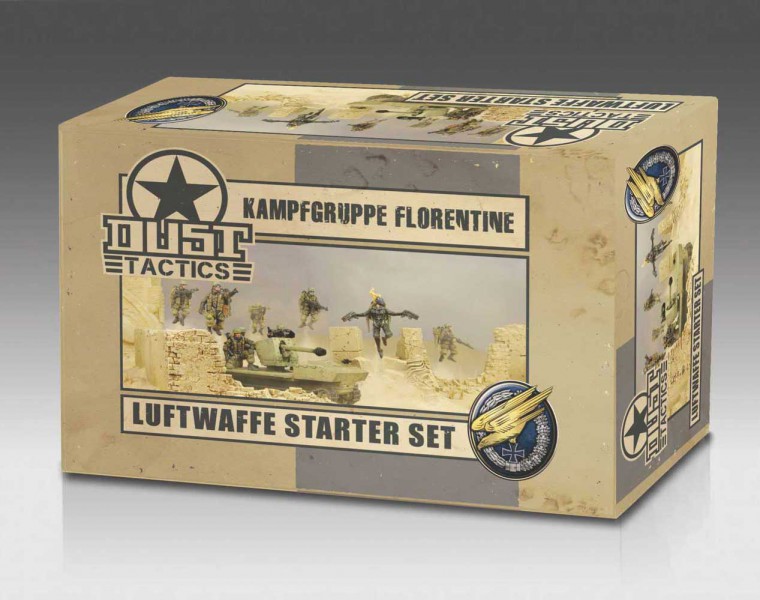 [ezcol_1half]
Luftwaffe wprowadza dwie alternatywne strategie ze względu na zupełnie inne rodzaje piechoty występujące w tej frakcji. Spadochroniarze (Fallschirmjager) mogą lądować na całej planszy natomiast oddziały rakietowe (Raketentruppe) zaczynają klasycznie, ale są bardzo szybcy i ignorują przeszkody terenowe, jako jednostka latająca. Mieszanka tych dwóch jednostek daje niezłe możliwości strategiczne armii Luftwaffe, kilka opcji poniżej.
50 punktów Luftwaffe
Mix Oddziałów Rakietowych i Spadochroniarzy w małej skali to najlepsza opcja, aby potestować jak wolisz grać tą frakcją. Dodatkowo dużą zaletą zestawu startowego Luftwaffe jest bohaterka Florentine, która jest oficerem (może wydawać rozkazy swoim oddziałom). W tej rozpisce mamy 3 oddziały piechoty wsparte przez dwa lekkie (desantowane z powietrza) pojazdy Luftwaffe; RSO/PAK 40 przeciw-pancerny i RSO/FLAK 3 – przeciw piechocie i samolotom. Całkiem ciekawa opcja na start.
100 punktów Luftwaffe
To już trochę rozbudowana armia do której dołączył Kurt (jeden z trzech bohaterów Luftwaffe) oraz dwa mocne pojazdy. Niszczyciel czołgów Luft-Hans oraz Geist, najnowszy myśliwiec przewagi powietrznej. Luft-Hans, choć jest lekkim walker'em to potrafi wyeliminować jedną salwą nawet czołg SSU.
[/ezcol_1half] [ezcol_1half_end]
Luftwaffe provides two tactical options due to different infantry units. Fallschirmjager's are Paratroopers who can drop anywhere on the battlefield, while Raketentruppe starting from deployment line but they are high speed flying units. Luftwaffe has air-dropped walkers and powerful planes. Below I show you the fastest way to became Luftwaffe leader and two optional 100 points armies.
50 points of Luftwaffe
Mix of Rakententruppe and Fallschirmjager is the best option to test both Luftwaffe abilities (speed and air-dropping) in one small army. Moreover Florentine is the Office which is significant benefit at the start. 3 infantry units are supported by two light air-drop walkers, anti-tank PAK 40 and universal anti-airplane/anti-infantry FLAK 3. I recommend this set for beginners.
100 points of Luftwaffe
That's another option which includes also the latest reinforcement radar equipped Air-Superiority Fighter Geist and air-drop tank killer Luft-Hans. I have tested Luft-Hans few times and it's very powerful even against SSU tanks.
[/ezcol_1half_end]
Luftwaffe Gallery
100 punktów NDAK + Fallschirmjager / 100 points of NDAK + Fallschirmjager
[ezcol_1half]
A jeśli już masz coś z NDAK, to jest opcja dla Ciebie. Każdy wódz chciałbym stworzyć dwa fronty na polu bitwy. To daje połączenie spadochroniarzy i NDAK, które testowałem kilka razy i jest to niebanalna kombinacja. Czasem warto dorzucić takiego Dust'owego Behemota, czyli SturmKonig'a, który doskonale czyści niebo oraz większość ciężkiego sprzętu na ziemi.
[/ezcol_1half] [ezcol_1half_end]
Last option is a combination of superfast NDAK and Fallschirmjager units. I have tested several times this set with very encouraging results. Capability to create two fronts is danger and very unpredictable for your counter-partners. All units are supported by Super Heavy SturmKonig.
[/ezcol_1half_end]
NDAK+Fallschirmjager Gallery
Bezmiar Zombie – Bluetkreuz!!! / Bluetkreuz, Zombies Swarm !!!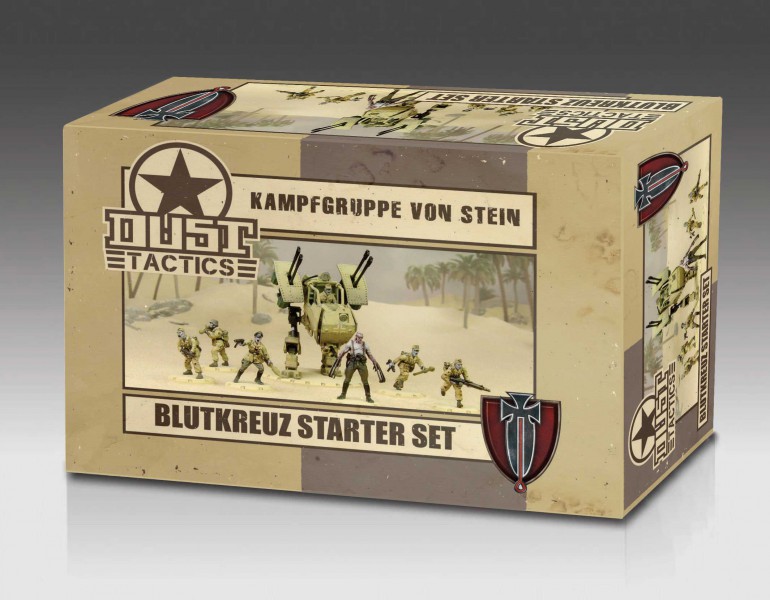 [ezcol_1half]
Tak szczerze, to nie gram zombiakami. Wolę ludzi :), ale nowy starter Franka Von Stein'a oraz wznowienie produkcji jednostek zombie jest dobrym pretekstem do skombinowania propozycji 100 punktów Zombie na start. Tak bym to widział.
100 punktów Bluetkreuz
[/ezcol_1half] [ezcol_1half_end]
To be honest I'm not the expert of Zombies but Bluetkruez Starter and zombies boxes seem to be good argue to have playable army of Zombies. I would pick following models for my first 100 points If I start to collect this fraction.
100 points of Bluetkreuz
[/ezcol_1half_end]
Bluetkreuz Gallery
…I jeszcze 49 punktów Na Start/49 points at the begging
[ezcol_1half]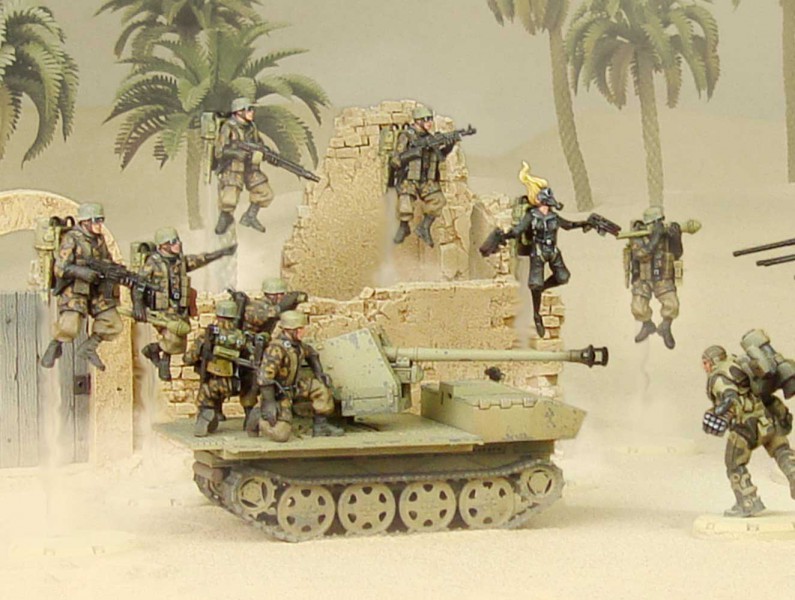 Na koniec warto wspomnieć o opcji połączenie dwóch starterów. Moim zdaniem Florentina Luftwaffe (Kampfgruppe Florentine) i Krzysztof NDAK (Kampfgruppe Christoph) to całkiem fajny zestaw na start. 49 punktów armii oraz komplet dodatków (maty, przeszkody 3D, budynki, drzewa, cele w wersji 2D, kości do gry). Co to będzie:
Christoph (9 AP) + Grenadier Security Squad (6 AP) – "Combo" do walki na krótkim dystansie
Tropical Hermann (8 AP) – przeciw-pancerny pojazd z bronią laserową
Florentine (10 AP) – latający oficer
Raketentruppe Battle Squad (7 AP) – uniwersalny oddział piechoty
Fallschirm RSO/PAK 40 (9 AP) – pojazd przeciw-pancerny, który może również walczyć z piechotą
Mam nadzieję, że trochę Ciebie zainspirowałem. Mój ulubiony blok oferuje wiele możliwości zarówno, jeśli chodzi o strategię działania, dobór jednostek czy fluff, jaki lubicie najbardziej. Więcej mojej kolekcji Dust 1947 znajdziesz tutaj. Zapraszam do wielkiej przygody w alternatywnym świecie Dust'a Paolo Parente.
[/ezcol_1half] [ezcol_1half_end]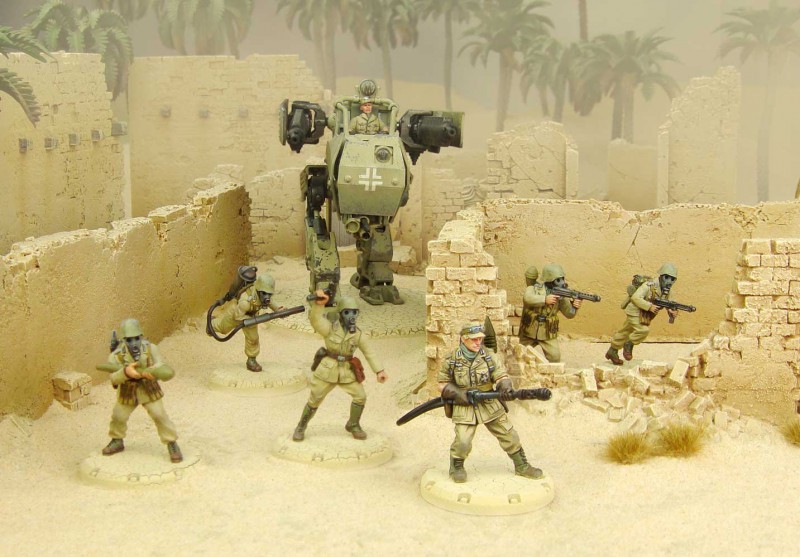 At the end It's worth to mentioned, that Axis has three starter-boxes of which NDAK & Luftwaffe can be combined as a kind of entry set. These boxes give you opportunity to have 49 AP at the start:
and all needed elements (mats, 3D obstacles, 2D buildings and terrains, dices, manuals) to play Dust.
I hope that these proposals inspired and helped you to choose what would be your preferable fraction of Axis. More about my Dust1947 collection is here. In my opinion currently Axis offers the biggest scale of battle strategies thanks to different fractions with unique abilities (Fast NDAK, Air-dropped Luftwaffe and Bluetkreuz with Zombies). I invite you to the world of Dust 1947.
[/ezcol_1half_end]
Enjoy, Collect, Play & Have a Fun
Krzysztof "K-man" Dustbrothers.pl
Do boju, Generale czas zbudować swoją armię! / Forwards! General it's time to build your army!

[ezcol_1half]
Modele niezbędne do zbudowania swojej armii aliantów znajdziesz na – www.warfactory.pl. Dokonując zakupu na warfactory.pl, każdy otrzyma rabat 5% na modele Axis Dust Studio. W tym celu należy w trakcie składania zamówienia podać kod promocyjny:
axis_dustbrothers_092017
Kod upoważnia do rabatu w przypadku dokonania zakupu i opłacenia transakcji w terminie do 30 września 2017.
Wszelkie kwestie dotyczące realizacji zamówień należy uzgadniać z warfactory.pl. Kontakt email: kontakt@warfactory.pl, www: www.warfactory.pl
[/ezcol_1half] [ezcol_1half_end]
You can find most of the models described above on www.warfactory.pl. Especialy for our readers we prepared a special 5% bonus coupon for Axis units. Just use the code below.
axis_dustbrothers_092017
The code will work until end of September 2017.
Any problems and questions regarding orders should be discussed with warfactory.pl.
Contact: email: kontakt@warfactory.pl, www: www.warfactory.pl
[/ezcol_1half_end]
Teraz nadciąga SSU 🙂 / Sino-Soviet Block is coming 🙂
[ezcol_1half]
Kolejny odcinek przygotuje Szymon, który przybliży wam tajniki i możliwości bloku Sino-Sowieckiego już na początku września.
[/ezcol_1half] [ezcol_1half_end]
SSU episode will be here at the beginning of September. Szymon will prepare few words on SSU options, fractions and unexpected combos.
[/ezcol_1half_end]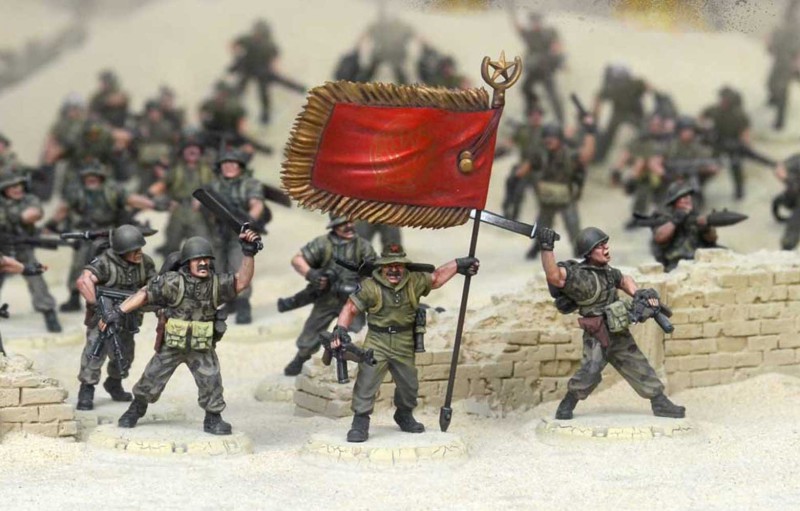 See You! 🙂
Krzysztof "K-man", Piotr "Panda", Szymon i Marek (Warfactory)
Zapisz