Luftwaffe Anti-Aircraft Squad / Luftwaffe Oddział Przeciwlotniczy
[ezcol_1half]
Last time I showed you Heavy Squad. Today I would like to present my first painted Luftwaffe infantry. It's Fallschirmjager Anti-Aircraft Squad. These guys are very dangerous both for planes and infantry if their "Airborne" ability succeed.
[/ezcol_1half]
[ezcol_1half_end]
Ostatnio wrzuciłem Wsparcie Ciężkich Grenadierów. Dzisiaj natomiast kilka fotek mojej pierwszej jednostki liniowej piechoty do Luftwaffe, Fallschirmjager Anti-Aircraft Squad. Nieźle wyposażeni i zabójczy przeciw piechocie i samolotom jeśli tylko wyjdzie Tobie sukces użycia ich zdolności "Airborne".
[/ezcol_1half_end]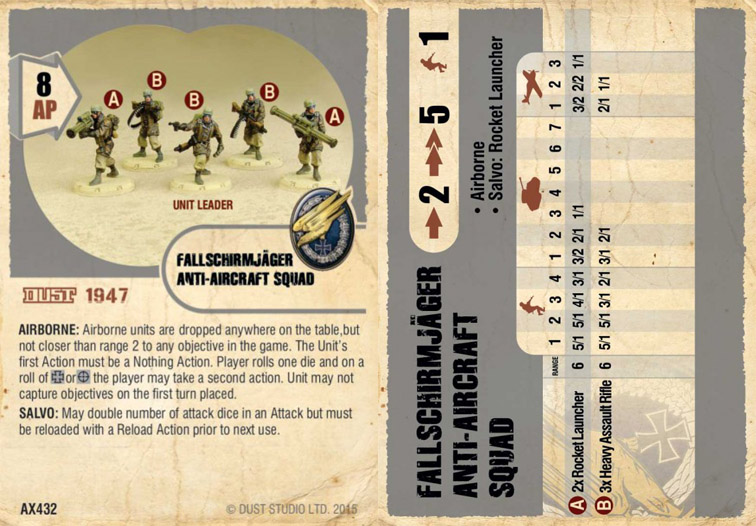 [ezcol_1half]
I have a plan to built one platoon of Fallschirmjager. So far I have two infantry units, thus I need to collect a few more to be able to run Fallschirmjager Platoon. These guys will be my special team to set up second front-line during Dust battles.
That's all for today. Please, leave comment and stay tune Duster 🙂
[/ezcol_1half]
[ezcol_1half_end]
Planuje sformowanie całego plutonu Fallschirmjager. Póki co mam tylko dwa oddziały piechoty dlatego do szczęścia brakuje mi jeszcze dwóch. Chłopaki robią niezłą robotę i planuję ich używać, do budowanie drugiej linii frontu. To zawsze robi zamieszanie.
Na dziś to wszystko. Komentarzyk sprawi mi radochę. Zapraszam do śledzenia bloga 🙂
[/ezcol_1half_end]