Interview 3Q2 with Łukasz (Luke)… / Wywiad 3Q2 z Łukaszem…
3Q2

is nothing else

than shortcut of "THREE QUESTIONS TO…"
…and it's new series on my blog.
[ezcol_1half]
The first 3Q2 is with Łukasz Łagód (painter and blogger http://gorzejsienieda.blogspot.de/) . Łukasz took part in European Dust Championship in Warsaw, both in 50 points tournament and  "The Best Painted Model" contest. Łukasz won painting competition in category "The Best Dust Universe Hero". I wanted to ask him three questions and here is my first interview…
[/ezcol_1half]
[ezcol_1half_end]
Do pierwszego 3Q2 zaprosiłem Łukasza Łagóda, autora blogu http://gorzejsienieda.blogspot.de/ oraz przesympatycznego uczestnika Mistrzostw Europy Dust Tactics, które odbyły się w Warszawie na początku czerwca. Łukasz grał w turnieju na 50 punktów oraz wystawił bohatera w konkursie malarskim. Rozbił bank i wygrał w kategorii "Najlepszy Bohater ze Świata Dust". Bardzo chciałem zadać mu trzy pytania i tak powstał mój pierwszy wywiad…
[/ezcol_1half_end]
[ezcol_1half]Photo of  "The Best Dust Universe Hero" winning model and others entered in the contest. [/ezcol_1half] [ezcol_1half_end]Zbiorowa fotka zwycięzcy oraz pozostałych modeli w tej klasie.[/ezcol_1half_end]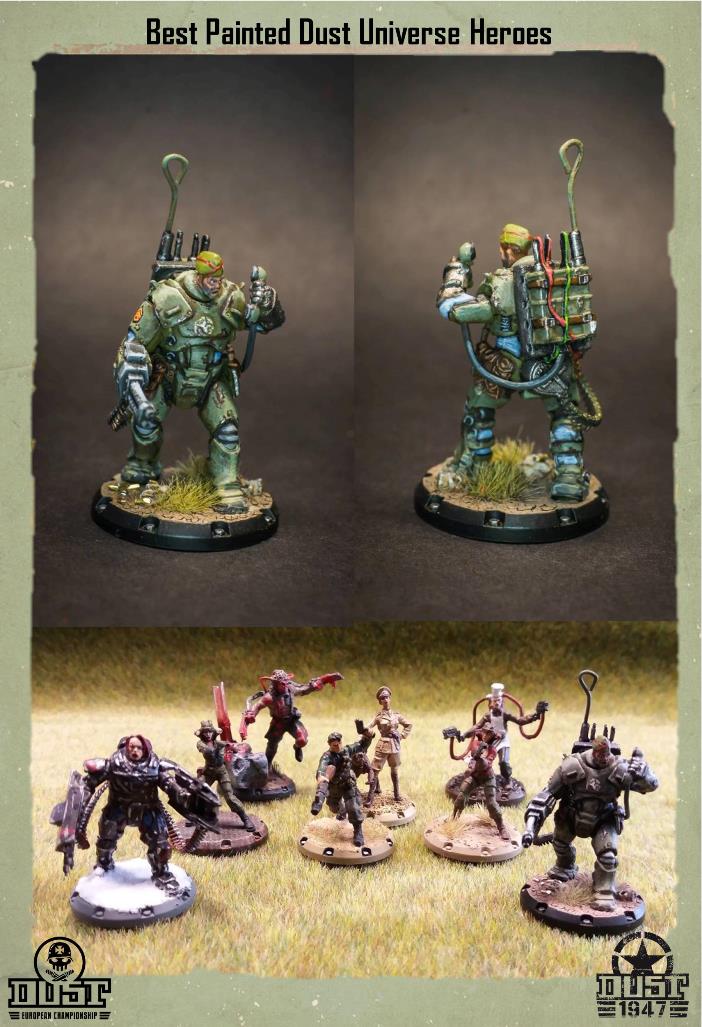 [ezcol_1half]
First of all I'd like to congratulate for first place in The Best Painted Model Contest in the Officer Category. It was like Creaser sad "VENI, VIDI, VICI". You worked on your model just before the contest, finally you brought it in Sunday only for painting contest and smashed competition, amazing.
I know it's your first contact with Dust. Could you tell us what happen, that you decide to join contest, what is yours feeling about contest and competitors?
Thank you very much, it's a nice feeling to win. I'm glad I could come and took part in the competition and games. It was a nice time. Going back to the answer. I joined thanks to Marcin Wieczorek and crowdfunding campaign on "wspieram.to". Marcin talked a lot about Dust. It caused, that I decided to support when the Dust Tactics crowdfunding action began. I bought several units. The plan was to took a part in two categories of painting competition but finally I ended up on only one.

Only because I took part in small tournament I didn't spend whole time just watching and studying applied techniques and tips in other figures and walkers shown during painting contest. I looked for tips which I could apply to my models. I was focused on walkers and planes cause scale modelling is new area for me.

As for the competition itself, all presented models of the characters have something that could be enjoyed. There were some very good figures but personally I liked them all. To be honest, there were moments that I had concerns if my model win. Some people asserted that it would and it happened. I'm going to paint a lot of Dust models in future.
I saw, you played 50 points tournament. You mentioned, you back to playing after long break. What do you think about Dust Tactics, game mechanics? Is here any chance for such a system?
I had a chance to play whole four games of which last one wasn't ranking. Cool experience. I forgot how nice is discovering a new system and learning the mechanics and above all units (Thank you Mariusz for such a quickly and painlessly explanation what to do and how). I got most rules in the third game. I was actually playing nice and pleasant. And above all, speed of the game surprised me very positively. There is no need to checking distances, no room for any spectacular calculations, everything is obvious.

It is hard to answer whether the game has a chance in our local market. I would love to be maintained because it is simply fun. Looking at it how crowdfunding campaign was conducted it should have no problem settling in Poland. Of course, it all depends on how much information about the game will arrive, what will be the price of new sets. Last but to least, how many demo games will be led, how many veterans will be involved to encourage younger and older to try Dust.
You had a chance to see some new ideas about system, new fractions, more unassembled models, etc. Which directions are interesting for you as experienced modeler?
I my case, it's hard to talk about new fractions, especially that still I don't decide mine. I think we have to wait and see how it will develop. For example, further replacement heads option is a big plus. From new entrance perspective, I wonder if optional heads means optional fractions and different abilities. Models for gluing is what I miss the most and this would be the biggest plus. I prepare ,I cleanse, I make, I like it. If I spoil anything, then that would be my mistake nor the manufacturer (I will not have a reason to blame someone);-).

Moreover, All the time I get the impression that this is a new game even though it is not. Hence all the time I believe in the development of the game and everything what have been shown us will be published. In such a case everybody will be happy, and this will entail growing number of players and the local scene. What I wish you and myself 🙂
[/ezcol_1half]
[ezcol_1half_end]
Przede wszystkim gratuluję zwycięstwa. W twoim przypadku to było w stylu Cezara, "Veni, vidi, vici". Przygotowywałeś model przed samym turniejem. Pojawiłeś się w stawce konkursu dopiero w niedzielę i wygrałeś bezapelacyjnie w kategorii bohaterów. Jak to się stało, że dołączyłeś do konkursu, jak oceniasz sam konkursu i konkurencję?
Dziękuję bardzo, to miłe uczucie wygrać. Ponad to cieszę się, że mogłem przyjechać, wziąć udział w konkursie i zagrać. To był miło spędzony czas. I już przechodzę do odpowiedzi. Dołączyłem dzięki Marcinowi Wieczorkowi i akcji na wspieram.to. Marcin dużo opowiadał o Dust, więc jak zaczęła się akcja crowdfundingu nie zastanawiałem się. Potem kupiłem kilka jednostek.

Plan był taki, że pomaluję do dwóch kategorii konkursowych, skończyło się na jednej. Co do konkursu to gdyby nie to, że grałem to chyba cały czas bym tam stał przy wystawionych figurkach i je oglądał, przyglądał się technikom jakie zostały zastosowane i czy uda mi się je zaimplementować przy swoich pracach. Najdłużej siedziałem przy pojazdach gdyż nie jestem modelarzem redukcyjnym ale do tego się przymierzam.

Jeśli chodzi o samą konkurencję to wszystkie modele bohaterów miały w sobie coś co mogło się podobać. Były momenty że miałem obawy co do tego czy mój model wygra mimo, że co poniektórzy zapewniali, że tak będzie (dopiero później dowiedziałem się że to Twoja figurka). Mnie osobiście wszystkie się podobały. Mam zamiar jeszcze sporo ich pomalować.
Widziałem, że również grałeś w turnieju 50 punktów. Jak sam mówiłeś, po długiej przerwie wróciłeś do stołu. Co myślisz o samej grze Dust Tactics, mechanice gry, czy ma szanse na polskim rynku?
Tak zagrałem. Całe cztery gry (ostatnia nie rankingowa). Fajne przeżycie. Zapomniałem jak to jest odkrywać nowy system, uczyć się mechaniki, a przede wszystkim jednostek (Tu podziękowania dla Mariusza który szybko i bezboleśnie wyjaśnił mi co i jak). Udało mi się to pojąć dopiero przy trzeciej grze. I faktycznie gra miła i przyjemna. A przede wszystkim co mnie zaskoczyło bardzo pozytywnie to to że szybka. Nie ma miejsca na jakieś obliczenia, sprawdzanie zasięgu. Wszystko jest oczywiste.

Jest mi ciężko odpowiedzieć czy gra ma szanse na naszym rodzimym rynku. Bardzo chciałbym aby się utrzymała gdyż po prostu jest fajna. Patrząc na to jak przebiegał crowdfunding nie powinna mieć problemu z zadomowieniem się u nas ale to wszystko zależy od tego jak daleko informacja o grze dotrze, jakie będą ceny nowych zestawów i ile będzie takich osób jak Marek co będą prowadzić gry pokazowe i normalnie zachęcać młodych i starych do spróbowania swoich sił w Dust.
Miałeś okazje zobaczyć kilka pomysłów na rozwój systemu, nowe frakcje, wzrost znaczenia modeli w wersji do sklejania. Jak to widzisz, szczególnie z perspektywy doświadczonego modelarza, czy to są interesujące kierunki?
Jeżeli chodzi o nowe frakcje to ciężko mi się wypowiadać skoro jeszcze swojej frakcji nie poznałem do końca ale wydaje mi się że trzeba poczekać i zobaczyć jak to się rozwinie. Idąc dalej opcja wymiennych główek jest na duży plus. Ciekawe, czy opcjonalne głowy mogą oznaczać opcjonalne frakcje i zdolności.

No, a już wersja do sklejania to jest to czego mi najbardziej brakowało i to dla mnie jest największy plus. Sam sobie zrobię, sam oczyszczę. To co zepsuje będzie moim zepsuciem, a nie po stronie producenta (nie będę miał powodów aby zrzucać wine na kogoś) 😉

Cały czas odnoszę wrażenie że jest to nowa gra mimo że tak nie jest. Co za tym idzie cały czas wierzę w rozwój tej gry i wszystko co zostało nam pokazane zostanie tak ubrane że wszyscy będą zadowoleni i pociągnie to za sobą wzrost ilości graczy i lokalnej sceny. Czego sobie i Wam życzę. 🙂
[/ezcol_1half_end]
[ezcol_1half]Next 3Q2 with Michał, winners of the Infantry category. Please leave opinion, share it, like it if you like it.[/ezcol_1half] [ezcol_1half_end]Następny 3Q2 z Michałem, zwycięzcą w kategorii oddziałów piechoty. Komentarze, share'owanie, like'owianie z chęcią przyjmę, jeśli się podobało.[/ezcol_1half_end]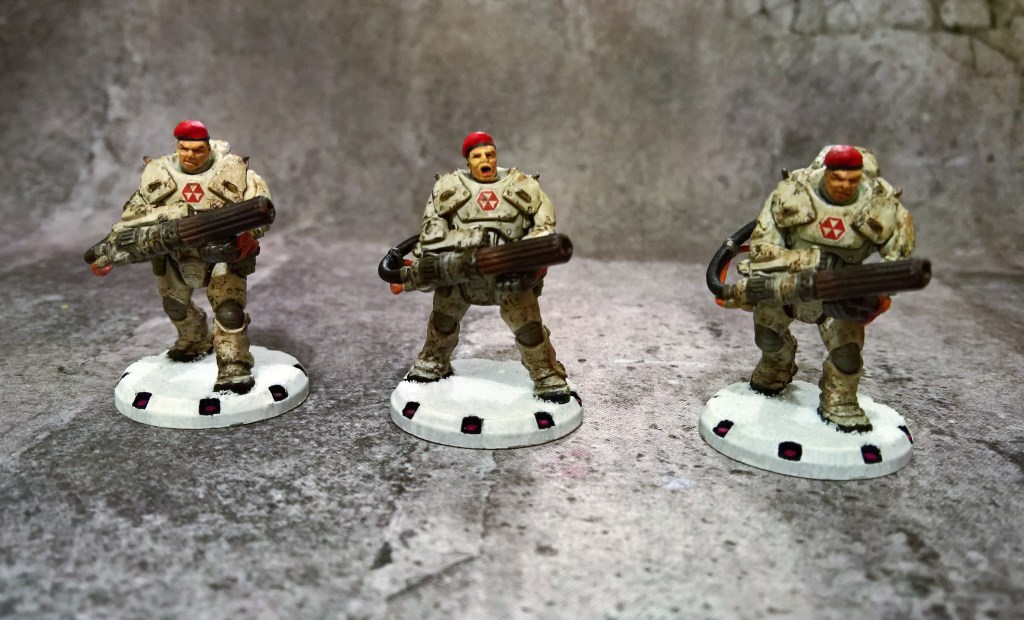 Zapisz
Zapisz
Zapisz
Zapisz
Zapisz
Zapisz
Zapisz
Zapisz
Zapisz
Zapisz