Guardians Command Unit / Dowodzenie Gwardyjskie
Guardian Officers are ready/ Oficerowie Gwardyjscy są gotowy do walki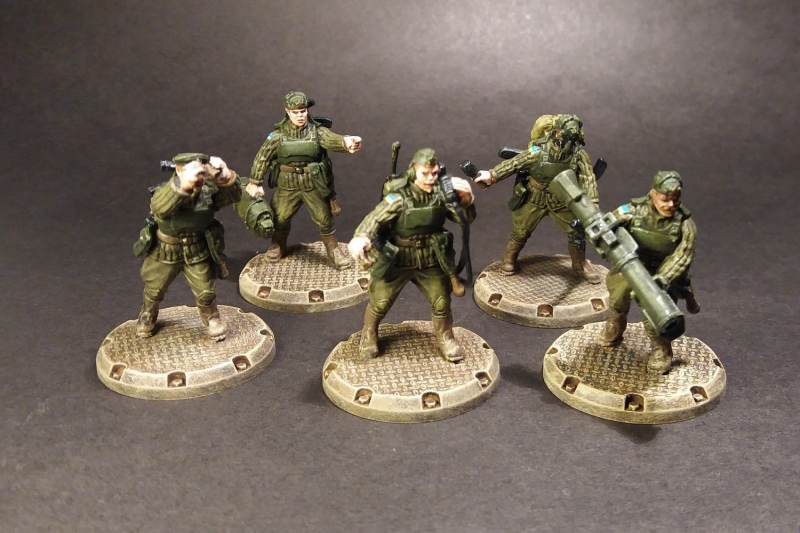 [ezcol_1half] To mój pierwszy oddział Gwardyjski. Dowodzenie, bez którego nie ma grania. Bazooka, PPSh'e, UGL'e i zdolności oficerskie, medyczne, mechanik i radiooperator. Prowadzić będą kolejnych gwardzistów, jednostki szturmowe i przeciwpancerne.
Wybrałem taki styl malowania, bo jest sympatyczny, idzie szybko i daje ładny klimat całości. Wszyscy moi gwardziści będą w takim stylu. Używam do nich zestawu sześciu kolorów firmy Vallejo. Poniżej dowód na zdjęciu 😉 .   [/ezcol_1half]
[ezcol_1half_end]My first painted Guard Unit. Command Team is ready to lead my Guardians. Except Officers I have also two assault units and one anti-tank.  They will be painted soon.
These brave soldiers aren't painted very detailed but relatively fast. I decided to paint all my SSU/Free Ukraine units in this style. I used six Vallejo color which you can see below. [/ezcol_1half_end]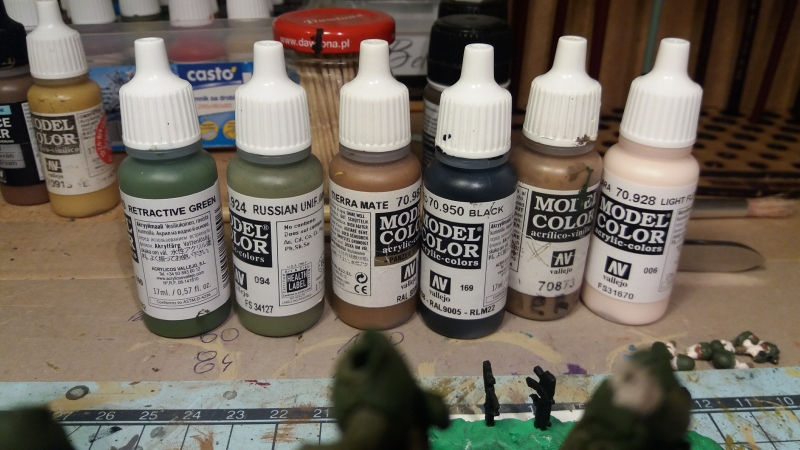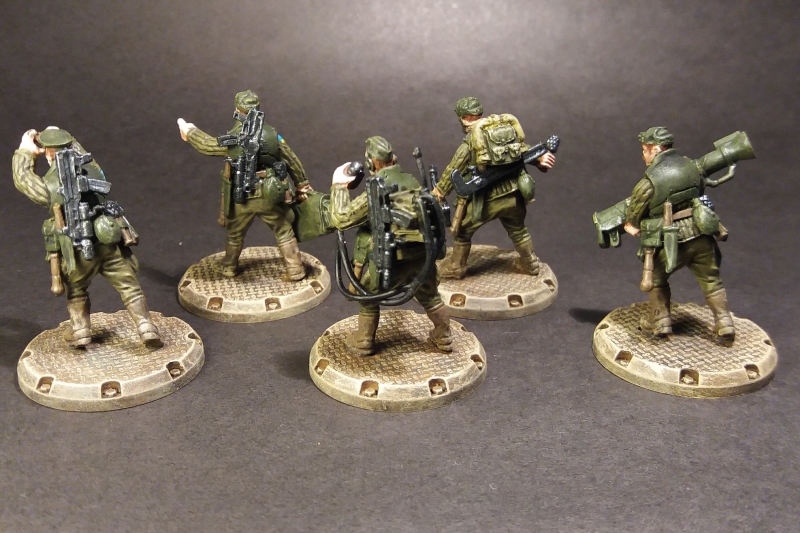 [ezcol_1half]To jest pierwsza z czterech jednostek, które tworzą wspólnie chyba najlepszy pluton w Dust1947. Pluton "SSU RED GUARD" działa tak, że wszyscy gwardziści, którzy bohatersko zginą, moją szansę powrotu. Grający nimi rzuca kością za kazego zabitego, jeśli tylko wypadnie znak frakcji to gwardzista wraca do gry. I tak się dzieje aż do końca trzeciej tury.
Dziś to już wszystko. Może coś jeszcze wpadnie w długi weekend. Zapraszam do komentowania.[/ezcol_1half]
[ezcol_1half_end]That's first of four my Guard units. These set creates one of the best platoon in Dust1947 in my opinion. Each guardian in "SSU RED GUARD" platoon has a chance to go back to the game. Each time, when guardian is killed player can throw the dice. Soldier go back if fraction symbol is rolled. This ability works till end of 3rd turn.
That's all for today. Any comments are most welcome. [/ezcol_1half_end]
Galeria/ Gallery:
[BMo_scrollGallery id=99 sG_thumbPosition=bottom sG_images=1 duration=slow gallery_width=600 gallery_height=400 thumbs_width=100 thumbs_height=100 sG_caption=1 sG_start=1 sG_loop=1 sG_loopThumbs=1 sG_clickable=1 sG_opacity=40 sG_area=200 sG_scrollSpeed=2 sG_autoScroll=0 sG_aS_stopOnOver=1 sG_diashowDelay=0 sG_followImages=1 sG_responsive=1 ]
Zapisz
Zapisz
Zapisz
Zapisz
Zapisz