FKB 53 Choose your…Assassin / Wybierz swojego … Skrytobójcę
[ezcol_1half]
My Assassin
Today I present my Assassin, commitment to 53rd Miniatures Blog Carnival. Details on this edition you find here and history of all editions here.
She is bad lady, who uses rifle to kill at a distance her enemies. She is perfect assassin, can do this very silent and always effective. Also collects skulls of her victims.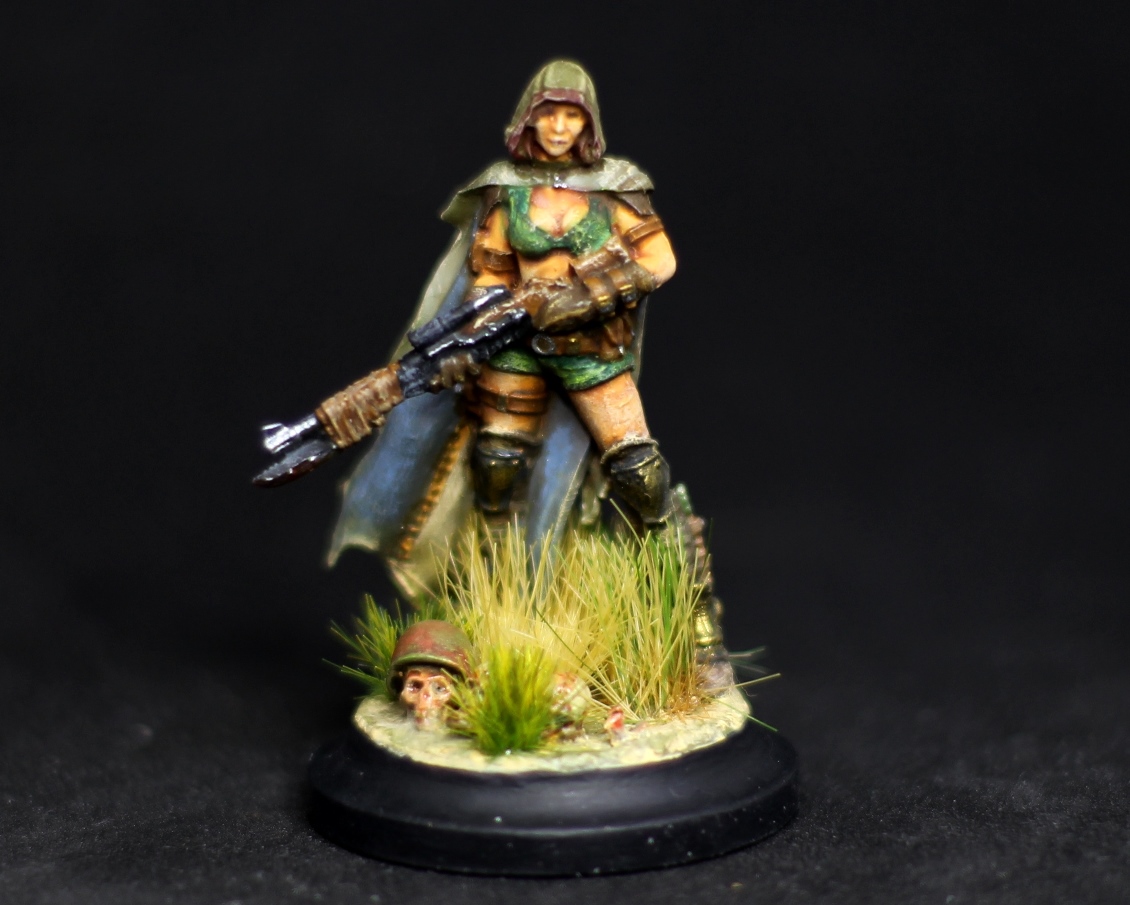 [/ezcol_1half]
[ezcol_1half_end]
Moja Skrytobójczyni
Dziś czas, abym przedstawił mój projekt do 53 edycji FKB. Więcej o mojej edycji nr 53 znajdziecie tutaj, natomiast historia wszystkich edycji jest pod tym linkiem.
To zła kobieta jest, która używa swojej strzelby, aby ubijać na dystans zlecenia. Robi to perfekcyjnie, bardzo cicho i zawsze skutecznie. Lubi też kolekcjonować czaszki, jako trofea swoich łowów.
[/ezcol_1half_end]
[ezcol_1half]
Post-Apo Style
It isn't Dust1947 miniature but looks like Mercenary in my opinion. Moreover I like her sculpt and post-apo design. Finally she is perfect as Assassin. I'd be grateful for your opinions and comments.
That's all for today. In next article I will summarized all projects of 53rd Miniatures Blog Carnival edition.
[/ezcol_1half]
[ezcol_1half_end]
Klimat Post-Apo
To nie jest model Dust Studio, ale jak dla mnie to wpisuje się w klimat Najemniczek. Lubię sama rzeźbę modelu, ten styl post-apo przemawia do mnie. Dlatego myślę, że świetnie wpisuje się jako Skrytobójczyni. A wy co o tym sądzicie?
To wszystko na dziś. Kolejny artykuł to będzie podsumowanie całej edycji i wszystkich zgłoszonych projektów.
[/ezcol_1half_end]