Axis vs Zombies – Dust 1947 Gridless Battle/ Niemcy kontra Zombiaki bez maty w Dust'a 47
Dust 1947 Gridless Battle Test/ Test Dust'a 1947 bez maty
[ezcol_1half]
Me and Marcin tested Dust Gridless 1947 last Thursday. We had opportunity to use ready to play Bolt Action table in Warsaw Gentelmen's Club. Aim of the mission was simple, just to kill enemy. We wanted to test new rules, in such a case aim of the mission was simple, just to eliminate foreign forces. We played five turns.
Turn 1 – Entering the Battlefield
First turn was relatively fast, cause with were focused only on entering into the battlefield. Moreover we discovered that movement measuring based on leaders simply speed-up the game and avoid one of standard conflict at the battle tables.
"Did you proper measure movement of each soldier in your team? Let me check, please?
…And additional few minutes discussion are possible "
We liked idea of movement calculation only based on leaders.
After first round my forces were covered in forest or behind. Marcin zombies started to wait for me behind bridge and trains.
[/ezcol_1half]
[ezcol_1half_end]
Wspólnie z Marcinem testowaliśmy wersję Dust 1947 bez maty. Mieliśmy szanse pograć na super przygotowanym stole pod Bolt Action w Warszawskim Klubie "Gentelmen's Club". Super miejscówka. Przy okazji doskonale pasował do skali Dust'a. Ponieważ to były testy, to cel był prosty – pozabijać się. I tak walczyliśmy pięć tur.
Tura 1 – Wchodzimy
I tutaj pierwsza miła niespodzianka zasada mierzenia zasięgu ruchu wg. jednego wojaka, które wskazujemy jako lidera bardzo upraszcza życia. To bardzo przyspiesza i nie ma dziwnych dyskusji, czy aby na pewno wszyscy zrobili tylko 2 cale. Fajne i przyjemne.
Pierwsza tura skończyła się poukrywaniem się w lasach jeśli chodzi o moje jednostki, oraz za mostem i torami kolejowymi w przypadku Marcina.
[/ezcol_1half_end]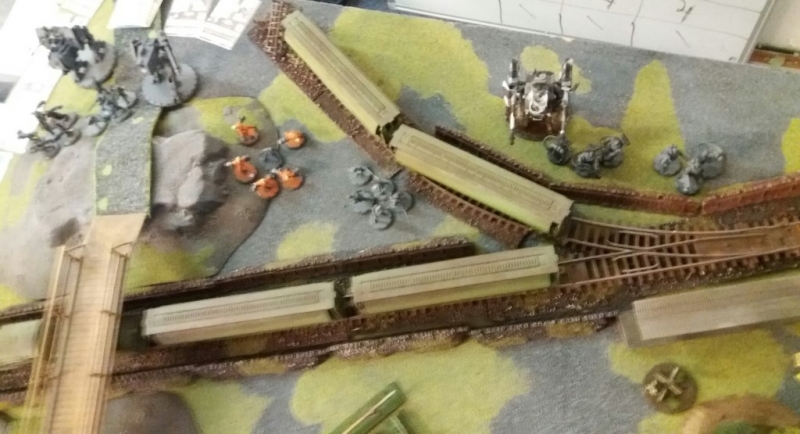 [ezcol_1half]
Turn 2 – Be ready for fight…

Second turn started but Zombies still waited for me behind train. That was moment when we realized that no special objectives impacted on style of the game. Marcin afraid to move behind the train except Heavy Recons and Heavy Laser team. This two units tried to develop left flank of his front. Moreover they were supported by Ludwig.
My moves were focused on approaching as close as possible to the main forces of Marcin. He has horde of Zombies with Frank and Totenmeister, additionally two squads of Zombies with machine guns, panzerfaust's and machine pistols. Marcin's main forces were strength by two lights mechs (Hermann and Tropical Heinrich).
He expected to use Frank Platoon and his suppression abilities but I built core of my army based on Sigrid Platoon and her laser units. Thanks to this all laser units ignored under-fire and suppression. It helped me in next turns. As usual my army list included Mercenaries led by Tanya (the Best Hero Ever J ) and the Wrecker. Last but not least, the machines – the King of Battles – Wotan AR and Command Car Sd.Kfz 250.
Rule Issue – Line of Sight to Leader.
Real battle began at the end of second turn, but before that we decided to modified rules of visibility of the units. We agreed to use leaders to leader measurement to define if units had range of fire. But in case of visibility, opponents could attack these soldiers in units which weren't hide behind obstacles which blocked line of sight. In our opinion  it increased reality and it's reasonable to use this modification during local games.
…first blood of my Suicide Squad
Marcin Ludwig looked for some targets and spotted my Spotters in the middle of field. These guys were there just to annoy my enemy. Shoot and killed one soldier. Wotan tried to give back but missed this time.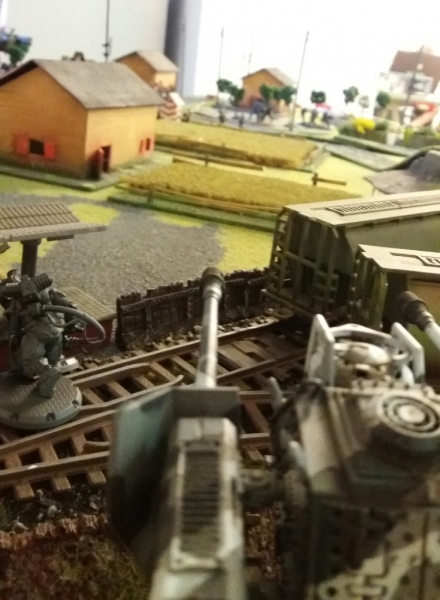 [/ezcol_1half]
[ezcol_1half_end]
Tura 2 – Bądź gotowy na walkę i …
I tutaj niespodzianka, przy tak postawionym celu nikt nie bardzo chciał zaryzykować. Jednak warto mieć jakieś cele w misjach. Całosć wojsk Marcina siedziała w ukryciu z wyjątkiem dwóch oddziałów ciężkiej piechoty (laserowej i zwiadu). Te dwie jednostki, przy wsparciu Ludwiga, starały się rozwinąć lewą flankę.
Ja tymczasem skupiłem się podejściu głównych sił Marcina jak najbliżej. Miał on hordy Zombi z dwoma bohaterami Frankiem i Totenmeister. W dodatku to zgrupowanie wspierały zombiaki z maszynówkami i granatnikami. Szcześliwie dla mnie pancerne wsparcie Marcina to były tylko dwa lekkie mechy (Hermann and Tropical Heinrich).
Marcin chciał użyć zdolności Franka, aby doładować mi "suppression" co by wygenerował niezłą panikę w mojej armii. Szczęśliwie mój pluton był dowodzony przez Sigrid, która powodowała ignorowanie przygwożdżenia ograniczającego mobilności jednostek. Byłem bezpieczny, a przynajmniej piechota laserowa. Jak zawsze siły szybkiego reagowania w mojej armii to  Najemniczki z Tanyą (Najlepszy Bohater Sezonu) oraz ich pojazd The Wrecker. Oczywiście przewagę dawał mi Pancerny Wotan AR oraz pojazd dowodzenia dla Sigrid.
Jak widzimy jednostki
W Dust Gridless jednostki się widzą, jeśli widzą się liderzy. Troszkę to zmodyfikowaliśmy na okoliczność sytuacji chowania liderów za pojedynczymi przeszkodami. Jeśli jednostki mają zasięg ostrzału (mierzony lider do lidera) to mogliśmy ostrzelać tych wojaków, którzy nie byli schowani za przeszkodami.
…pierwsza śmierć
Marcin szukał sposobu dorwania jakiegoś celu i wypalił z Ludwiga do moich spotterów. Zdjął jednego i to było jedyne zwycięstwo tego Ludwiga. Dowódca Wotana chciał się zemścić i wypalił do Ludwiga. Tym razem nie trafił, ale niedługo sprawa się wyjaśni.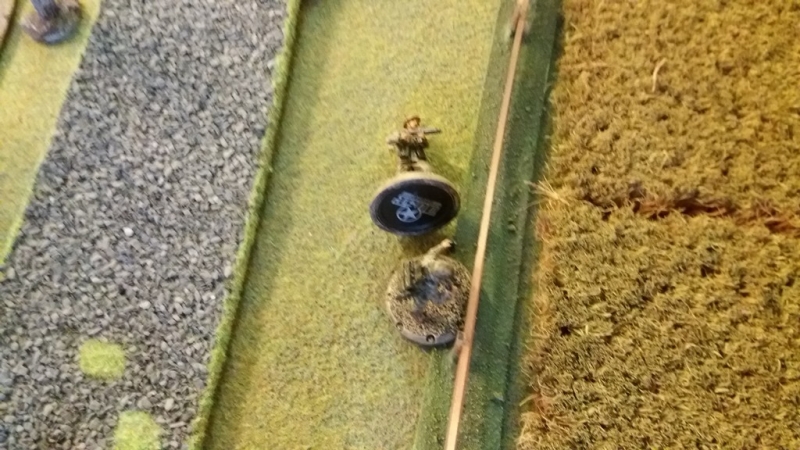 [/ezcol_1half_end]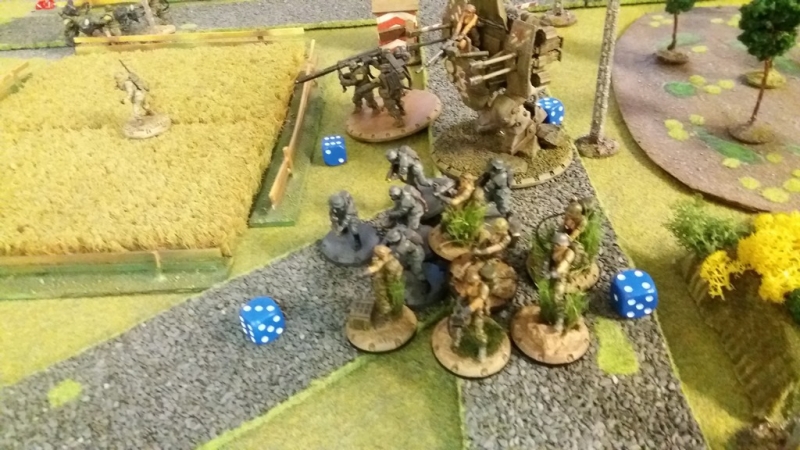 [ezcol_1half]
Turn 3 – Use the advantage to win
I won initiative and my Wotan just smashed Ludwig (lasers rule), but this turn and next one were dominated by Mercenaries and her walker. Marcin decided to move his zombies and hid their under the bridge. My answer was to move forward the Wrecker and blasted off smoke screen. Sisters of Demolition, Tayna and Light Laser Grenadiers were hidden in smoke.
New Smoke Screen rules, that's what we needed. So true, so helpful, may redefine tactical situation in one moment.
Marcin continued development of left flank, but were slowed down by my two Heavy Lasers Teams. Moreover wanted to support Zombies by Hermann, but thanks to Sigrid reactivation Wotan solved.
Turn 4 – Sudden Death

Mercenaries ran to the bridge brunt and demolished zombies thanks to Sulphur Jets and Auto Grenade Launchers. After that Sigrid reactivate unit after that and my Assault Team went back to hide behind smoke screen.
On left flank I killed some zombies as well. Marcin revenged just killing my Heavy Laser Units but it was too late to change strategic situation.
[/ezcol_1half]
[ezcol_1half_end]
Tura 3 – wykorzystaj swoje przewagi, by wygrać
Wygrałem inicjatywę, Wotan AR rozniósł Ludwiga jedną salwą, ale ta tura i kolejna miały należeć do Najemniczek i ich mecha. Marcin w końcu ruszył zombi i schował je pod mostem. To był sygnał do ataku. Wrecker wyszedł na otwarte pole i postawił zasłonę dymną. Po nią schowały się dwa oddziały piechoty Sisters of Demolition z Tanyą oraz oddział lekkiej piechoty z laserami.
Zasłona dymna jest super w nowych regułach. Można jednym posunięciem zmienił sytuację taktyczną na polu bitwy.
Marcin dalej planował obejść mnie z lewej, ale moje oddziały ciężkiej piechoty dzielnie go spowalniały. W tej turze moją przewagę zapewniło wyeliminowanie Hermann'a, lekkie pojazdu z działem laserowym.
Tura 4 – Szybka śmierć
Najemniczki przeprowadziły brawurowy szturm i rozniosły oddziały zombie. Wszystko dzięki dalekiemu zasięgowi ruchu, dwóm opalarkom "Sulphur Jet" i trzem Granatnikom Automatycznym. Jeszcze Sigrid jednostkę zreaktywowała i wycofałem ją pod zasłonę dymną.
Na lewej flance dochodziło do starć piechoty i nawet straciłem dwa oddziały, ale to już nie mogło zmienić strategicznej przewagi moich sił po szturmie Najemniczek.
[/ezcol_1half_end]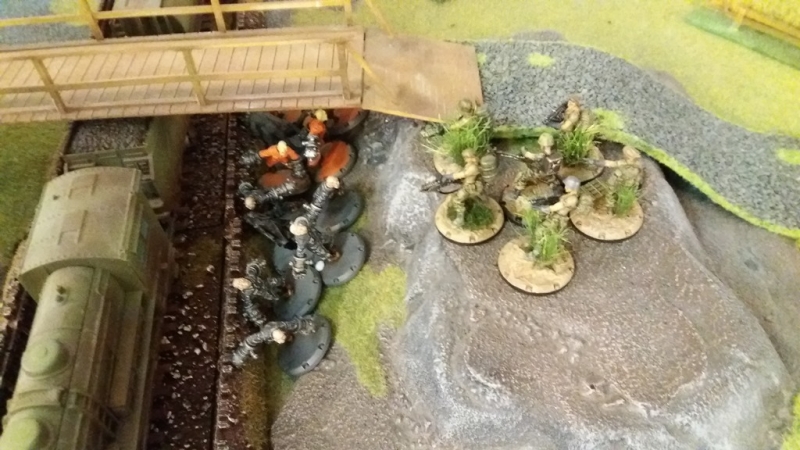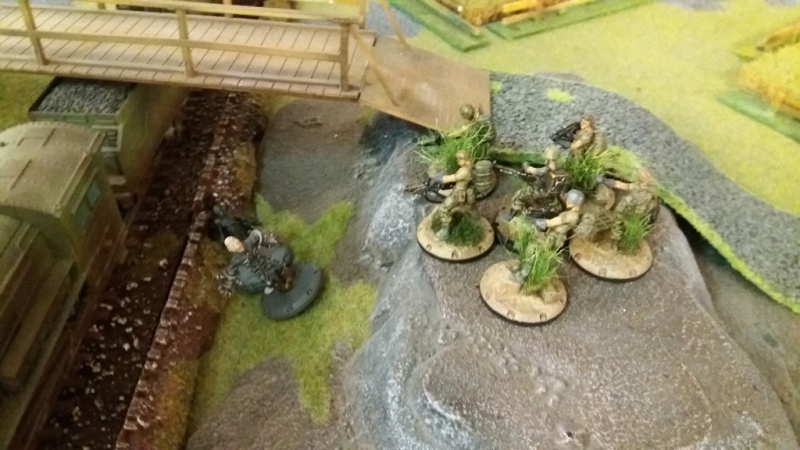 [ezcol_1half]
Turn 5 – last actions
I hidden rest of my infantries behind Marcin units range. Wotan controlled battlefield, Wrecker were ready to kill any infantry. Moreover my spotter took the bridge, attacked zombies and killed one :).
He was covered thanks to another new rules "height advantage", which is very accurate for Gridless version.
More than less, that all. My Sigrid battalion crashed Zombies led by Frank. Very nice battle, very nice rules, but with some remarks and fan modifications.
Rule issue – After battle idea
Planes can't see everything and being seen from every place. I will test rule based on V1 that units which are just behind building and obstacles blocking line of sight on the ground can't be attacked by plane and can't attack plane.
Conclusions
I can say after trial that Dust Gridless is very good proposal. It's relatively fast and intuitive system. Some new modification simplified game but on the another hand I looked for something like this. I hope that more players in Poland will start to play Gridless version. Gridless provides much more possibilities concerning battlefield, units moves are much more flexible. Table-top style much more suits me.
[/ezcol_1half]
[ezcol_1half_end]
Tura 5 – ostatnie ruchy
Schowałem moją piechotę do lasów i poza zasięg resztek wojsk Marcina. Wotan kontrolował całą otwartą przestrzeń. Na koniec jeszcze samotny zwiadowca wparował na most i ostrzelał zombiaki zabijając jednego :).
Przy okazji stestowaliśmy "height advantage". Ta zasada zwiększa poziom ochrony jednostki na wzniesieniu i obniża tej poniżej. Super działa w wersji Table-Top Dust 1947.
Tak skończyło się nasze starcie, Sigrid poradziła sobie z Frankiem. Dzięki Marcin za super grę.
Jeden pomysł po bitwie
Bardzo mi pasowała zasada z V1, że samoloty nie widzą i nie są widziane przez jednostki, które stoją bezpośrednio przy budynkach i przeszkodach blokujących widzenie. Muszę namówić na przetestowanie tej modyfikacji.
Szybkie podsumowanie
Testowa gra przekonała nas do wersji Gridless. Gra się szybko, reguły są raczej proste i intuicyjne. Poprawiony system jest prostszy, ale w sumie tego szukałem. Liczę, że pojawi się więcej graczy Dust 1947 w wersji bez maty w Polsce. Ta wersja wnosi większą elastyczność poruszania się i nie tylko. Mi to pasuje.
[/ezcol_1half_end]
[BMo_scrollGallery id=77 sG_thumbPosition=bottom sG_images=1 duration=slow gallery_width=600 gallery_height=400 thumbs_width=100 thumbs_height=100 sG_caption=1 sG_start=1 sG_loop=1 sG_loopThumbs=1 sG_clickable=1 sG_opacity=40 sG_area=200 sG_scrollSpeed=2 sG_autoScroll=0 sG_aS_stopOnOver=1 sG_diashowDelay=0 sG_followImages=1 sG_responsive=1 ]
[ezcol_1half]
Fan Rules Ideas, if you like more complications:
Templates – based on new rules
Movement – based on new rule (leader to leader)
Range of Weapon – based on new rule (leader to leader)
Line of Sight – modified rule; even if leader is hidden I can still see and shoot to the rest
Cover vs. Infantry Save – unit has cover if half of soldiers are in cover.
Checking the Cover – cover is if line of sight to soldiers basis is drawn via obstacle which gives cover based on rulebook
No line of sight in case of planes – Planes can't attack and be attacked by unit which is just behind building or blocking line of sight obstacle (up to 5 cm) only if possible line of sight can be drawn only via this building or obstacles.
I invite you to discuss on these ideas.
[/ezcol_1half]
[ezcol_1half_end]
Fan'owskie pomysły na zasady, aby troszkę skomplikować:
Nowe wzorniki – wybuchów, dymów, ostrzału, ułożenia jednostki piechoty działa super, nie ma co mieszać
Zasięg ruchu –  liczony tylko dla lidera, nie dla każdego wojaka oddzielnie jest OK, bardzo ułatwia
Zasięg broni – liczony od lidera do lidera jest OK, podobnie jak powyższe zasady
Osłona – jednostka ma osłonę, tylko jeśli połowa żołnierzy ma osłonę.
Linia Widzenia – drobna modyfikacja, nawet jeśli lider jest schowany to dalej widzisz pozostałych członków jednostki.
Jak ustalić, czy jest osłona –jeśli linia widzenia do podstawki żołnierza przecina przeszkodę, która daje osłonę
Samoloty i linia widzenia – samoloty nie widzą I nie są widziane przez jednostki, które stoją bezpośrednio przy budynkach i przeszkodach blokujących widzenie
Komentarze, dyskusja mile widziana 🙂
[/ezcol_1half_end]
Zapisz
Zapisz
Zapisz
Zapisz
Zapisz
Zapisz
Zapisz
Zapisz
Zapisz
Zapisz
Zapisz
Zapisz
Zapisz
Zapisz
Zapisz
Zapisz
Zapisz
Zapisz
Zapisz
Zapisz
Zapisz
Zapisz
Zapisz
Zapisz
Zapisz
Zapisz
Zapisz
Zapisz
Zapisz
Zapisz
Zapisz
Zapisz
Zapisz
Zapisz