Вперед товарищи!!! / Vpered tovarishchi!!! / Naprzód Towarzysze !!! – SSU Army Ideas/Propozycje dla SSU
Odcinek 3/ Chapter 3
by Szymon
Вперед товарищи!!! / Vpered tovarishchi!!! / Naprzód Towarzysze !!!
[ezcol_1half]
Będę tu odpowiadał za wstępne szkolenie ideologiczno-taktyczne dla nowych oficerów ZSS (Związku Sino-Sowieckiego).
Tajemnicą nie jest, że podczas nadal trwającej wielkiej wojny ojczyźnianej to właśnie nasza ojczyzna ucierpiała najbardziej. Ale w płomieniach trawiących miasta i wsie Chin i Związku Sowieckiego stworzyły połączony wieczną bratnią przyjaźnią narodów Związek Sino-Sowiecki zahartowała się najpotężniejsza armia wszech czasów.
Napadnięte przez nieludzkie armie Osi i zdradzeni przez chciwych Aliantów obywatele bratnich narodów stanęli razem. Przez 6 lat armia czerwona przeszła wielkie zmiany – od operacji Barbarosa, po przez bitwy o Leningrad, Stalingrad i Zverograd zgromadzone doświadczenia tysięcy weteranów zmieniły jej oblicze.
[/ezcol_1half]
[ezcol_1half_end]
Today I will lead the tactical and most importantly ideological training for new SSU officers!
It's not a secret that during the great patriotic war it's our country that suffered the most! But in the flames that consumed the cities and villages of USSR and China a new, unbreakable bond was forged. That relationship gave birth to the most powerful army that any man has ever seen.
Attacked by inhuman Axis armies and betrayed by greedy Allies the citizens of our two great nations stood together. Last 6 years was a time of great change for the Red Army – from operation Barbarossa, trough Leningrad, Stalingrad and Zverograd the combined experience and tactical knowledge changed the way we wage war nowadays.
[/ezcol_1half_end]
Trzy Opcje / Three Options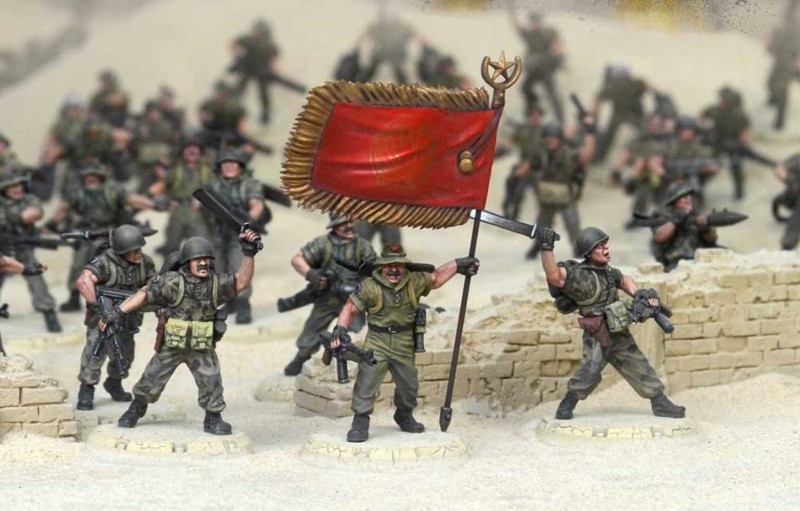 [ezcol_1half]
Na dzień dzisiejszy armię ZSS należy podzielić na 3 części:
Armię blokową – poborowe siły Armii Czerwonej – to tu znajdziemy większość uniwersalnych pojazdów, średnich mechów, piechoty, lotnictwa i artylerii polowej – siły te są w stanie doskonale wesprzeć każdą z pozostałych frakcji bloku.
Gwardię Czerwoną – pięść ZSS, w tej frakcji kryje się najbardziej uniwersalna średnia piechota (Czerwoni Gwardziści) jak i najcięższa piechota – powolni ale nie powstrzymani Stalowi Gwardziści (okaleczeni w walce weterani wielu pól bitewnych którzy zakuci w super ciężkie pancerze wspomagane wracają bronić matuszki Rosji i wziąć krwawy odwet na jej wrogach). We frakcji tej znajdziecie też najcięższe z dostępnych naszej armii mechów (ale nie aż tak ciężkie jak czołgi armii czerwonej).
Spetsnaz – jeśli gwardia jest pięścią to Spetsnaz jest sztyletem. Ta frakcja jest kwintesencją sił specjalnych lekka – bardzo mobilna wysoko wyspecjalizowana piechota która dzięki zdolnościom swoich plutonów potrafi zawsze zaskoczyć wroga, oraz lekkie wielozadaniowe mechy potrafiące dać realne wsparcie szybko nacierającym oddziałom lub osłonę kiedy nasi bojowcy wracają z rajdu za linie wroga.
[/ezcol_1half]
[ezcol_1half_end]
As for today we can split SSU army into 3 parts:
Bloc army, the conscription force of the Red Army – here we will find most of out universal vehicles, medium walkers, bulk of basic infantry, our air fleet and field artillery. These units are great at supporting any other bloc army.
Red Guard the fist of SSU – in this faction you will find the most universal infantry units (Red Guardsmen) and the armored ones – slow but unstoppable Steel Guards (formed from crippled veterans of many battlefields, now enhanced by our VK powered armor they come back to defend mother Russia and take a blood revenge on those that destroyed their bodies). Also in this faction you will find the heaviest of our walkers (but not the super heavy armor which is represented by block tanks).
Spetsnaz – if the Red Guard is the fist ,then the Spetsnaz is the dagger. This faction is focused on special forces – light, very mobile and highly specialized infantry can surprise enemy thanks to many platoon options. It's light and multi-purpose walkers can provide both fire support when advancing and cover of smoke when our soldiers come back from a raid behind enemy lines.
[/ezcol_1half_end]
Na początek / At the start
[ezcol_1half]
Doskonałym rozwiązaniem są dostępne startery:
Ale po kolei…
[/ezcol_1half]
[ezcol_1half_end]
Great way to begin are available starters:
But let's slow down a little and take one step at a time.
[/ezcol_1half_end]
Specnaz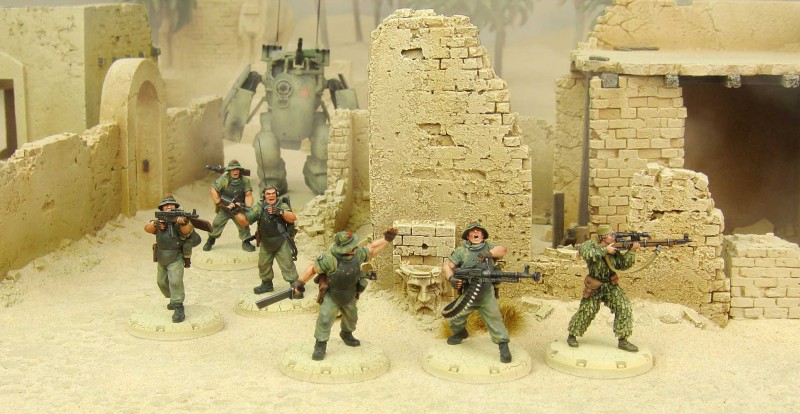 [ezcol_1half]
Przykładowa rozpiska na 50 punktów Spetsnaz'u
No i mamy 50 punktów sił Spetsnazu a co w nim? Na pierwszy rzut oka wydaje się być nie pozorny ale ….
Dzięki specjalnym zdolnościom Róży a dokładniej jej plutonu – cała piechota Spetsnazu w plutonie ma zdolność kamuflażu (czyli jest nie widoczna dla wroga z większej odległości). Dzięki temu to MY wybieramy gdzie toczymy walkę i w większości przypadków pierwsi strzelamy a to duża przewaga.
Nasz odział p-panc dobrze poprowadzony będzie mógł bezpiecznie zająć pozycję do ataku na siły pancerne wroga. Sabotażyści spokojnie przygotują się do ataku (nawet na lżejsze pojazdy) lub ostrzelają wroga po czym znowu zakamuflują się uniemożliwiając wrogom odpowiedzenie ogniem.
A grupa snajperów ( z Różą) albo będzie osłaniać naszych żołnierzy z tyłów, albo usuwać groźne dla nas miotacze płomieni i ckm'y.
[/ezcol_1half]
[ezcol_1half_end]
Here's an example 50 points army for Spetsnaz.
We start with a starter set and then add some additional units:
And so we have 50 points of Spetsnaz. And what's really in that army? At the first glance it's nothing special but don't let the Spetsnaz deceive you…
Thanks to Roza special platoon, all Spetsnaz units in this army would receive a camouflage special ability (enemy cannot see them from medium and long range). This is a crucial element of our army – thanks to it WE decide to where and when the fight will begin. And when the Spetsnaz shoots first there is usually no one to answer with fire afterwards!
Our anti-tank units when used properly will usually safely reach enemy armored units. Saboteurs will charge enemy light armor or just use their concealment to close the distance and shoot at enemy infantry (returning to camouflage after that so they cannot answer).
The sniper squad (with Roza) will either provide fire support from behind or eliminate dangerous special weapons like flamethrowers or machineguns.
[/ezcol_1half_end]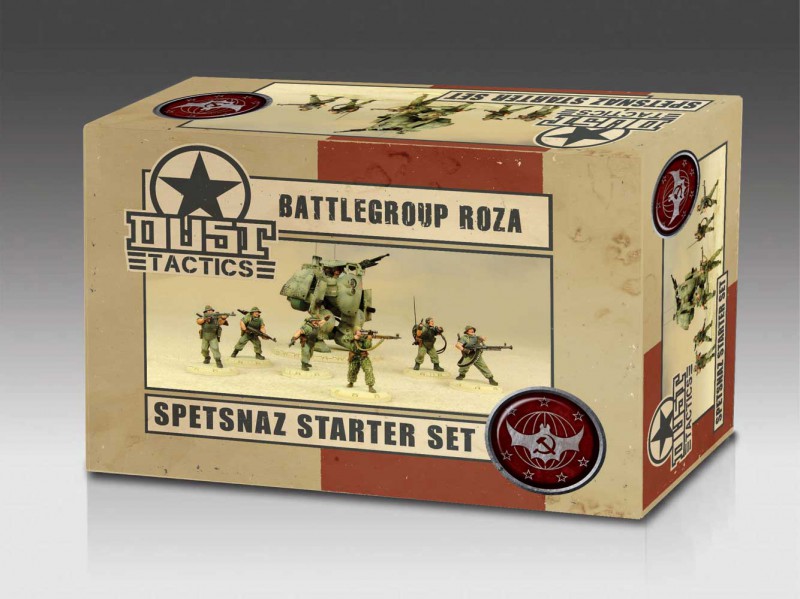 [ezcol_1half]
100 ptk. Spetsnaz
Na 100 ptk. niby niewiele się zmienia ale pojawienie się na stole oddziału dowodzenia z Iron Joe daje nam praktycznie pewność na udaną akcję oficerską (np. reaktywację użytego już wcześniej oddziału).
Invadera – czyli śmigłowiec szturmowy Spetsnazu pozwoli na przerzucenie wybranego oddziału w pierwszej turze na stronę wroga (a każdy doświadczony dowódca DUSTa wie że jedyne co może być gorsze od Ivana z Sabotażystami to szarżujący (w pierwszej turze) Ivana z Sabotażystami. A dodatkowy oddział specjalistów który pojawia się w naszej rozpisce to dodatkowa polisa ubezpieczeniowa na wypadek wrogich sił pancernych.
[/ezcol_1half]
[ezcol_1half_end]
100 points Spetsnaz Battlegroup
Building an 100 points army seems not to change a lot but appearance of command squad accompanied by Iron Joe (a hero specialized in commanding units) gives us almost certain success on any officer action (which for example can reactivate a unit that already activated). Also we gain some interesting air support – Invader.
That Spetsnaz assault heli usually allows you to drop any infantry unit onto your enemy in the first turn of the battle (and any experienced Dust commander will confirm that the only thing worse than Ivan the Butcher combined with Saboteurs is a first turn charge from Ivan and Saboteurs) . Also additional Specialists squad that appears in this army list is additional insurance in case of more enemy armor appearing.
[/ezcol_1half_end]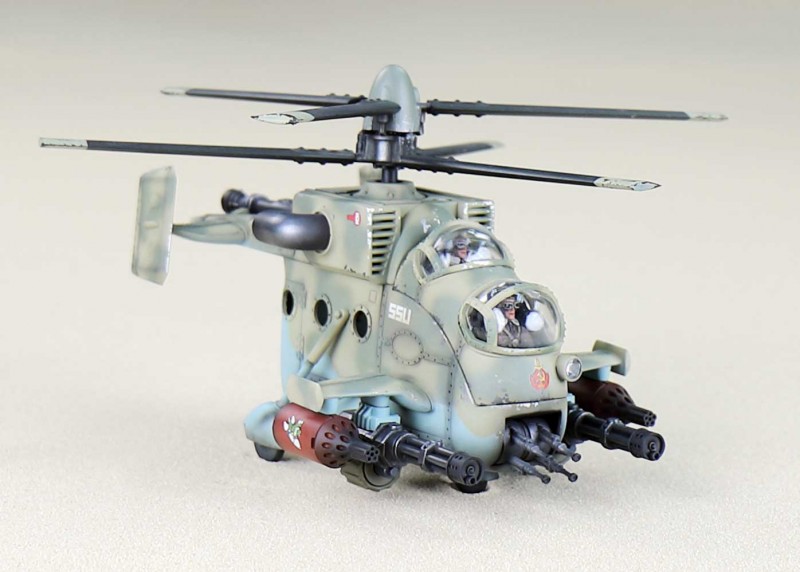 Steel Guard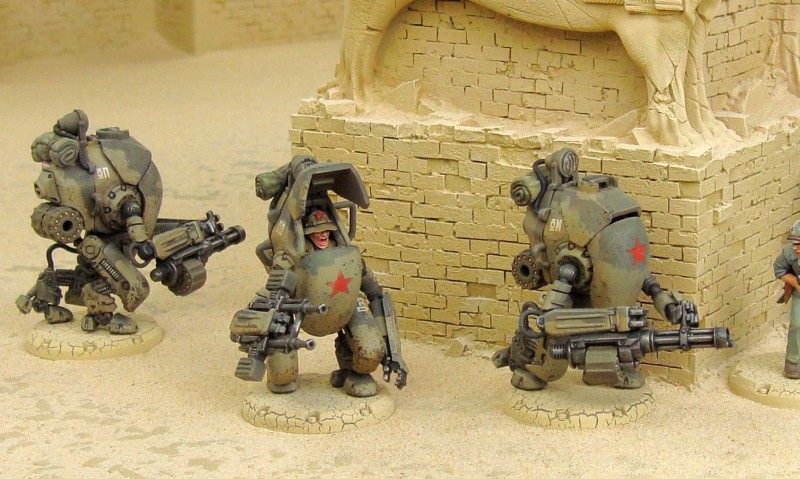 [ezcol_1half]
Najcięższa piechota dostępna w grze. Tu najtrudniej będzie ułożyć rozpiskę na 50 ptk. z powodu wysokich sen oddziałów ale można. Na 100 ptk. nie będzie już tak trudno 😉 W obu przypadkach polecam zakup – Zestawu Bojowego Gwardii Stalowej – wszystkie zawarte w nim modele zostaną wykorzystane w rozpiskach 50 i 100 ptk.
http://warfactory.pl/shop/product/zestaw-bojowy-gwardii-stalowej/
53 punkty
Gra Stalową gwardią na 50 ptk. jest powiedzmy to sobie szczerze trudna. Pomimo mocnego pancerza i dodatkowego rzutu obronnego (zdolność specjalna gwardii) wróg ZAWSZE będzie miał nad nami przewagę liczebną a gra nie wybaczy nam żadnego bezsensownie straconego żołnierza!
Siłą tej rozpiski będzie Guai-Lo (pierwszy z weteranów zakutych w gwardyjski pancerz mając zdolność do strzału po ruchu) i oddział z rakietami termo-barycznymi (zwany pieszczotliwie Żabkami Samowarowymi) dobrze użyty może realnie wyeliminować do 4 oddziałów wroga w jednej turze.
Oddział snajperski jest tu uniwersalnym wsparciem – po przyjrzeniu się karcie łatwo zauważyć że karabiny snajperskie są realnie rusznicami p-panc mogącymi eliminować równie sprawnie wroga ciężką broń jak i lekkie mechy. Dołączeni do naszych sił szturmowcy gwardii, nie są tu przypadkiem, mają oni za zadanie chronić nas przed zbyt szybką piechotą wroga.
[/ezcol_1half]
[ezcol_1half_end]
Heaviest infantry units available in game. A 50 point force is quite a challenge because of high unit prices. On 100 points we luckily have more point to maneuver 😉 In any case i advise you to obtain the Steel Guard Battle Group – all of it's units will be used in both armies and it's quite a good deal considering you would need to buy these units separately.
http://warfactory.pl/shop/product/zestaw-bojowy-gwardii-stalowej/
53 pts starter of Steel Guards
Maintaining a decent force for 50 points with Steel Guards is not an easy task. Even with our heavy armor and additional DR throw (special Steel Guard ability) the enemy will ALWAYS have the advantage of numbers on his side, and we cannot lose any of our soldiers in vein!
The strength of this army list will be Guai-Lo (first of veteran packed inside the suit with move and fire ability) and thermobaric rocket weapons (sometimes called "Steam Guards" HUE HUE HUE) with enough luck that combo can eliminate up to 4 enemy squads in one turn.
The sniper team serves as universal support here – after looking at the card it's easy to notice that these sniper rifles are in fact anti-tank guns that easily eliminate both support weapons and light armor. The assault squad task is to defend the rest of the army from charging enemy infantry.
[/ezcol_1half_end]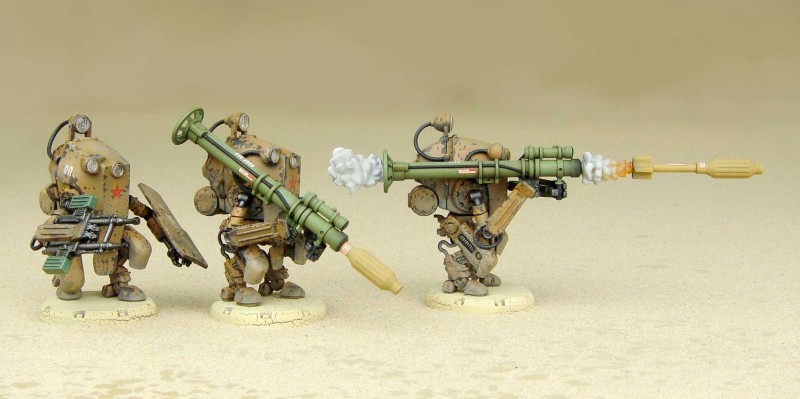 [ezcol_1half]
106 punktów
No i mamy rozbudowaną na 100 ptk armię Stalowej Gwardii – podniesienie o 50 ptk. potencjału naszych wojsk daje nam do ręki oddział dowodzeni w pojeździe dowodzenia – czyli prawe pewną re-aktywację co w grze przeciw przeciwnikom mającym przewagę liczebną będzie dla nas bardzo ważne.
Pojawiający się na stole oddział wsparcia ogniowego STEEL WALL i wesprze naszych towarzyszy z STEEL GUARD ASSAULT SQUAD w usuwaniu wrogiej piechoty, a maszerująca z naszymi oddziałami BABUSHKA łączy w sobie zalety pojazdu obrony przeciw lotniczej, duża siłę ognia przeciw piechotnego i duża skuteczność w niszczeniu lekkich mechów.
Taka konfiguracja armii zamyka pluton Stalowej Gwardii dając naszym ciężko opancerzonym żołnierzom dodatkową odporność na przygwożdżenie ogniem.
[/ezcol_1half]
[ezcol_1half_end]
106 points Steel Guard
And so we have a developed 100 point army for the Steel Guards. Increasing our potential by 50 pts. Gives us a very interesting bonus – a command squad inside a specialized vehicle – again almost certain reactivation – which is crucial when we use expensive units against enemy with superior numbers.
Additionally STEEL WALL squad will greatly boost the anti-infantry capabilities of base STEEL GUARD ASSAULT SQUAD . BABUSHKA marching with our forces combines the strengths of anti-air unit, heavy firepower against infantry and effectiveness at engaging lighter armor units.
This army configuration additionally gives us a special ability from Steel Guard platoon – less probability that our soldiers will be suppressed by enemy fire.
[/ezcol_1half_end]
Do boju, Generale czas zbudować swoją armię! / Forwards! General it's time to build your army!
[ezcol_1half]
Modele niezbędne do zbudowania swojej armii aliantów znajdziesz na – www.warfactory.pl. Dokonując zakupu na warfactory.pl, każdy otrzyma rabat 5% na modele Dust Studio jednostek opisanych w artykule. W tym celu należy w trakcie składania zamówienia podać kod promocyjny:
SSU_dustbrothers_102017
Kod upoważnia do rabatu w przypadku dokonania zakupu i opłacenia transakcji w terminie do 10 października 2017.
Wszelkie kwestie dotyczące realizacji zamówień należy uzgadniać z warfactory.pl. Kontakt email: kontakt@warfactory.pl, www: www.warfactory.pl
Najemniczki już niedługo 🙂
Serię zamkniemy garścią propozycji, jak wykorzystać Najemniczki.
[/ezcol_1half]
[ezcol_1half_end]
You can find most of the models described above on www.warfactory.pl. Especialy for our readers we prepared a special 5% bonus coupon for Axis units. Just use the code below.
SSU_dustbrothers_092017
The code will work until end of 10th October 2017.
Any problems and questions regarding orders should be discussed with warfactory.pl.
Contact: email: kontakt@warfactory.pl, www: www.warfactory.pl
Mercenaries will be next 🙂
Last article will be about Mercenaries and how to combine armies with these units.
[/ezcol_1half_end]
Thank You 🙂
Krzysztof "K-man", Piotr "Panda", Szymon i Marek (Warfactory).
Zapisz
Zapisz
Zapisz
Zapisz
Zapisz