Paint your models for 2017 Dust European Championship / Pomaluj swoje modele na Mistrzostwa Dust1947
2017 Dust European Championship / Mistrzostwach Europy w Dust1947
All Dust addicted players have a chance to meet together during 2017 Dust European Championship in June, 17th-18th in Warsaw. Most of us want to play, meet friends and have lots of fun, some want to win.
Join us in Warsaw, all needed information's are on dedicated European Championship Warfactory site.
All of us expect heroic and very intensive battles during these days in Warsaw. Marek from Warfactory.pl works on two tournament scenarios which promise challenges without any compromises on Dust1947 battlefields. First one I enclosed today.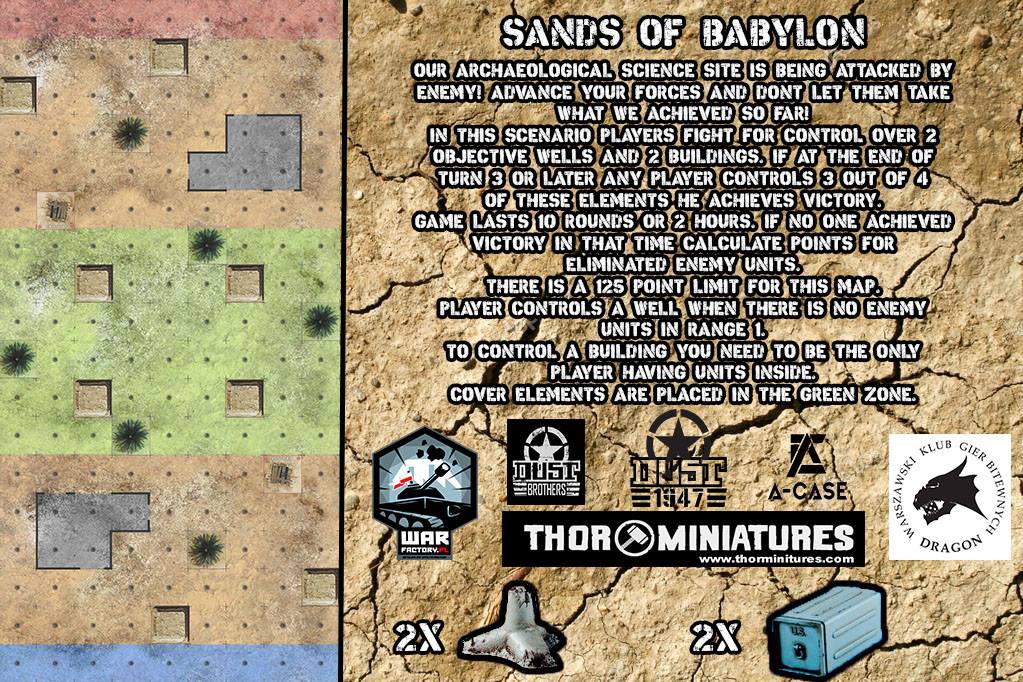 "Best Painted Model Contest" during Championship / Konkurs malarski na Mistrzostwach
There will be one additional contest open for all participant. Everyone can apply to
"Best Painted Model Contest"
. Our fantastic jury will judge whom model will be the best in following three categories this year:
Dust Universe Hero – 1 figure of the hero/officer/unique character
Dust Universe Infantry Unit – Dust units (3 up to 5 figures)
Dust Universe Vehicle – landing vehicle, vessel, plane or chopper
But it's not everything this year,cause our tradition is…
VOX POPULI voting and we will vote for BEST PAINTED ARMY presents on Dust1947 European Championship battlefields.
Every participant will take part in this competition. All what you need is to have painted by you army which you use during 2017 Dust Championship. It's still more then two months. It seems to be fair enough time to prepare your units to this competition.
Please, remember that it's VOX POPULI voting. No one knows what may happen, everyone has a chance to win. Be prepared, be ready to promote your painting style , play fair, be cool and positive freak. It may helps you to win and will help all of us to spend great and pleasure time together.
Official rules of "Best Painted Model Contest" are on dedicated European Championship Warfactory site. If you have any other questions, don't hesitate to ask via Event Facebook site or my email: contact@dustbrothers.pl.
See you soon in Warsaw!!!
No i jeszcze konkurs modelarski
"Best Painted Model Contest"
w który będzie mógł wziąć udział każdy uczestnik mistrzostw. Tradycyjnie będą trzy kategorie, gdzie zwycięzców wybierze znamienite Jury konkursu.
Dust Universe Hero – bohater, oficer lub postać unikalne
Dust Universe Infantry Unit – Jednostka piechoty (od 3 do 5 modeli)
Dust Universe Vehicle – dowolny pojazd ze świata Dust
Ale to nie wszystko, bo nie może zabraknąć głosowania VOX POPULI…

W tym roku przez VOX POPULI wybieramy najlepiej pomalowaną armię na turnieju Dust1947 European Championship.
Każdy może uczestniczyć w tych zawodach. Wystarczy, abyś zagrał na turnieju, wcześnie pomalował swoją armię. Masz jeszcze dwa miesiące. Wydaje się, że jest to wystarczająco dużo czasu. Każdy sobie poradzi, zapraszam do wyzwania.
I pamiętaj, to jest VOX POPULI gdzie wszystko się może zdarzyć, każdy ma szansę. Warto być przygotowanym, umiejętnie promować styl swojej armii, grać fair. Po prostu warto czasem być pozytywnie zakręconym maniakiem i odrobiną zdolności malarskich. Taka postawa może pomóc wygrać Tobie, na pewno będzie to wspaniały czas wśród fan'ów Dust'a.

Oficjalne zasady "Best Painted Model Contest" znajdziesz na dedykowanej stronie 2017 Dust European Championship. W razie jakichkolwiek pytań, zapraszam do ich dyskusji na specjalnej stronie event'u na Facebook. lub kontakt na email: contact@dustbrothers.pl
Do zobaczenia wkrótce w Warszawie !!!
2016 edition winning models / Zwycięzkie modele z 2016 roku