Marder III "Red Fury" is ready 🙂
My Free U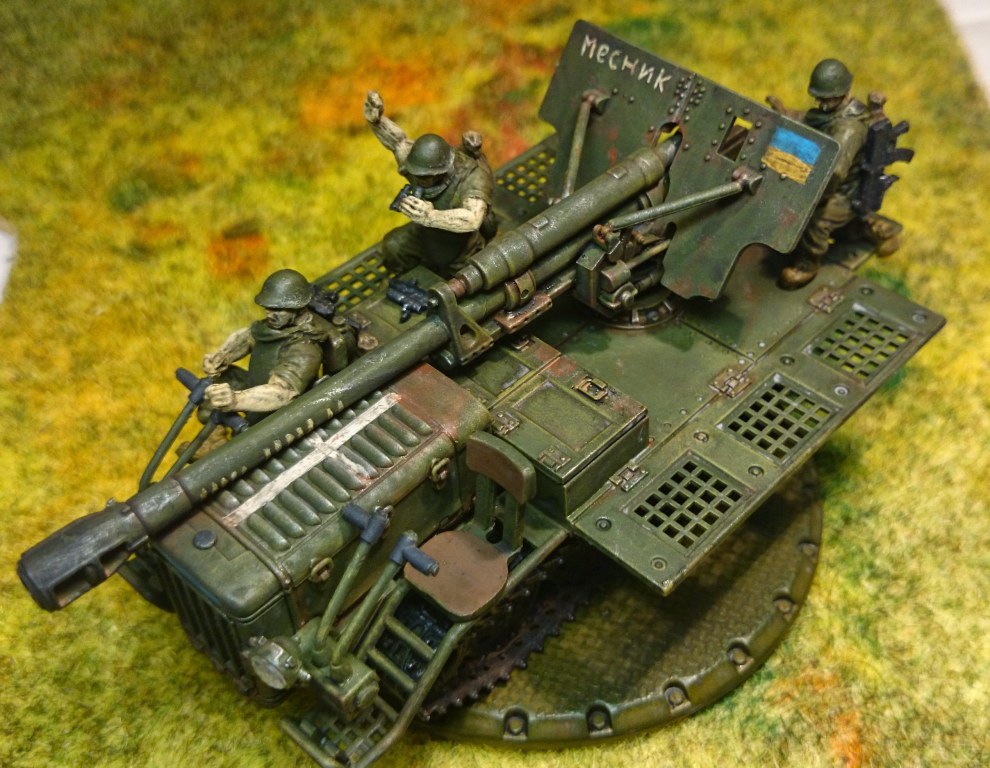 kraine tractor "Red Fury" is very effective vs. walkers and infantry units. Moreover Red Fury is allowed as captured vehicle. So I decided to reach for captured vehicles rule and prepare tank destroyer for my Axis. As usually I didn't go easiest way which would be to buy and repaint SSU tractor.
I looked for some conversion. I decided to use Tamiya Marder III model. This model fit perfectly cause original Marder III was a combination of Czech 38(t) hull and captured Russian 7,62 cm gun which cloud knock out tanks with 122 mm thick armor at range of 1000m.
I didn't modified vehicle significantly. I used only Dust Tactics MG44 as front machine gun. All my trucked or wheeled vehicles have standard 9cm bases, in this case it's the same.
As crew I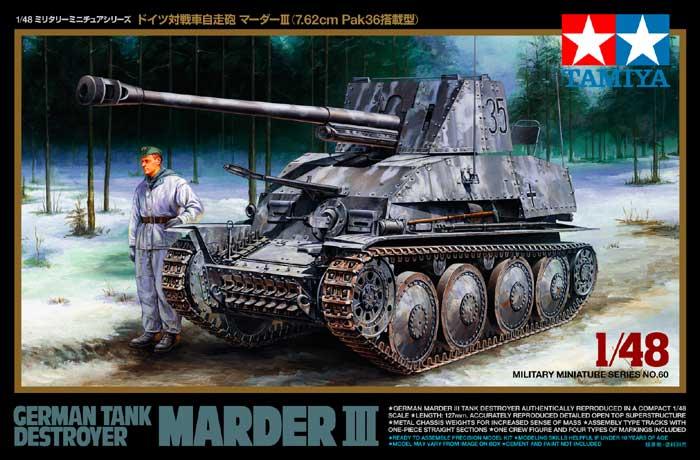 used three grenadiers. One has modified position of legs and now looks like he's running. Grenadiers have these same armor as original SSU soldiers then perfect fit to this conversion.
Finally I paint whole model in standard camouflage for my Axis vehicles (Valleyo German fieldgrey 70830, Flat earth 70983, Field blue 70964). Main color of soldiers is Middlestone 70882 but I used also Orche Yellow for armor, Iraqi Sand, Khaki, GoldBrown, Black, Silver, etc….
As usually I'm not satisfy enough but on the another hand there should be the moment when you have to finish. And this the end, new unit is ready to test on battlefield.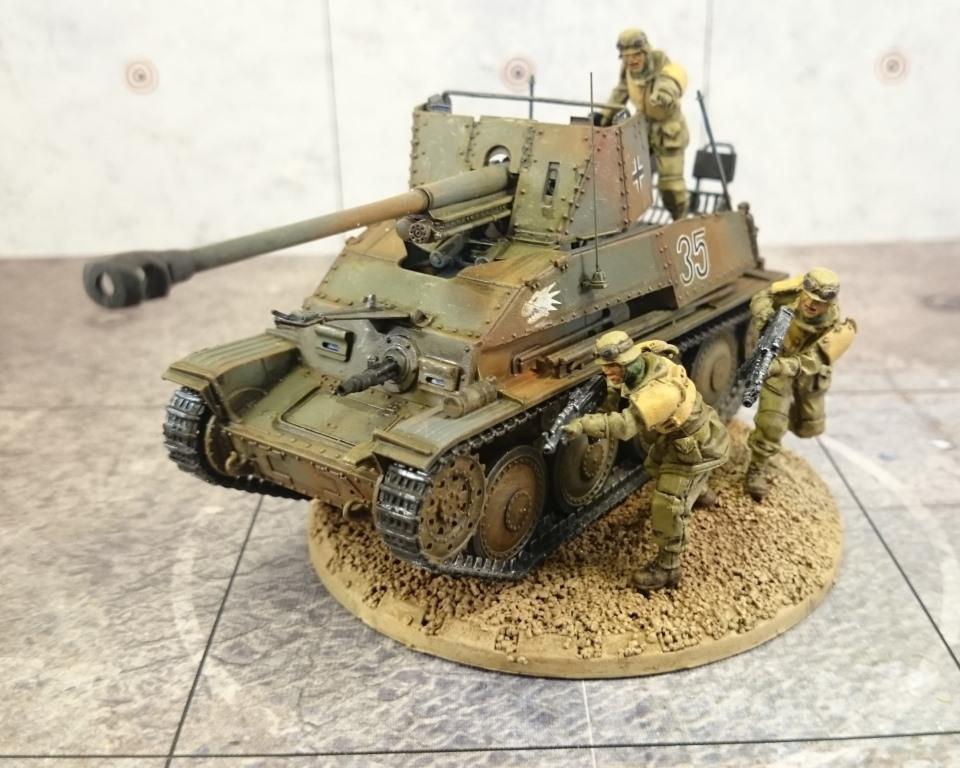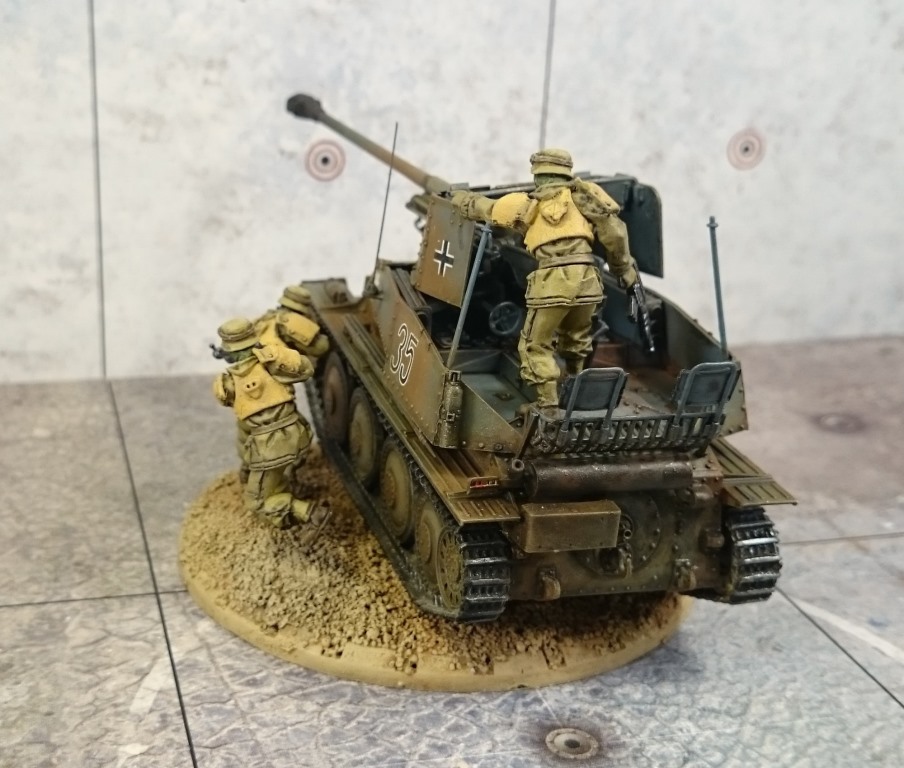 Marder III "Red Fury" full gallery
Additionally I made dedicated card for this model which reflects to 9 points cost of unit and Marder III photo. Feel free to download it.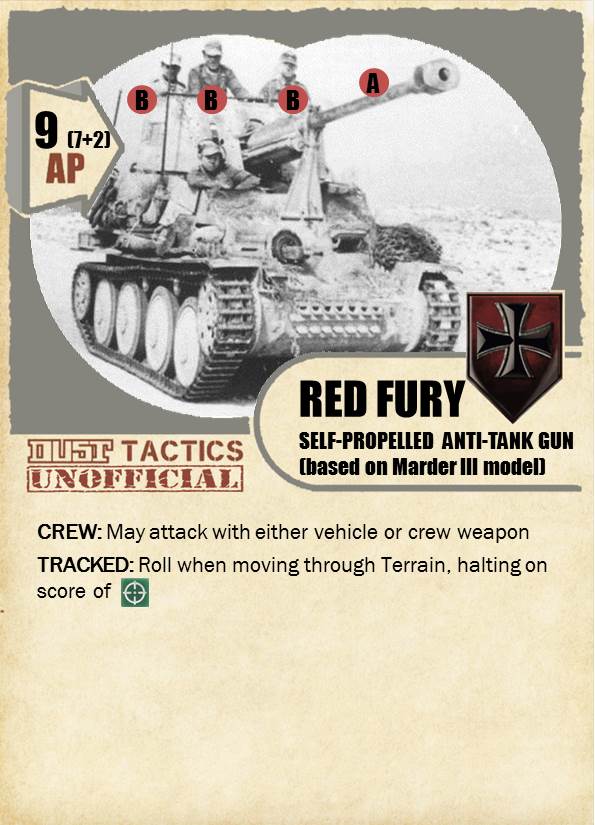 Captured RED FURY based on Marder III
.