Desert Scorpions Assault & Mortar Truck Unboxing / Rozpakowaczka Szturmowego & Moździerzowego Skorpiona
Everyone wants Heavy Support / Każdy chce mieć wsparcie ogniowe
[ezcol_1half]My Desert Scorpions also and support arrived. New set of Desert Scorpions Dodges (Assault/Mortar version). Trucks have to be assembled in workshop and will strengthen my Allies. But before I will show you unboxing. I want to share with you two pictures which shown that it's not only Weird War.
[/ezcol_1half]
[ezcol_1half_end]Również ciężarówki Desert Scorpions bez siły ognia nie poradzą sobie. Dlatego zwiększam moją bazę maszynową o dwie nowe wersje; szturmowa i artyleryjska. Jeszcze tylko je zmontować i będzie się działo. Dziś kilka słów o tym, co znajdziecie w tym zestawie. Lecz na start foto-dowody, że Dodge w takich konfiguracjach to nie tylko Weird War.
[/ezcol_1half_end]
It's second set of well-known Desert Scorpions Trucks / Drugi zestaw do kolekcji ciężarówek Desert Scorpions
[ezcol_1half]Officially set includes optional parts to build three versions of Dodge Truck.
Transport Truck – 4 MG's and transport of infantry unit squad with ASSAULT VEHICLE ability.
Assault Truck – Anti-Infatry/Anti-Ariplane Truck equiped in 4 MG's and one Twin Heavy MG on rotary socket. It's still able to take on board two soldiers (eg. Desert Scorpions Sniper Team)
Mortar Truck – Artillery on Truck, l like idea 🙂
It has cards for these versions. What is important Assault Vehicle has two cards (one Desert Scorpion and second one Block version). After reviewing sprues I realized that all elements needed to build Command Truck are also available. Additional radio is good benefit.
[/ezcol_1half]
[ezcol_1half_end]Oficjalnie zestaw zawiera trzy konfiguracje:
Transport Truck – 4 KM'y i transport oddziału piechoty ze zdolnością ASSAULT VEHICLE
Assault Truck – Przeciw-lotniczy/przeciw-piechocie pojazd szturmowy uzbrojony w 4 KM'y I jeden podwójny CKM na obrotowym montażu. Dodatkowo jeszcze miejsce na dwóch żołnierzy (pewnie zestaw snajperski Desert Scorpions)
Mortar Truck – Moździeż, pożądane wsparcie 🙂
Zestaw zawiera karty do tych wersji. W przypadku Assault Truck zarówno wersję Desert Scorpions oraz blokową Aliantów. Po obejrzeniu części okazało się, że są wszystkie potrzebne elementy i figurki również do budowy wersji Command Truck. Nadprogramowe radio to miły bonus.
[/ezcol_1half_end]
Unboxing, but paying attention to differences / Unboxing, tylko bardziej o różnicach
[ezcol_1half]This set based mostly on parts which I have described during unboxing of the first Dodge set (Command Truck/Transport Truck/Gun Truck). thus today I focus on difference between sets. Here you will find previous unboxing; Desert Scorpions Truck Unboxing / Rozpakowaczka Ciężarówki Skorpionów Pustyni
Truck
Truck parts sprues are these same like in previous Truck. I don't want to bore you describing again what is the content of these sprues, gallery is enclosed. But one point is worth to mention. Quality is really amazing, model is easy to build and look great after assembling.
[/ezcol_1half]
[ezcol_1half_end]Zestaw bazuje na częściach z poprzedniej wersji Dodge'a (Command Truck/Transport Truck/Gun Truck). Dlatego dziś skupię się na różnicach, tutaj znajdziesz opis szczegółowy poprzedniego zestawu; Desert Scorpions Truck Unboxing / Rozpakowaczka Ciężarówki Skorpionów Pustyni
Ciężarówka
Części do ciężarówki to dokładnie to samo. Nie będę was zanudzał was ponowny opisem, wrzucam tylko fotografie poszczególnych wyprasek. Jedno jest pewne, jakość zdecydowanie na plus, łatwe do zbudowania i świetnie wyglądają gotowe.
[/ezcol_1half_end]
[ezcol_1half]
Additional Equipment
This set doesn't include sprue with parts to build phaser gun (Gun Truck version), but includes few elements dedicated to Mortar Truck and Assault Truck. All these parts are in small dedicated bags. Grey parts are for Assault Truck, bag includes additional elements needed for Twin Heavy MG + box for ammo. Black parts are for Mortar version. In fact it's mortar, additional MG and rounded ammo boxes.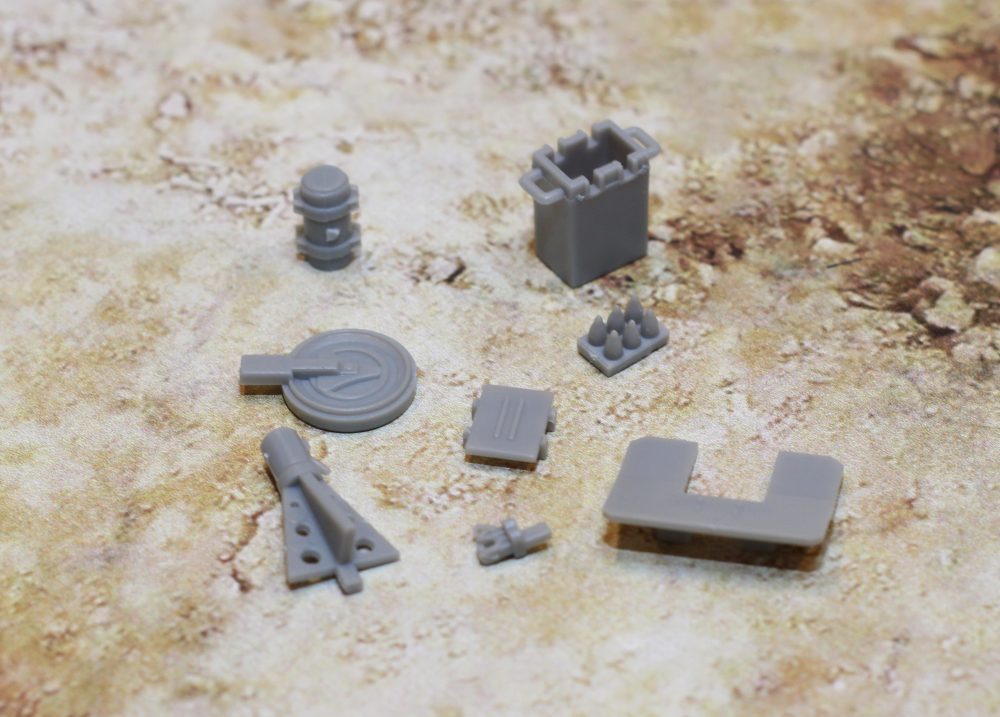 Scorpions
Set includes all optional heads to build British Commandos (Desert or European), Free French, Aussies. These same options like in previous set. What is different that set includes two soldiers with dedicated body postures to MG and Mortar. Overall 6 soldiers and 21 heads are in one set.
[/ezcol_1half]
[ezcol_1half_end]
Co nowego z wyposażenia
Ten zestaw nie zawiera elementów do budowy działa phaser'owego, ale zawiera kilka dodatkowych elementów niezbędnych do budowy wersji moździerzowej i szturmowej. Dodatkowe części są załączone w malutkich woreczkach. Szare dodatki do wersji szturmowej to elementy do budowy CKM'u oraz skrzynka amunicji. Czarne to zestaw moździerza oraz dodatkowy KM i kołowe magazynki do nich.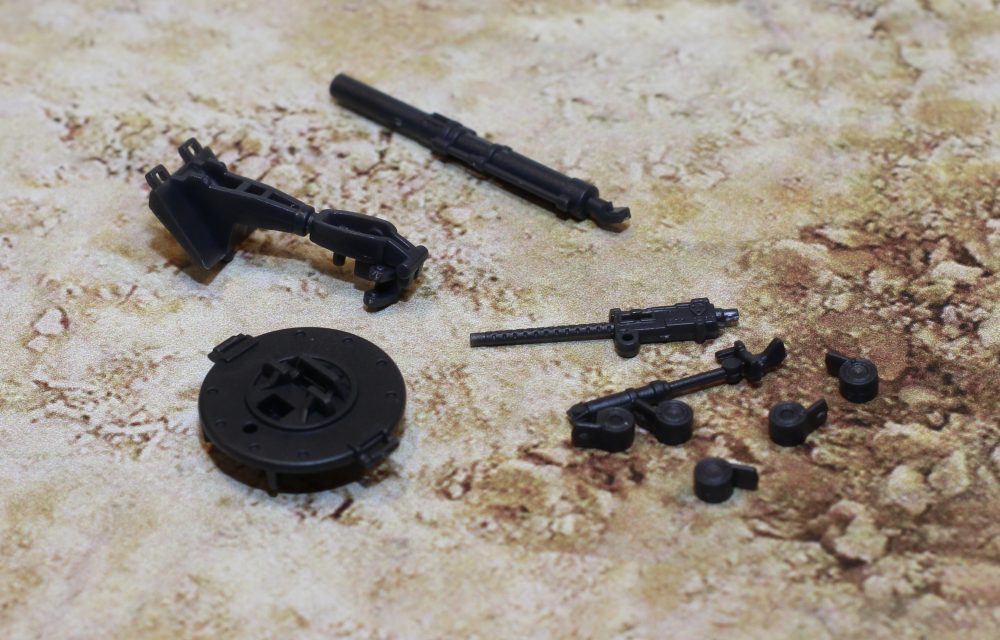 Załoga Skorpiona
Zestaw zawiera opcjonalne głowy do komandosów Brytyjskich, Australijczyków, Francuzów. Załoga różni się dwoma żołnierzami w pozycjach dostosowanych do obsługi karabinu maszynowego i moździerza. W sumie to 6 wojaków i 21 główek. Wypas!!!
[/ezcol_1half_end]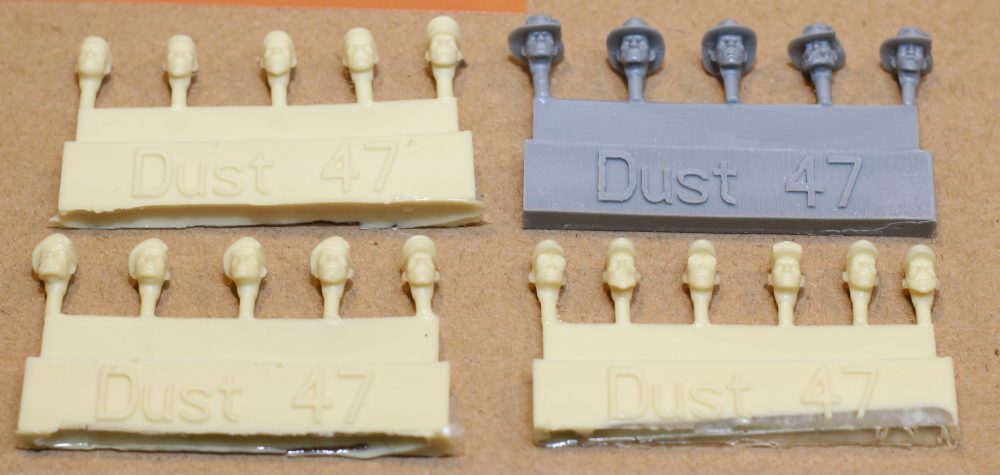 Conclusions / Zamiast podsumowania
[ezcol_1half]I don't want to boring you by copying the summary of previous Desert Scorpions Dogde Truck unboxing. I want to say again it's great model and improvement of Dust Studio work on Dust1947 models.
I cannot wait to see Desert Scorpions starter and sniper team. I will have them definitely 🙂
Model is available directly on Dust Studio website www.dust1947.com, for retail and wholesale customers in Europe via www.Warfactory.pl and Americas via www.dustusa.com.
[/ezcol_1half]
[ezcol_1half_end]Nie chcę zanudzać kopiując podsumowanie z poprzedniego unboxing'u. Powiem tylko, że to jest super model i potwierdzenie dużego kroku do przodu firmy Dust Studio. Polecam zdecydowanie.
Nie mogę doczekać się zestawu startowego Desert Scorpions i team'u snajperskiego. Napewno po nie sięgnę. 🙂
Model do kupienia na stronie Dust Studio www.dust1947.com, dla klientów w Europie przez www.Warfactory.pl, w Ameryce na stronie www.dustusa.com.
[/ezcol_1half_end]