Bob Challenge Vol. 2 – Final Commitment / Model skończony na konkursu Bob'a
My commitment to Bob Sennick Challenge 🙂 / Projekt skończony, czas głosy zbierać…

[ezcol_1half]I have finished Tropical Hermann after few long nights. I managed to realize my idea to build model/diorama which perfectly fit to following report:
"….It's 1947 June…
After long battle on Babylon desert Axis

veterans finally defeated Pounders and Rattles USMC platoon.

USMC didn't expect Light Walkers with Lasers :(.

Lot's of allies walkers have been burnt and lost forever during these days….
….Tropical Hermann called "LOKI" belonging to 1st LICHT PANZER KAMPFGRUPPE was spotted by Ally AirRecon early morning with Commander of GRENADIER REGIMENT supporting walkers during that battle…."  
[/ezcol_1half]
[ezcol_1half_end]W końcu skończyłem prace nad moim Tropikalnym Hermann'em. Jestem zadowolony, że udało mi się zrealizować projekt zgodnie z przyjętym założeniem, aby scenka z modelem pasowała do takiego oto raportu/notki prasowej :):
"….Czerwiec 1947
….Po długiej bitwie na pustyniach Babilonu jednostki Osi rozgromiły pluton pancerny USMC. Maszyny Aliantów, "Pounder" i "Rattle",  nie były gotowe na ofensywę Laserowego Grupy Pancernej Axis.  Nikt nie spodziewał się tych jednostek tutaj, wiele maszyn spłonęła i zostało straconych….
….Zwiad powietrzny Aliantów sfotografował pobojowisko. Uchwycił m.in. Tropikalnego Hermann'a o imieniu indywidualnym "LOKI", należącego do Pierwszej Niemieckiej Lekkiej Grupy Panzernej. Jego pilot prowadził ustalenia z dowódcą grenadierów wspierających niemieckie jednostki pancernej na tej linii frontu…. "  
[/ezcol_1half_end]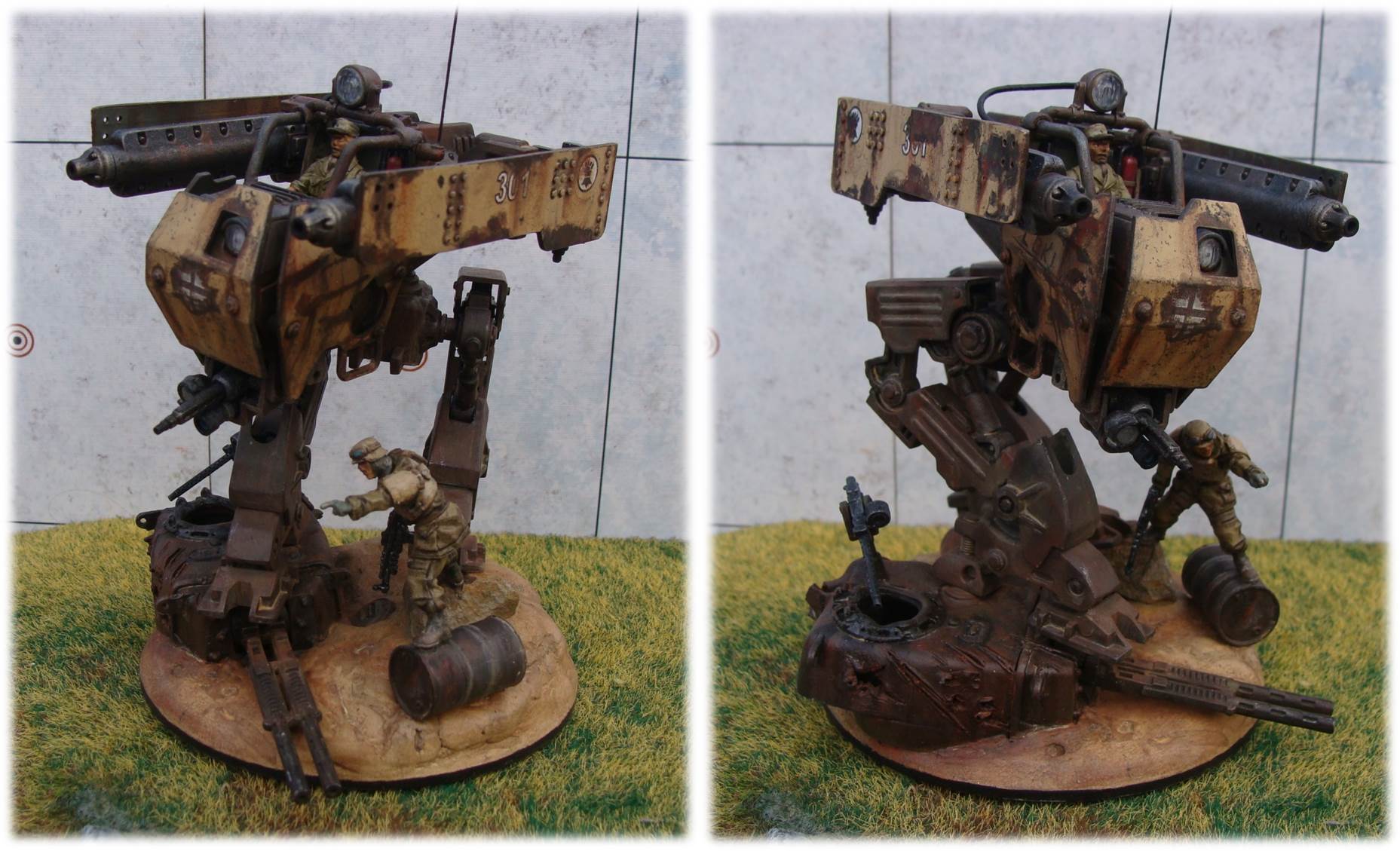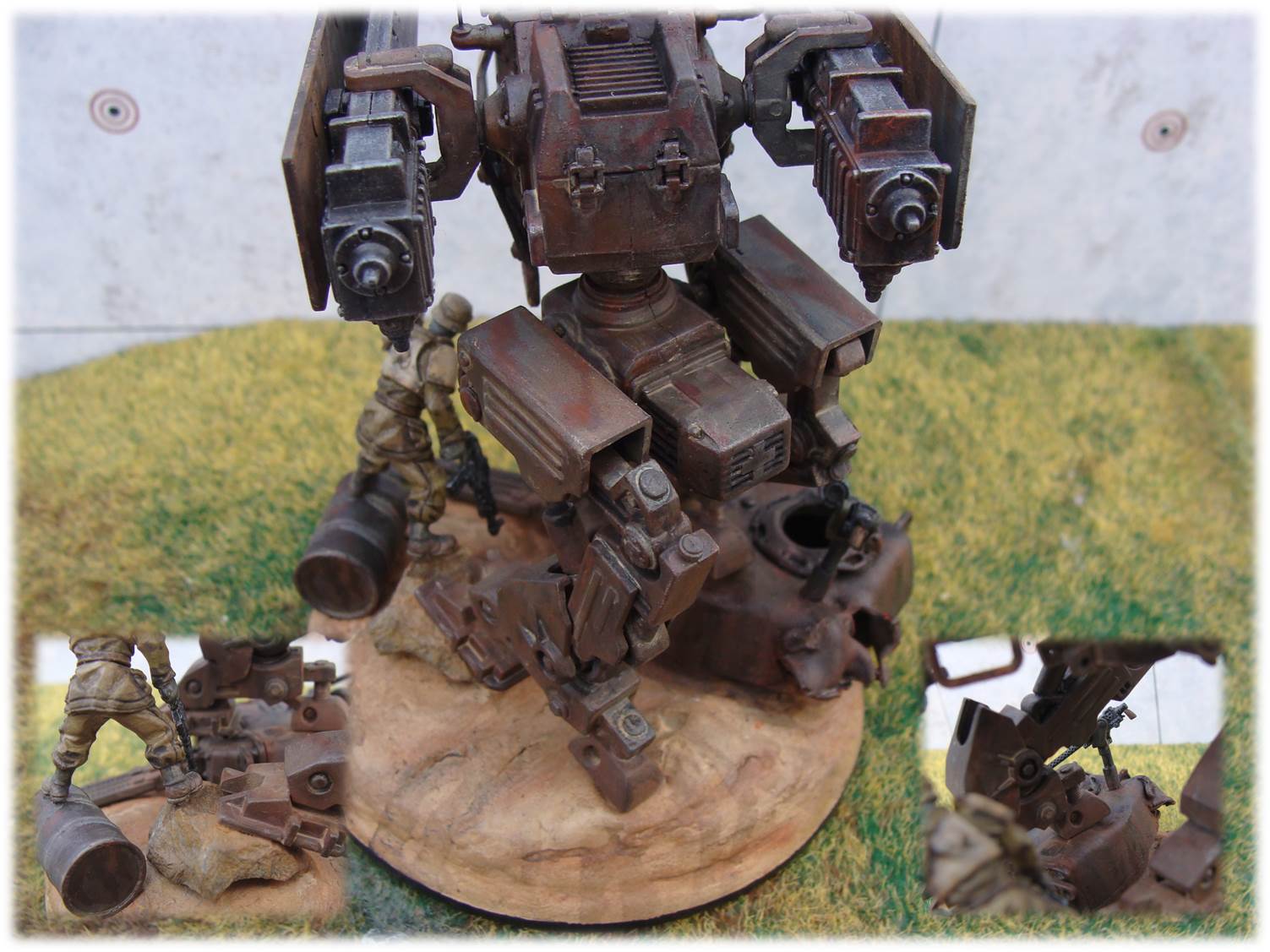 [ezcol_1half]I'm quite happy with final effect. That's my commitment to Bob Sennick "Best Walker March 8th-March 22nd Challenge". If you like it as well, please VOTE on my model during voting which should start nearest Wednesday on Dust Tactics Faceboook Group.
Photos with details are below…[/ezcol_1half]
[ezcol_1half_end]Jestem zadowolony z finalnego efektu. Jeśli Wan też się podoba, to proszę o głosy na niego. Model uczestniczy w konkursie modelarskim "Best Walker March 8th-March 22nd Challenge", który jest prowadzony na grupie Facebook Dust Tactics. Głosowanie powinno zacząć się w najbliższą środę, dam znać jak wystartuje .
Fotki szczegółów poniżej… [/ezcol_1half_end]