To play Dust1947 during "Roll the Dice" / Zagrać w Dust1947 na "Rzuć Kostką"
[ezcol_1half]
Roll the Dice
There was a great event about board games called "Roll the Dice" (Rzuć Kostką) this weekend in Warsaw. During this event Marek from Warfactory.pl showed the latest waves of Dust 1947 models (Chinese, Japanese, Luftwaffe, Desert Scorpions). There were some demoing tables.
Last Saturday I had opportunity to play Dust1947 again after few months. I played twice my Mercenary army.
[/ezcol_1half] [ezcol_1half_end]
Rzuć Kostką
W ten weekend w Warszawie znowu spotkali się fani gier planszowych na "Rzuć Kostką". Podczas tego wydarzenia Marek z Warfactory.pl wystawiał również najnowsze modele do Dust 1947 (Chińczyków, Imperialną Marynarkę z Japonii, Luftwaffe, Desert Scorpions). Nie mogło obyć się bez stołów do gier testowych.
Korzystając z okazji w sobotę znalazłem czas, aby ponownie poturlać kości i zagrać w Dust1947. Udało mi się rozegrać dwa pojedynki moją armią Najemniczek.
[/ezcol_1half_end]
Mercenaries & Axis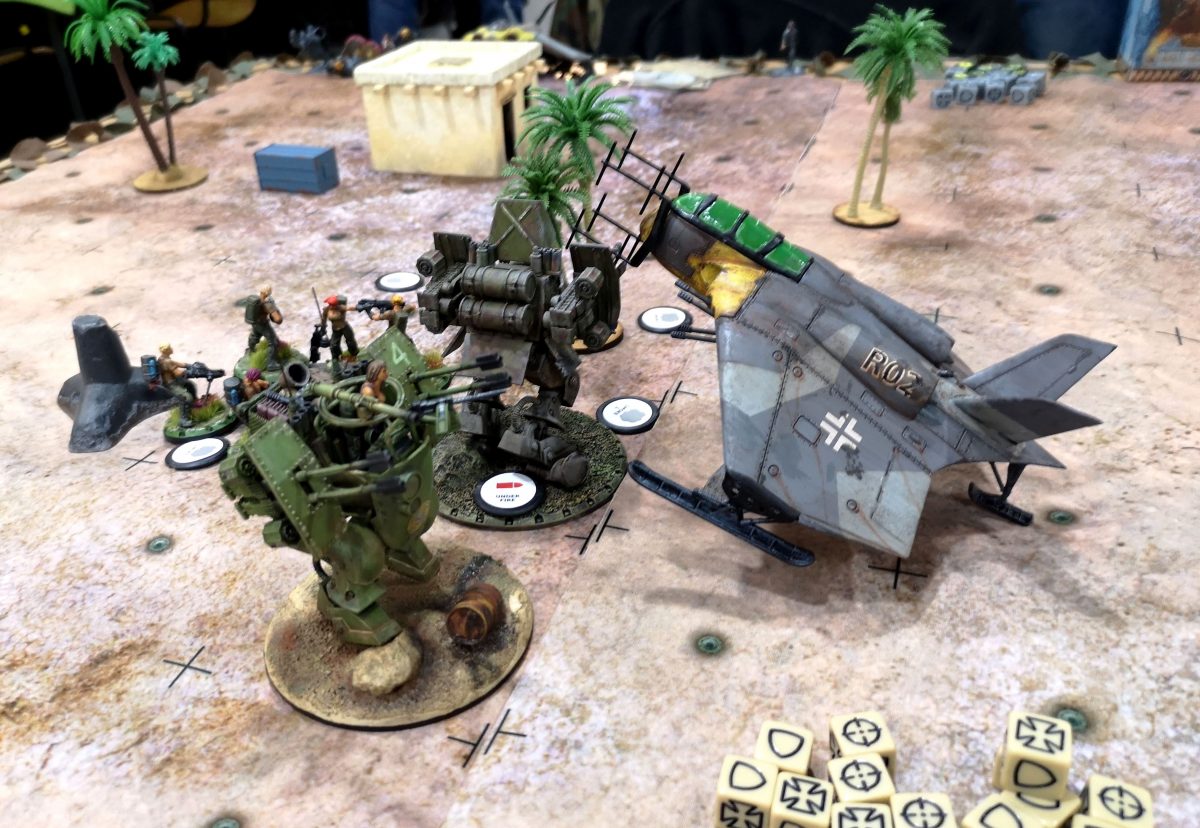 [ezcol_1half]
My first game was against Olivier axis forces (two planes, some gorillas, Bloody Baron and Angela). During the game I discovered that Mercenaries walkers are very good against planes.
Both Olivier planes were shot down till end of second turn. On the battlefield Tanya & her team burnt gorillas and Mercenaries won.
[/ezcol_1half] [ezcol_1half_end]
Pierwsza potyczka była przeciwko siłom Axis Oliviera (dwa samoloty, parę goryli, Bloody Baron i Angela). Podczas gry potwierdziło się, że Najemnicze maszyny są bardzo skuteczne przeciwko samolotom.
Obie maszyny zostały zestrzelone do końca drugiej tury. Natomiast na ziemi rządziła Tanya i jej dziewczynki, które spaliły goryle. Tak oto najemna armia wygrała z Axis.
[/ezcol_1half_end]
Mercenaries & Cthulhu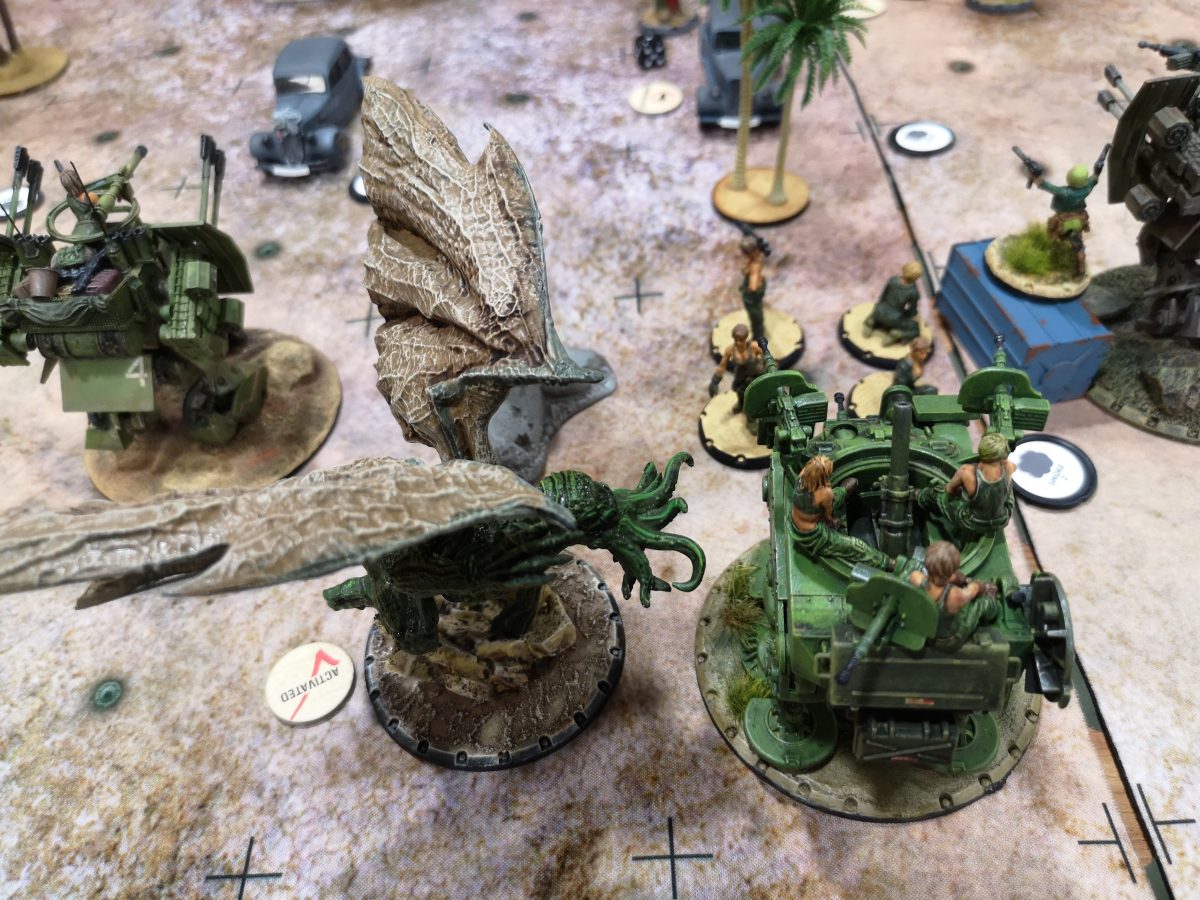 [ezcol_1half]
Second battle was my first against Mythos. Piotr is an ardent fan of Mythos thus I asked him to play again his the eternal gods and their believers. This time Mercenaries lost. The Gregor played great, girls and their walkers also.
I eliminated almost all units of his army but Mythos creature was too tough for my girls. My army set hadn't enough firepower against huge vehicles/ Cthulhu creatures and that was main message for me before next battles.
[/ezcol_1half] [ezcol_1half_end]
Druga bitwa to było pierwsze moje spotkanie z Mythos. Piotr jest zagorzałym fanem Mythos, dlatego poprosiłem go, by zabrał swoją armię przedwiecznych bogów i ich poddanych. Najemniczki poległy tym razem chociaż Gregor grał świetnie, dziewczyny, oraz pojazdy robiły robotę przeciw lekkim jednostkom.
Wyeliminowałem prawie wszystkie jednostki jego armii, ale potwór Mythos było zbyt pancerny dla mojej armii. Niestety rozpiska nie miała żadnej naprawdę ciężkiej broni przeciwko pancernym maszynom lub potworom Cthulhu. To była najważniejsza lekcja do odrobienia przed następnymi bitwami.
[/ezcol_1half_end]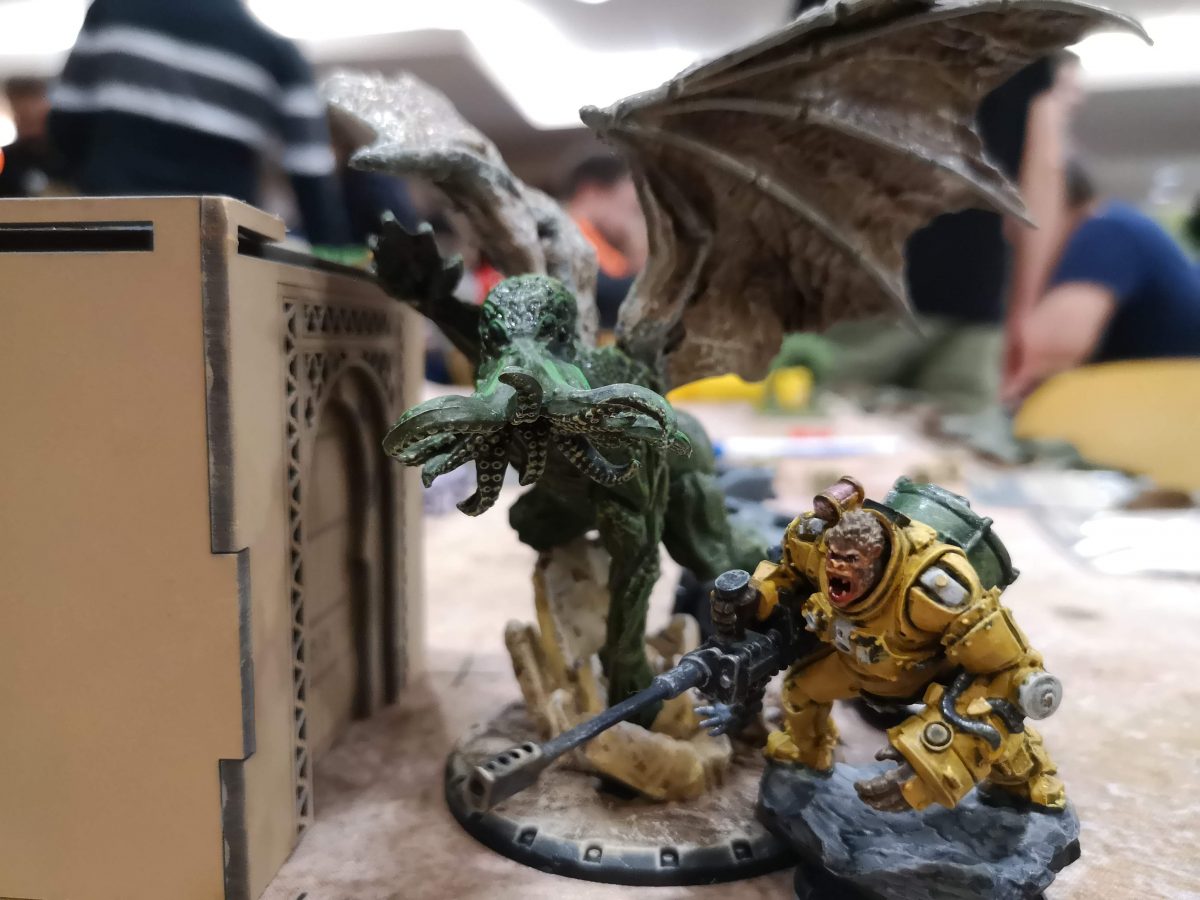 [ezcol_1half]
I'm the Duster
I'd like to thank you Marek and my counter-partners for opportunity to roll dices and chat a little bit about wave 10, plans for 2019 and new modelling/gaming opportunities.
These battles reminded me, Dust1947 is one of the best game of these which I played so far.
[/ezcol_1half] [ezcol_1half_end]
Jestem Dust'erem
Chciałbym podziękować Markowi i moim szacownym przeciwnikom za możliwość pogrania i porozmawiania o ostatniej fali modeli Dust1947, planach na 2019, nowych projektach modelarskich i bitewnych.
Warto sobie przypomnieć, że Dust1947 jest jedną z najlepszych gier, jakie dotychczas poznałem i gram.
[/ezcol_1half_end]
P.S.
A-Case transport bag is very cool. / Torba A-Case jest spoko.