Three Armies Battle/Bitwa Trzech Armii
Very intensive battle between Marek, who led Axis this time, Axis by Marcin and my Free Ukraine battalion ;).
Each armies had 120 points. To be honest that was one of the most interesting battle which I played last time. Mostly because there were three sides, targets to achieve and relatively balanced armies (IMO). Moreover there wasn't any permanent alliance between two just to eliminate third player. We challenge each others every turn.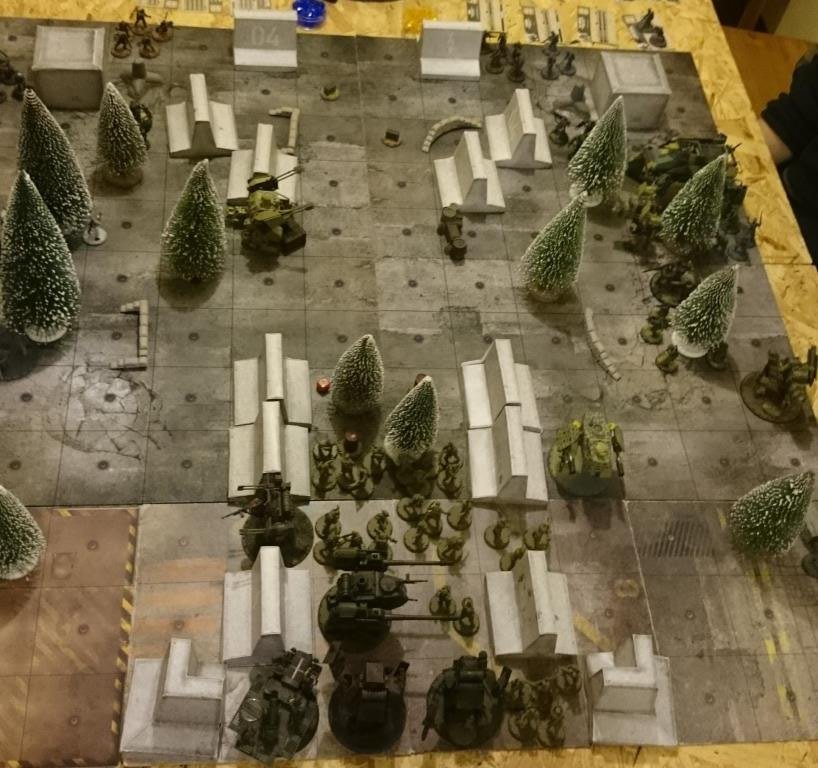 I tested "The Wrecker" during the battle. 11 points seemed to be quite much, but…. "The Wrecker" eliminated Gorillas and created the real threat for Marek officer team "The Old Men". It was very close and only because "Reactive Fire" of The Ghosts & Manfred he stopped my assault. Just to sum up, I like this walker and definitely it will be considered as solid anti-infantry unit on my army list. Weapons & Damage Resilient is worth these 11 points.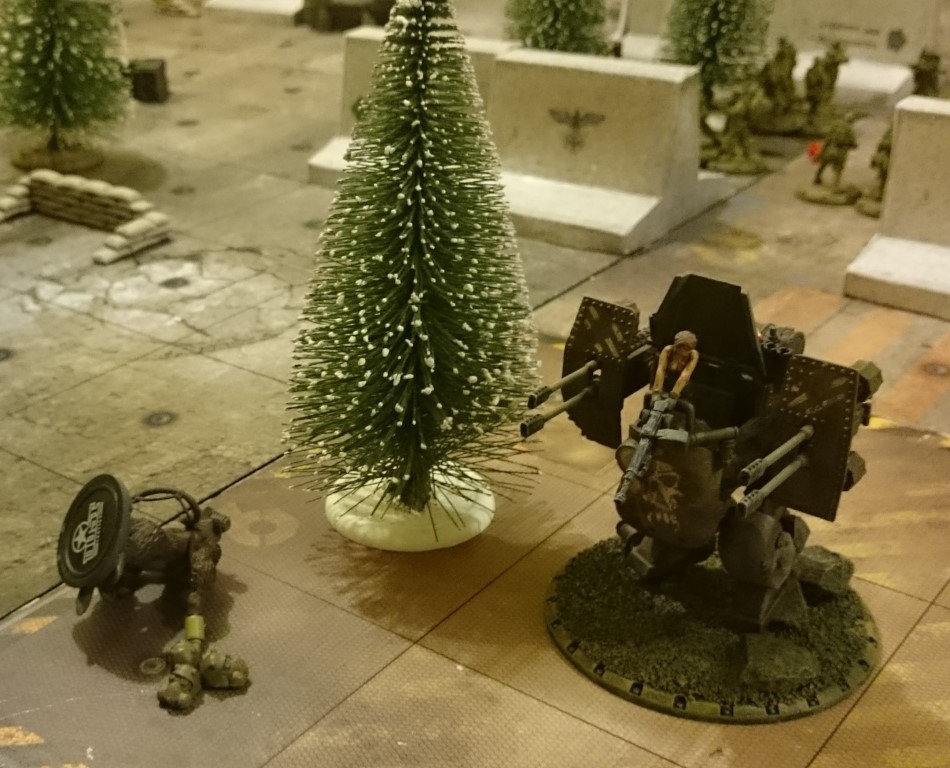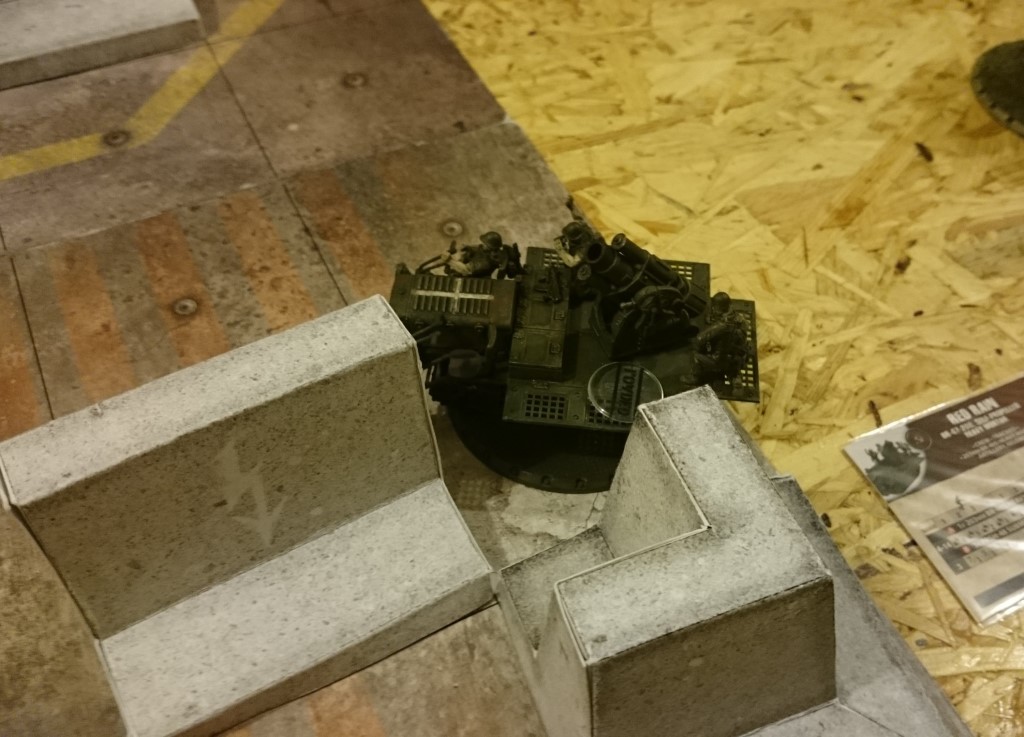 "The Red Rain" artillery with "The Watchers" SSU artillery observers were second units which I used first time was. Nice combo, The Red Rain was hide and out of LoS of any AXIS unit. The Watchers unit was in camouflage and invisible for enemies, but could track down targets for artillery. I can't wait for artillery rule modification (there are some rumors 🙂 ) then The Red Rain & The Watchers will be core combo in my SSU/Free Ukraine battalion.
Battle gallery is enclosed at the end of whole post.
---
Witajcie, To mój pierwszy, po dłuższej przerwie, post w naszym ojczystym języku.
Od teraz blog będę starał się prowadzić w dwóch językach, czasem więcej po angielsku, czasem więcej po polsku. Tak już zostanie :)… bo Dust Tactics to bardzo fajny system, ale o tym będzie więcej w kolejnych postach…. Wracamy na wojnę 🙂
W tym tygodni, w naszym bunkrze "el'Casa" w Warszawie testowaliśmy scenariusz na trzy armie. Celem bitwy było zajęcie co najmniej trzech celów, którymi były beczki i kanistry. Nawet w świecie Dust Tactics ropa jest bardzo pożądana.
Tym razem było to zderzenie dwóch armii Osi (Marka i Marcina) oraz mojego Bloku Wschodniego (w barwa Ukraińskich). Gra była mocna, wiele zwrotów akcji, żadnych stałych sojuszy. Po czterech turach, kiedy skończyliśmy, gra była nie rozstrzygnięta, taki mocny remis. W czasie batalii wojska Osi próbowały podgryzać moje jednostki, ale większość była ukryta w bunkrach. Natomiast Niemcy ostrzeliwali się wzajemnie, próbując przejąć kontrolę nad centrum pola.
W mojej armii pierwszy raz wystawiłem "The Wrecker", pojazd z frakcji Najemniczek. Najemniczki są fajne, bo mogą być dołączane do dowolnej innej armii. Ta maszynka bardzo się sprawdziła, wycięła Goryle Marka i potem przypusciła szturm na jego oficerów. Została zatrzymana, ale Marek musiał uruchomić rezerwy, zgrupowanie The Ghosts z Manfred'em (Bohaterem Armii Osi). Doskonały pojazd, szybki i jednocześnie zabójczy wobec piechoty.

Testowałem również artylerię "The Red Rain". To jest braciszek działa przeciwpancernego "The Red Fury". Bardzo skuteczna kombinacja wspólnie z obserwatorami "The Watchers". Artyleria stała na tyłach, po za zasięgiem niemieckich harcowników, natomiast obserwatorzy namierzali dla niej cele. Niezłe i takie combo (9 punktów).
Na koniec przyznam, że Koshka (bohaterka) na swoim pojeździe Grand'Ma dawała radę. To jest pilotka mecha, która zwiększa efektywność poajzdu jakim kieruje, całkiem skutecznie podgryzała centrum frontu.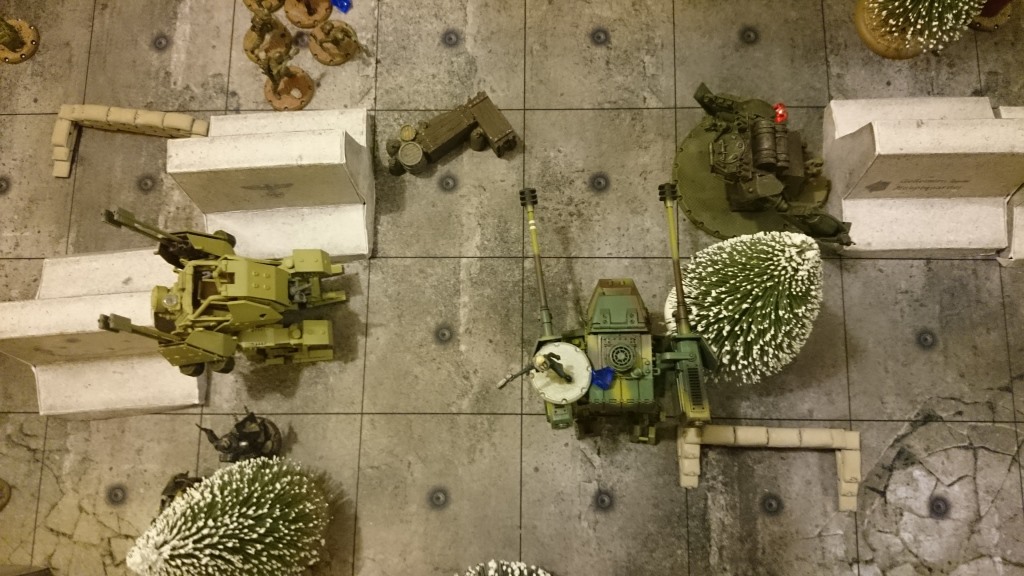 Co do strategii działania, to w zasadzie tutaj trochę padłem. Zamiast czekać w forcie, między murami, co chwilę wypuszczałem jakąś jednostkę na zewnątrz podgryzając niemieckie armie z obu stron. Niby sukcesy tylko na koniec zostałem praktycznie bez piechoty. Ale zabawa była przednia. Czekam na kolejne starcia.
W między czasie będę pracował na wyglądem moich wojsk.O kolejnych projektach już wkrótce napiszę.
Powstało sporo fotek z pola bitwy, cała galeria poniżej. / Battle gallery.