Recenzja elementów pola bitwy firmy ThorMiniatures / Battlefield Accesories by ThorMiniatures
[ezcol_1half]
Pierwsze koty za płoty…czyli recenzja naprawdę 🙂
W końcu moi Niemcy mają się gdzie schować lub zablokować marsz walker'ów Aliantów lub czołgów SSU.
Skończyłem prace nad bardzo fajnymi elementami terenu do wykorzystania na naszych polach bitew. Dwoma zestawami firmy Thor Miniatures , Zębami Smoka (http://www.thorminiatures.com/dragons-teeth-fortification/3096/) oraz zestawem murków/resztek domku (http://www.thorminiatures.com/brick-wall/3075/).
I jak to jest z tymi Zębami Smoka ?
Bawiłem się zestawem z podstawą. Idealnie pasuje pod Dust Tactics. Z powodzeniem może grać zaporę czołgową, lub linię fortyfikacji. Na pierwszy rzut oka zęby wydają się za małe. Dlatego celowo zrobiłem sobie przegląd zdjęć oryginałów. Moim zdaniem mieszczą się w skali, choć mogły być trochę wyższe (ale super będą śmigać również w bitewniakach 1/56).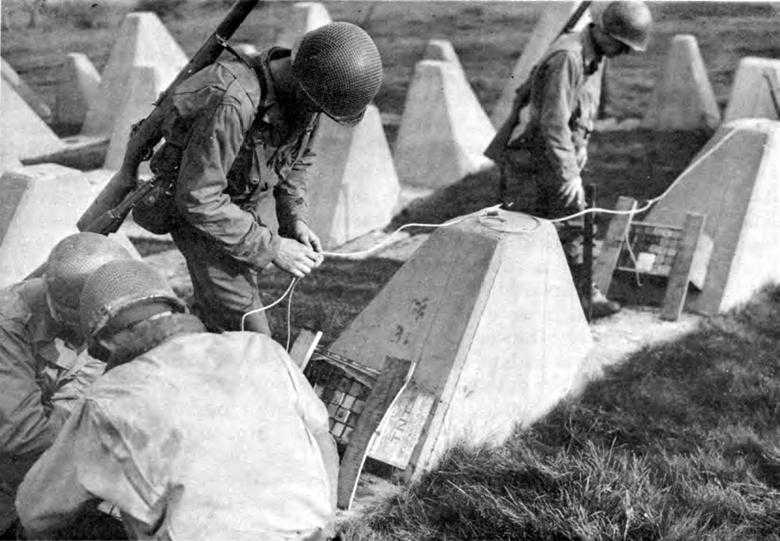 [/ezcol_1half] [ezcol_1half_end]
The first pancake is always spoiled … or first very serious review 😉
My Axis will have some cover to hide or very solid blockades to stop Allies walkers or SSU tanks.
I have finished to paint very cool terrains which could be very wide used during our battles. These are two sets produced by Polish workshop called Thor Miniatures . Dragon Teeth (http://www.thorminiatures.com/dragons-teeth-fortification/3096/) and set of walls (4 elements) (http://www.thorminiatures.com/brick-wall/3075/).
What about these Dragon Teeth?
I have set which includes also basis. Basis perfect fits to Dust Tactics grid. That's one of argument why can be used us Anti-tank trap or any other obstacle/fortification. On first sight teeth look to small. I reviewed several photos. In my opinion these teeth are acceptable for Dust. Maybe they could a little higher but on the other hand also fit to 1/56 systems. That's universal set nor only for Dust.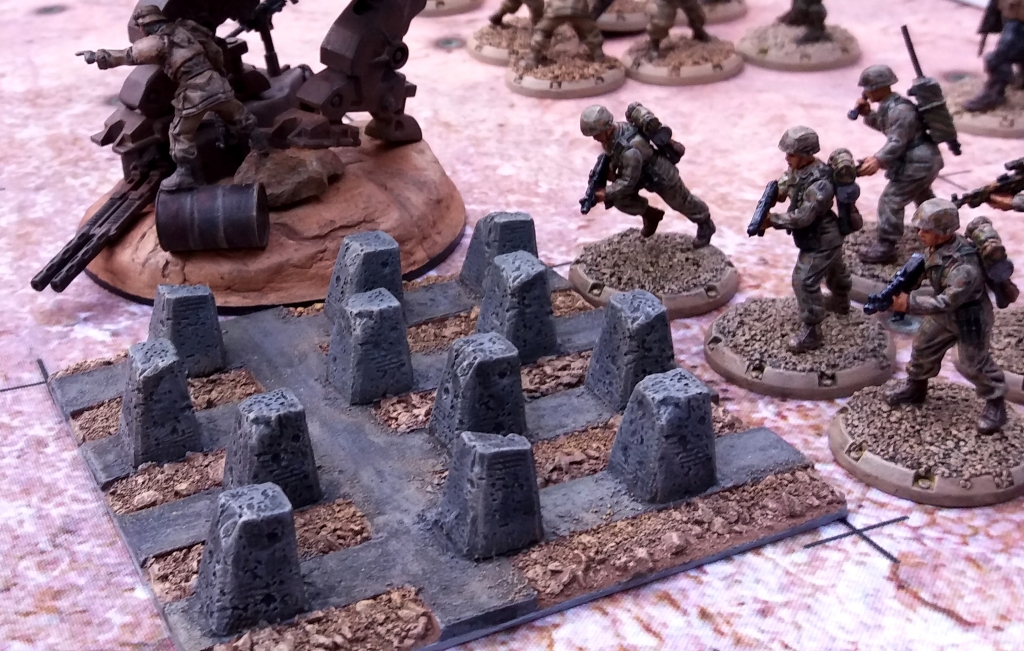 [/ezcol_1half_end]
[ezcol_1half]
Jakość bez zarzutów,
lekki szlif krawędzi, podkład i potem tylko przyjemność malowania. Faktura odlewu powoduje, że ścieżki pomiędzy zębami wyglądają jak z betonu, kamienie są jakby prawdziwe. A same zęby, zdecydowanie dobrze nadgryzione i ostrzelane, jak na wojnie.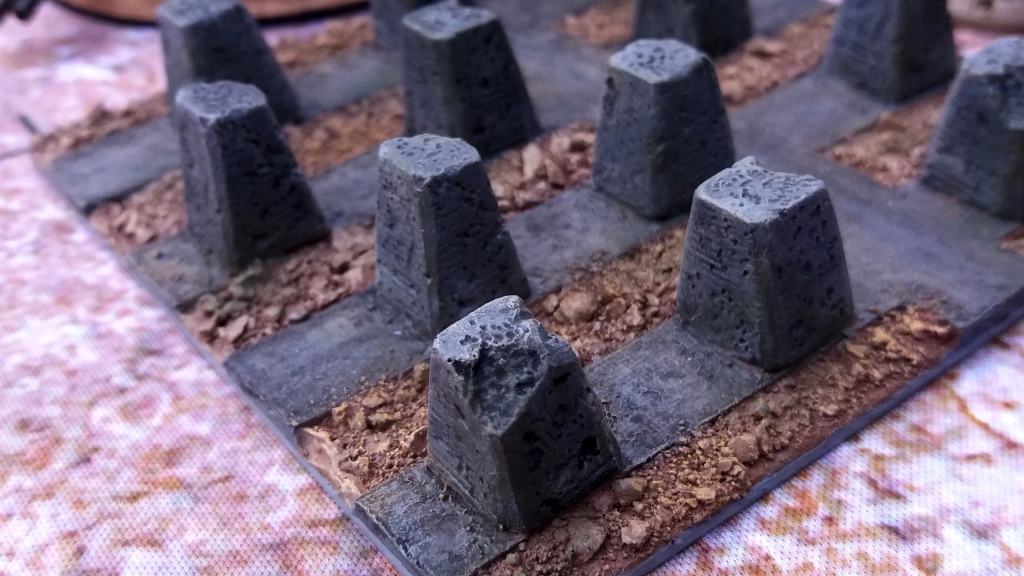 Koniecznie muszę zdobyć jeszcze co najmniej dwa zestawy, aby zrobić sobie linię obrony.
Murki jakie są, każdy widzi
Jakość świetna, żadnych bąbelków czy podobnych niespodzianek. Faktura całkiem mocno styranych resztek domu, jeden z elementów to ma nawet kawałek drewnianego słupa. Widać doskonale, że to resztki dwuwarstwowej ściany, na górze dużo połamanych kawałków cegieł, kruszywa itp.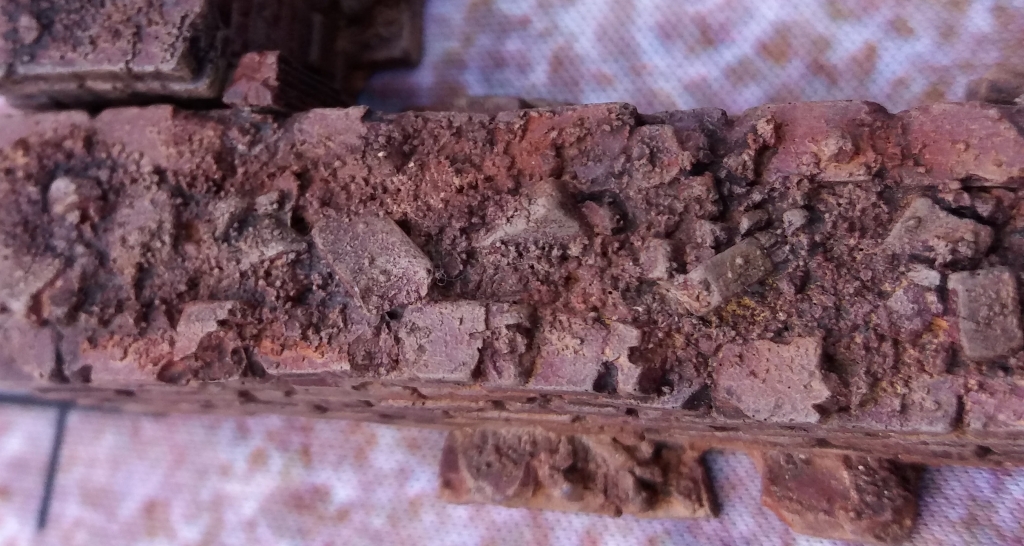 [/ezcol_1half]
[ezcol_1half_end]
Highest quality,
Only small corrections and grinding, base coat and pleasure of painting. All textures are very details, paths between teeth look like from concrete, stones and gravel are almost like natural. 🙂 I like it of sure. Moreover teeth are slashed and broken in several places. Very realistic in my opinion.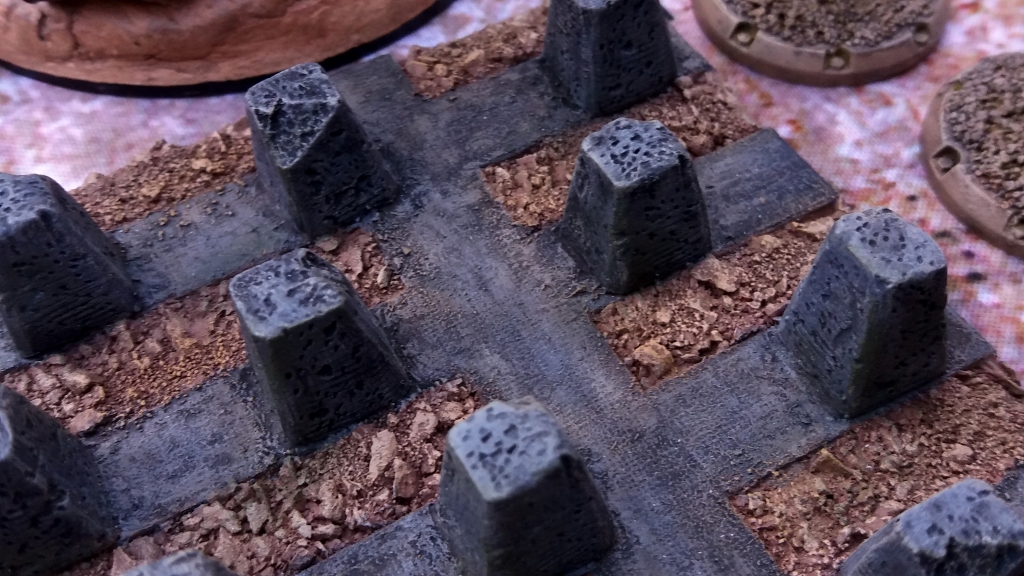 I consider to get additional to build own "The Siegfried Line".
Walls, small but accurate to give hard cover bonus 🙂
Very high quality. I didn't find any bubbles or other surprises linked with quality. Items looks like fragments of quite old wall or house. Very visible double-layer wall which lot's of small fragments and aggregate.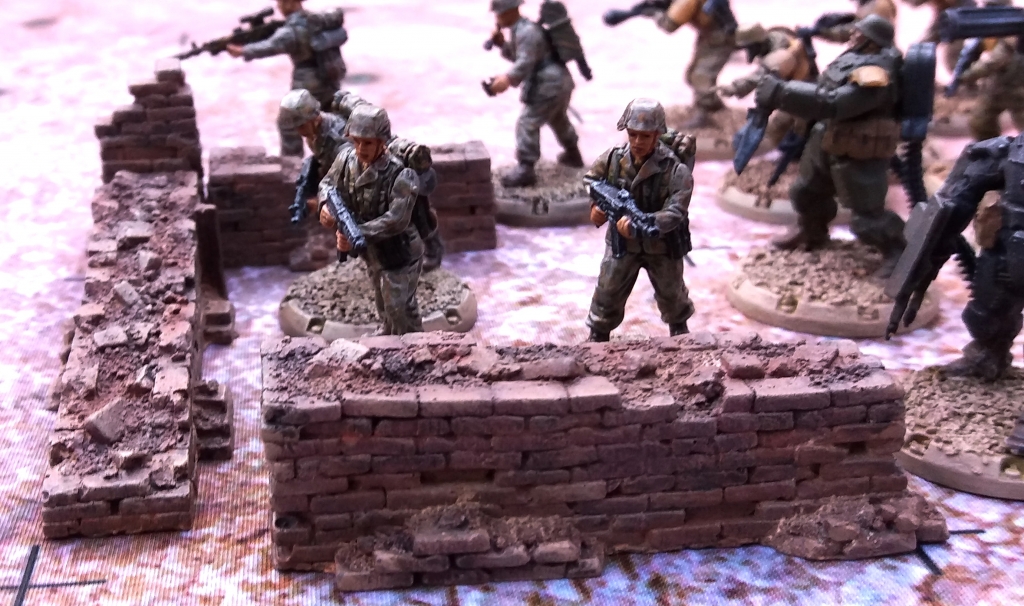 [/ezcol_1half_end]
[ezcol_1half]
Jest dobrze !!!
Przy tej jakości wystarczy podkład, kolor bazowy i jakiś kontrastowy wash i uda się wyciągnąć wygląd akceptowalny na stole, ale…. zawsze można pokusić się o więcej.
Ja sięgnąłem po bordowy jako podstawowy kolor, dalej suche pędzle w odcieniach brązu i piasku, wash'e Africa Corps firmy AK po całości i czarny Vallejo w krawędzie. Na koniec trochę suchego pędzla w odcieniach piasku, trzy odcienie pigmentu MIG w klimacie afrykańskiej ziemi oraz pustyni i jest całkiem znośny kawałek murku. Co wy o tym sądzicie?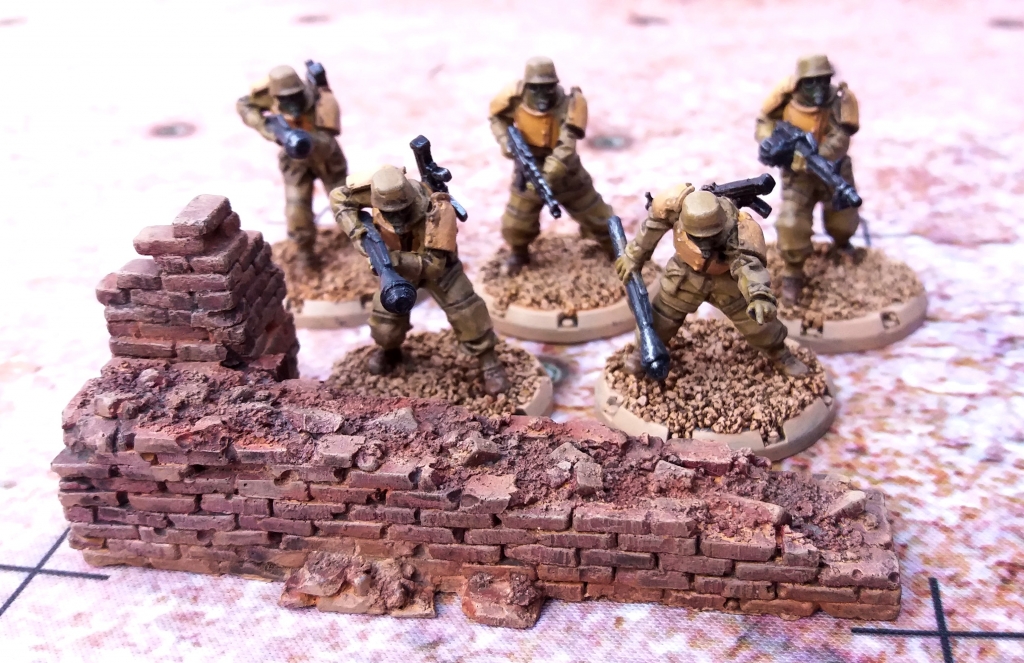 Świetny produkt na makiety do dowolnego systemu, do Dust'a idealnie pasuje na osłony, jeden zestaw starczy na dwa pola.
Cena każdego z zestawy (zęby smoka lub murek) mieści się poniżej 40 zł/9 euro od kompletu. Biorąc pod uwagę jakość produktu uważam, że niezła.
Z czystym sumieniem można brać.
[/ezcol_1half]
[ezcol_1half_end]
It's good !!!
These walls can be very easly prepared for our tables, only some base color and contrast wash could be enough for table-top standard, but …. there is always temptation to paint more detailed.
I used crimson color as main tone of the walls, afterwards I added little more brown and sand shades using dry-brush technique. Next were two washes, main Africa Corps by AK and black Vallejo for edges and recesses. Last but not least second wave of dry-brush and finally three pigments. I used Gulf Desert, African Earth and Dust tones made by MIG. What do you think about final effect?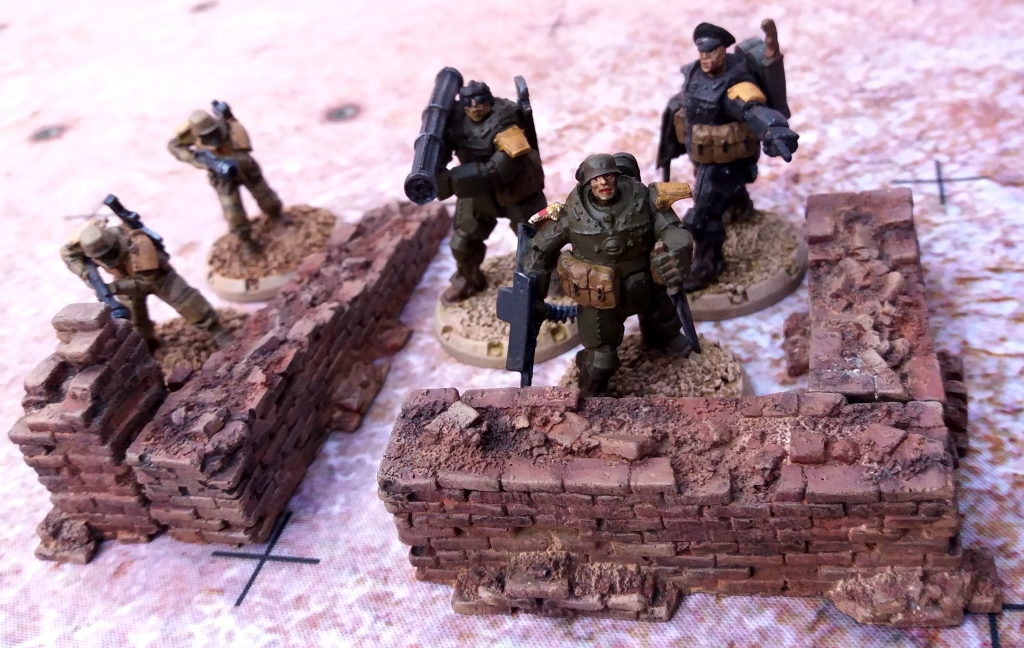 Great product for table-top players. Fit to Dust47 as well as for other battle systems. Each set (Dragon Teeth or Walls) cost less then 9 euro, which is very good price IMO.
With a clear conscience,

you can

take

.
[/ezcol_1half_end]
Galeria/Gallery:
Produkty dostarczone przez/Products delivered by ThorMiniatures.com

Zapisz