Podsumowanie 2018 / Summary of 2018
[ezcol_1half]
My Dear Readers & Duster's.
Today I'd like to share with you few data about my last year activities at Dustbrothers.pl blog.
12 898 enters on my blog, which is not so bad. I hope this year will be better.
6 Countries generating the most guests last year – Poland, USA, Germany, France, UK and Italy.
I grab additional new likes and achieved 567 likes of my Facebook profile.
So many good vibrations, your comments and likes.
These are the most motivating me incentives.
[/ezcol_1half] [ezcol_1half_end]
Moi Mili Czytelnicy i Dust'owcy.
Dzisiaj chciałbym podsumować moją aktywność na blogu w 2018. Najprościej jest użyć do tego kilku liczb.
12 898 – tyle było wejść na mój blog. Całkiem dobry wynik, choć mam nadzieję, że w tym roku będzie lepiej.
6 krajów generuje największy ruch na blogu. Są to w kolejności – Polska, USA, Niemcy, Francja, Wielka Brytania i Włochy.
Zeszły rok to kolejne nowe lajki mojego Dustbrothers profilu na Facebook. Mam już 567 polubień profilu na Facebooku.
To wszystko niesie za sobą sporo dobrych wibracji.
Wasze komentarzy i polubienia najbardziej motywują do prowadzenia bloga.
[/ezcol_1half_end]
[ezcol_1half]
I published 41 articles during 2018. Articles were focused on painted models and modeling projects, unboxing and reviews of Dust1947 models.
I provided battles and tournaments reports, including famous European Championship in Warsaw. Moreover I took parts in Miniatures Blogs Carnivals, Great Orchestra of Christmas Charity and Christmas Miniatures Exchange.
Here you may find some examples chosen by me.
[/ezcol_1half]
[ezcol_1half_end]
Opublikowałem 41 artykułów. Artykuły poświęcone projektom modelarskim oraz recenzjom modeli do Dust1947.
Wpadło kilka ciekawych raportów z bitew oraz turniejów, w tym na temat słynnych Mistrzostw Europy w Warszawie. Wziąłem udział w Figurkowym Karnawale Blogowym, robiłem projekt dla WOŚP, pierwszy raz uczestniczyłem w Świątecznej Wymianie Figurkowej.
Oto kilka, moich zdaniem, najciekawszych przykładów.
[/ezcol_1half_end]
My contribution to "Christmas Miniatures Exchange"/ Mój wkład do Świątecznej Wymiany Figurkowej
To play Dust1947 during "Roll the Dice" / Zagrać w Dust1947 na "Rzuć Kostką"
[ezcol_1half]
More Dust in 2019…
This year I would like to continue my blog. I still have several projects to do, another European Championship edition in Warsaw…
[/ezcol_1half] [ezcol_1half_end]
Więcej Dust'a w 2019…
W tym roku dalej będę prowadził blog. Wciąż mam kilka projektów do zrobienia, będę też na kolejnej edycja Mistrzostw Europy w Warszawie.
[/ezcol_1half_end]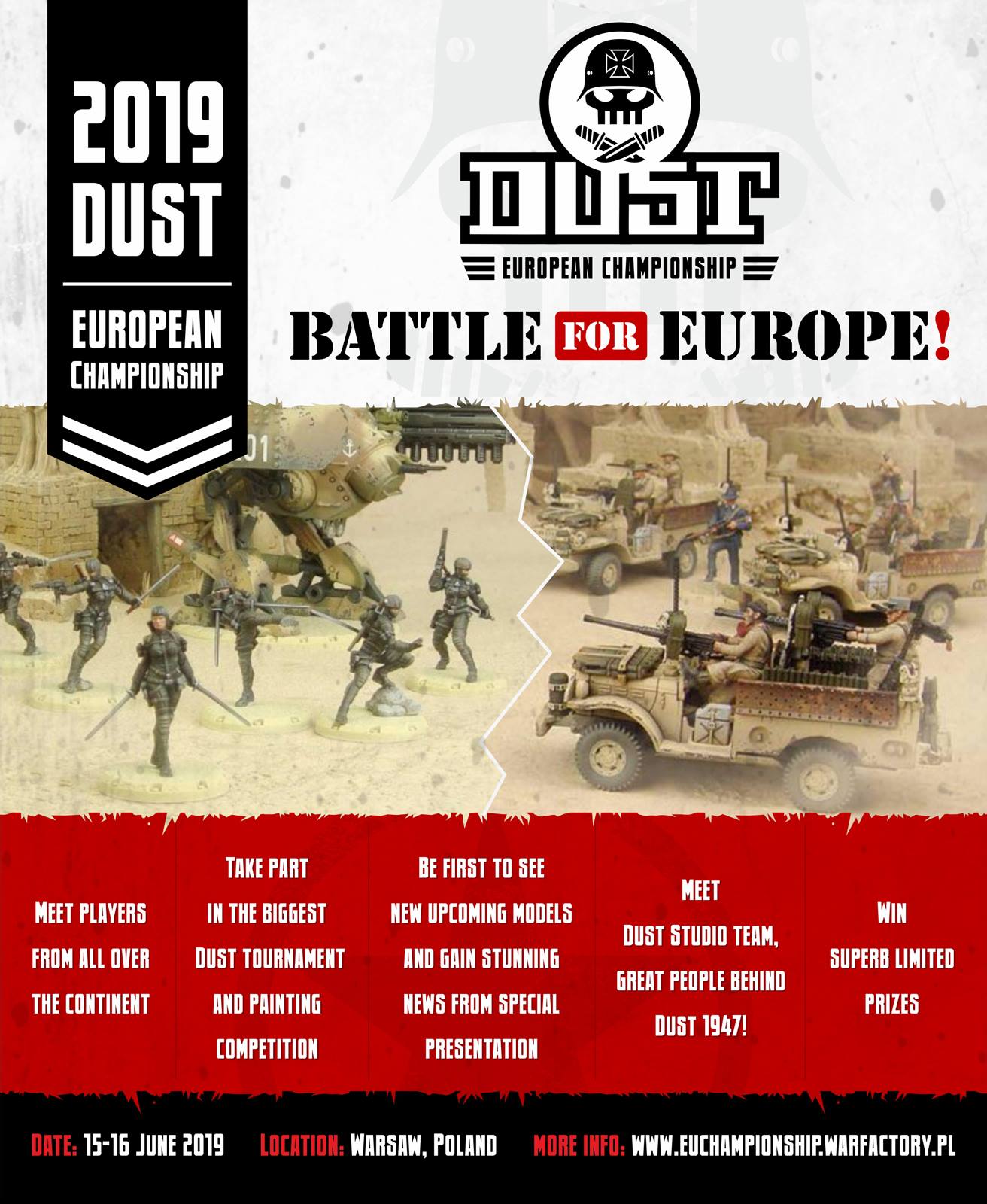 [ezcol_1half]
…and more things to show you my addiction to Dust1947 and Dust Community.
Long live Dust1947 🙂
[/ezcol_1half] [ezcol_1half_end]
…Mam nadzieję zaskoczyć Was kilkoma projektami, które tylko potwierdzą moje uzależnienie od Dust1947 i społeczności tej gry.
Niech żyje Dust1947 🙂
[/ezcol_1half_end]