My participation to "The Last Emma Tournament" in Warsaw / Mój udział w turnieju o ostatnią Emmę.
Last Emma / Ostatnia Emma
[ezcol_1half]
I spent Saturday with friends playing whole day Dust1947 during tournament organized by Warfactory.pl. This event had very valuable prize, the very last Premium Emma available in Poland.
The idea of tournament was to meet old swords and newly enlisted in the Dust World. Finally 24 players decided join the challenge (11 Axis, 9 SSU, 3 Allies, 1 Mercenaries) and each of us played 4 games using 75 points army.
Marek (Warfactory.pl) prepared two scenarios. First scenario assumed that enemy forces need to control objective in the opposite side of the map to win the game. Second forced both players to clash in center of the map. Winner has to control at least 4 objectives at the end of turn 3.
In both scenarios 2 ammo boxes and 1 anti-tank trap to be placed by each player on the map. By the these elements were objectives in scenario 2. Maps are enclosed.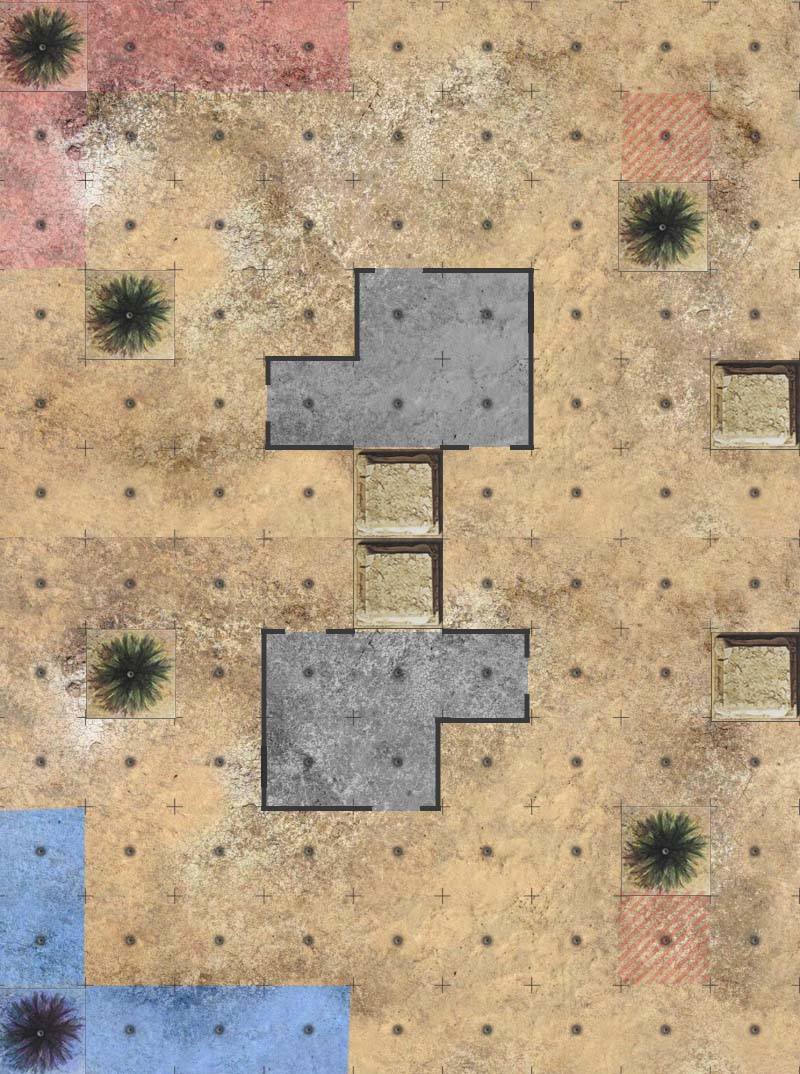 [/ezcol_1half]
[ezcol_1half_end]
Całą sobotę poświeciłem na bitwy Dust 1947. Wspólnie z większą paczką graliśmy na turnieju organizowanym przez Warfactory.pl. Ten projekt miał znaczenie bo nagroda była zacna, ostatnia premium figurka Emmy dostępna w Polsce.
Cała idea polegała na tym, aby stara gwardia mogła w końcu zmierzyć się z nowymi gracza Dust'a. W końcu było nas 24, dziewczyn i chłopaków i wszystkie armie (11 Axis, 9 SSU, 3 Allies, 1 Mercenaries). Każdy przygotował 75 puntków armii i rozegrał 4 bitwy.
Marek (Warfactory.pl) przyszykował dwa scenariusze. Pierwszy zakładał zajęcie celu po przeciwległej stronie mapy. Drugi zmuszał do wyjścia do bitwy o zajęcie co najmniej 4 celów na koniec trzeciej tury.
W każdy scenariuszu rozkładaliśmy po dwie skrzynie i jedną przeszkodę przeciw-pancerną. Te elementy stawały się celami w scenariuszu drugim. Mapki załączam.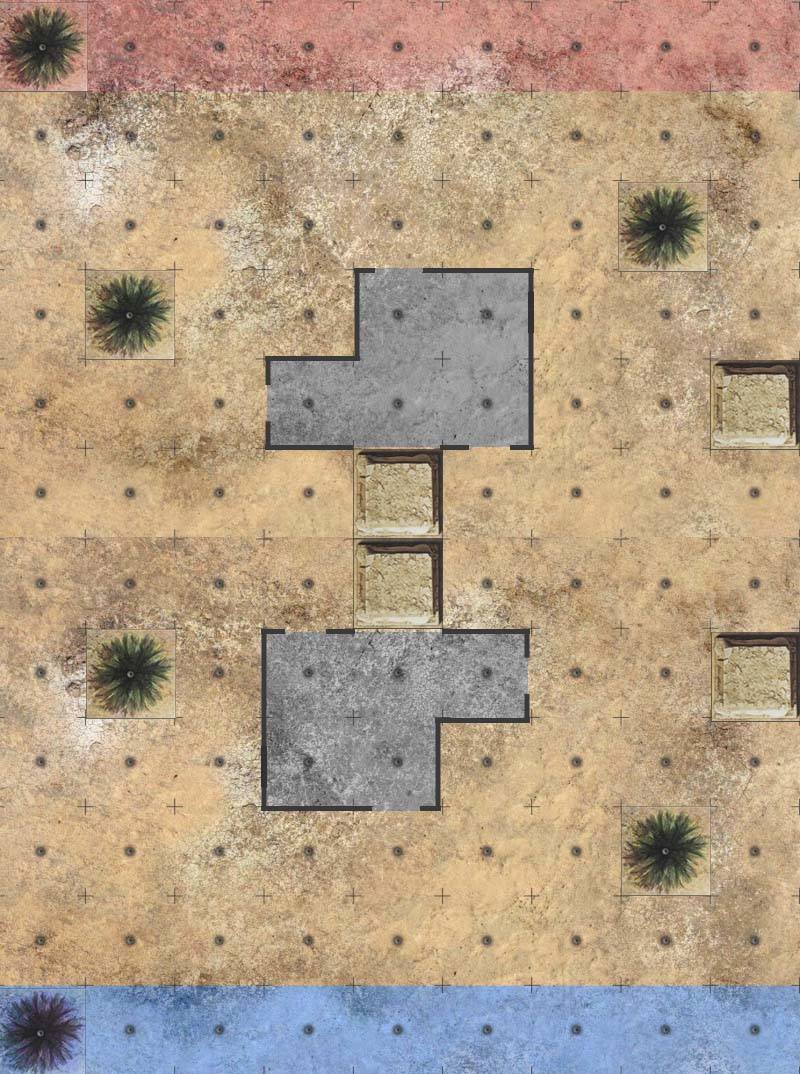 [/ezcol_1half_end]
My Battles / Moje Bitwy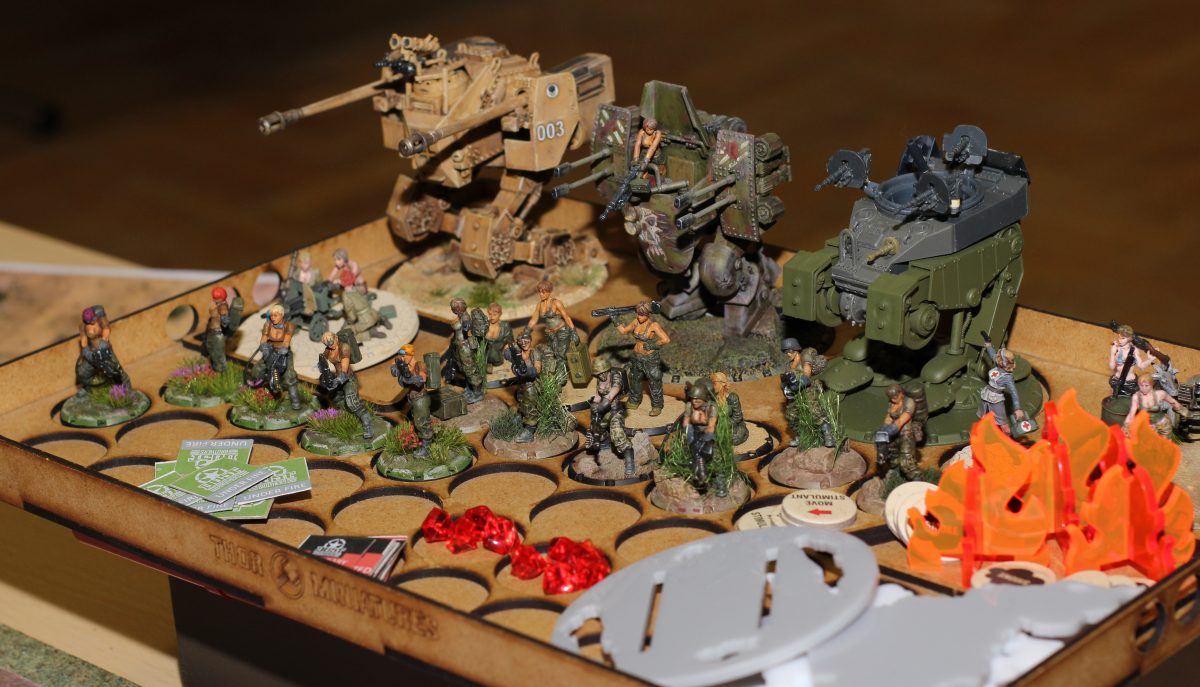 [ezcol_1half]
I played my Mercenary Army. I used Tanya platoon, which was so powerful. To be honest i didn't expected so much. Whole mercenary units can use Defense Tactics thanks to Tanya. When I was careful my army was almost untouchable.
Army list: Tanya, Emma, 2xCleaning Team, 2xHeavy Machine Squad, Justine & Co, Wrecker, MeatGrinder, Ludwig.
I started game playing vs Robert K47 Wolfpack. That was very sever opponent and I realized that my Mercenaries haven't enough power vs. overwhelming amount of KV47 walkers. Flames, close combat and one Ludwig were't enough. That's weak point of my army. I lost game 20 till 37 for Robert.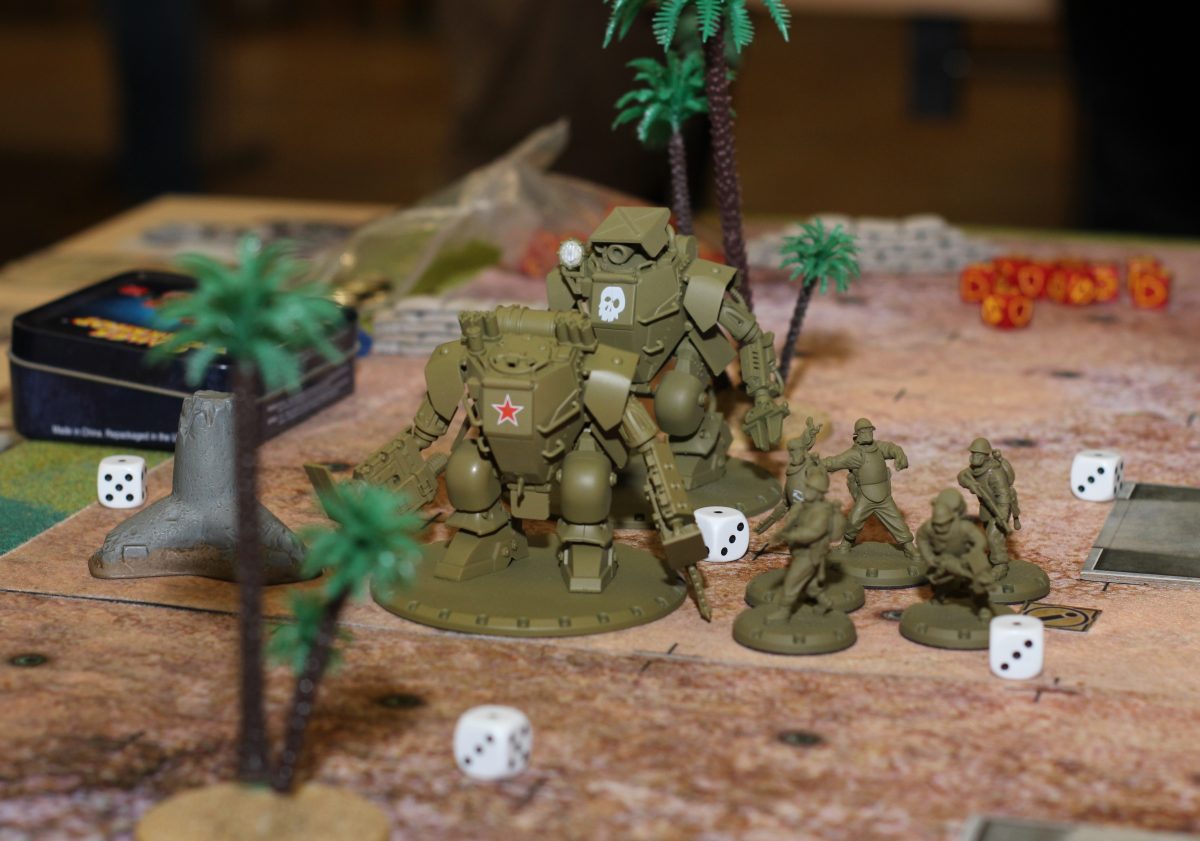 Second was Tomek Kos and his NDAK. I was very pessimistic but finally it turned out that Mercenaries love to burn NDAK fast, cheap but weak infantry. After three turns Tomek lost majority of infantry and his Tropical Hermann was eliminated by Justine&Co in close combat action. It did not take much time and was the end of the game. I gained more points (41 to 28) and won.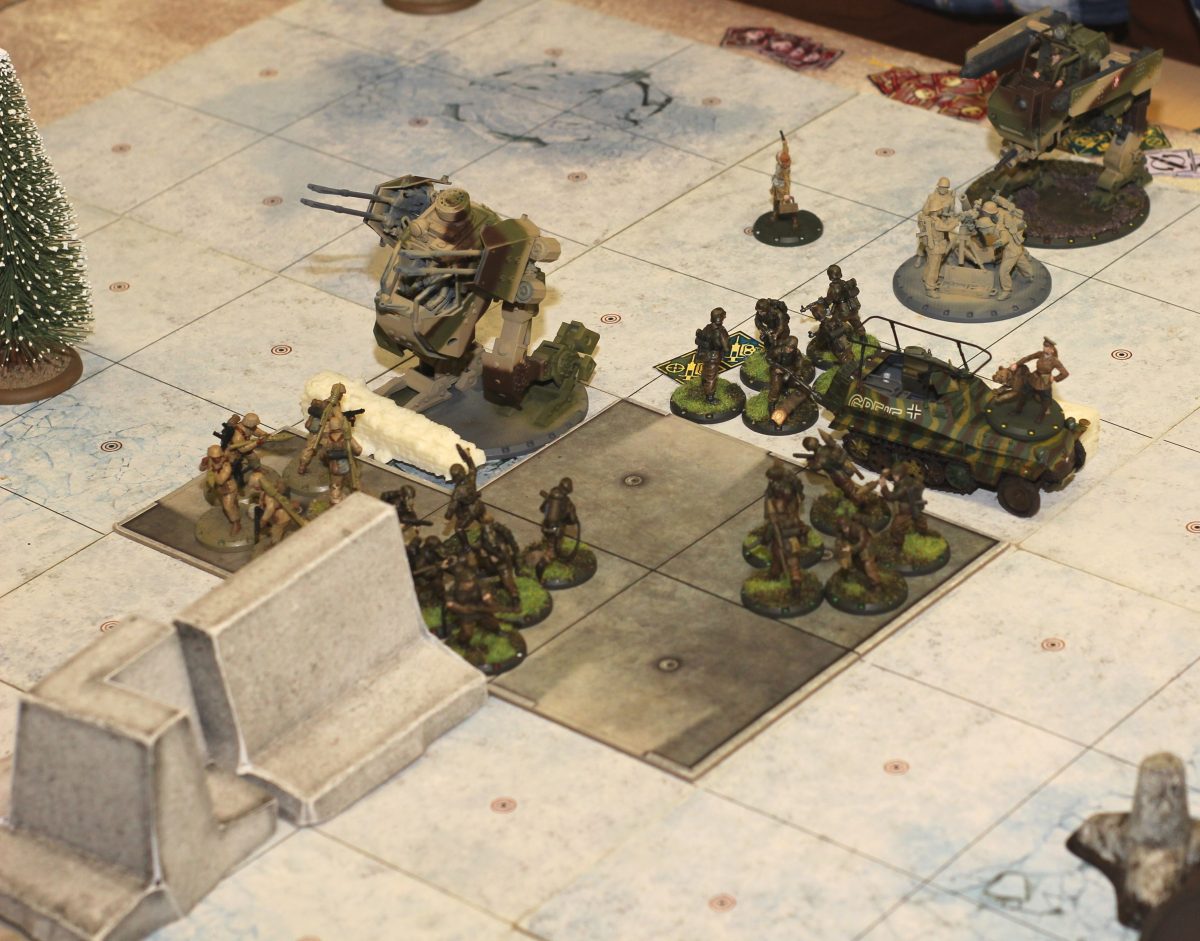 Third game I played vs. Steel Guards. I met Maks with whom I lost one training game the day before event. This lesson helped me a lot. I decided to wait for Steel Guards and try to eliminate individual basic infantry units. Until the fifth round we played cat and mouse but when I lost one Heavy Machine Gun Squad. I had to assault his Steel Guards, so both Cleaning Team attack via buildings into the hear of his forces. Tanya used everything to eliminated Guai-Lo and Steel Guard Snipers. This action decided. I won 23 to 14.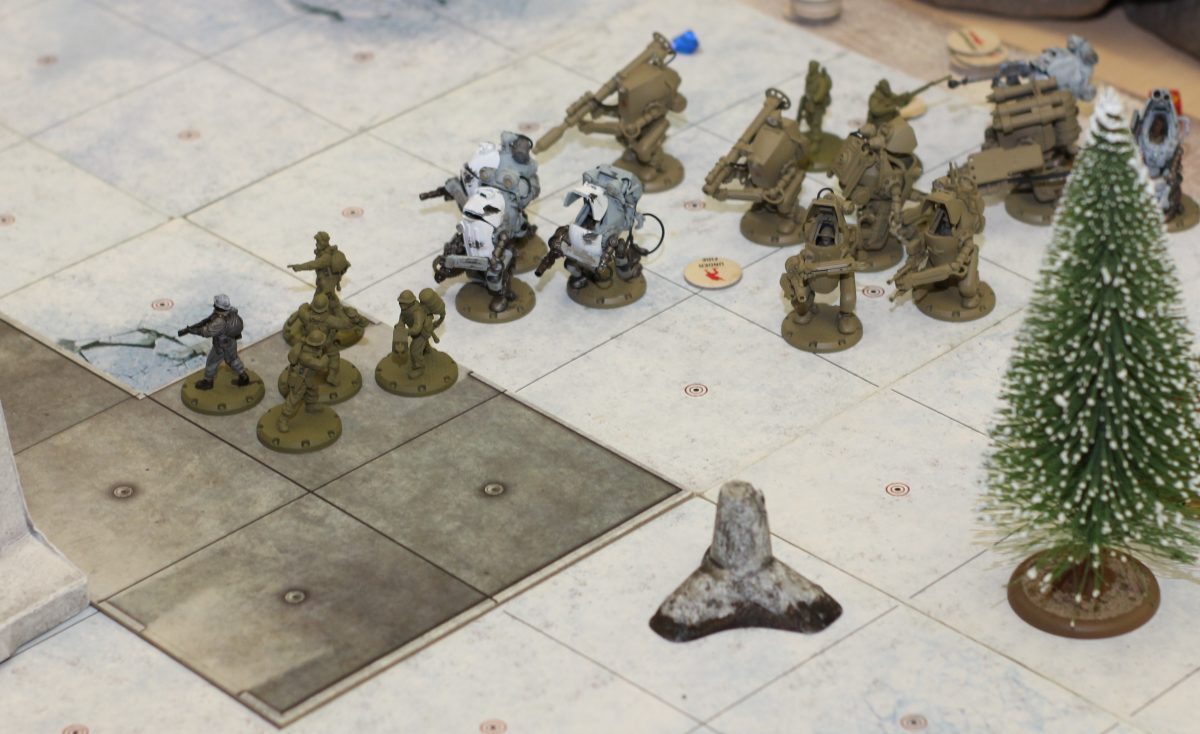 Last game wasn't so successful. I be honest I underestimated Tomek and his Red Guards. I killed his Red Guard combo in second turn so I was confident that can win. I forgot about his combo Red Rain and Nikolai, so I didn't eliminate his artillery spotters. When his used artillery I recaled that artillery kills but it was to late. He caught Tanya on open terrain. Rest was just butchery for my Mercenaries. I lost, 15 to 62 for Tomek. Big respect for this young and very talented Dust player.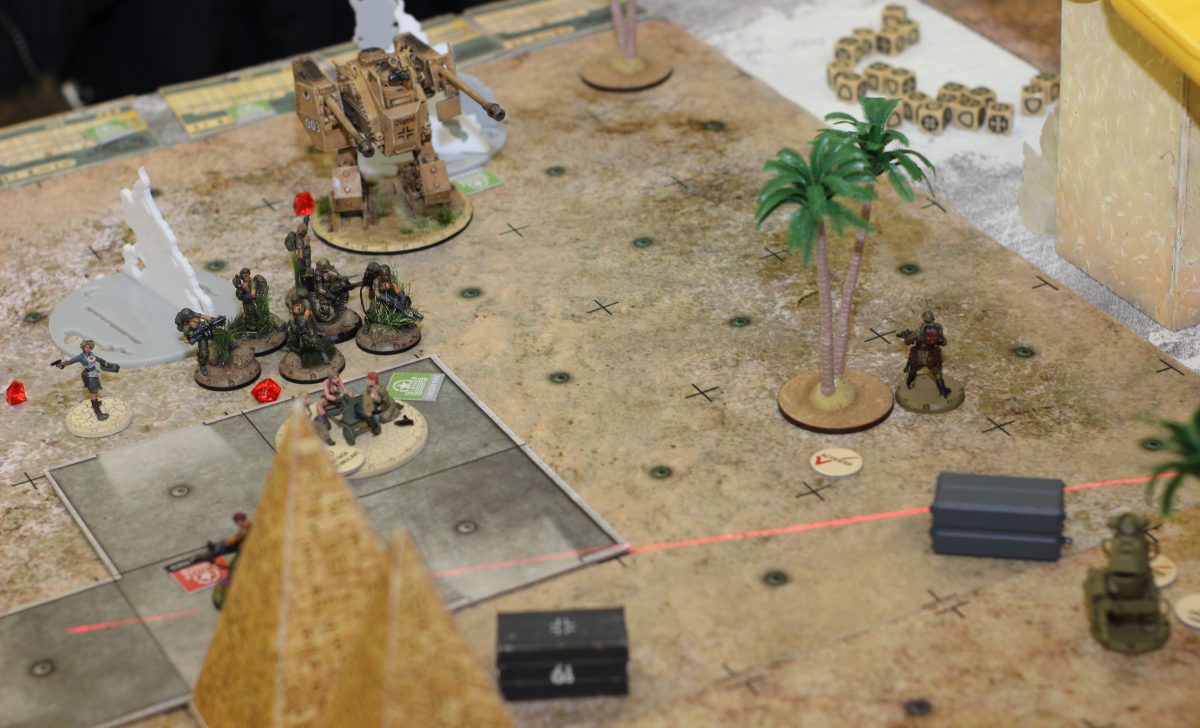 Finally I scored on 10th place. Not so bad but also not so good as I would like. But first of all, I spent great time with friends, colleagues and Dust fans.
Another unforgettable Dust 1947 event. I hope to see you soon !!!
[/ezcol_1half]
[ezcol_1half_end]
Najemniczki pierwszy raz zagrały jako armia. Zbudowałem armię opartą o pluton Tanyi. On ma moc, szczególnie jak masz wiecej oddziałów najemniczych. Szczerze mówiąc, nie spodziewałem się, że zdolność Defense Tactics może tak bardzo wzmocnić armię jak się jest uważnym na polu gry.
Moja Armia: Tanya, Emma, 2xCleaning Team, 2xHeavy Machine Squad, Justine & Co, Wrecker, MeatGrinder, Ludwig.
Pierwsza gra i już mocno, K47 Wolfpack Roberta. Było bardzo ciężko, zdałem sobie sprawę o słabości mojej armii. Nie miałem wystarczająco dużo ognia przeciw-pancernego. Same miotacze, walka wręcz i Ludwig nie starczyło na zalewajace mnie falami mechy KV47. W końcu przegrałem 20 do 37.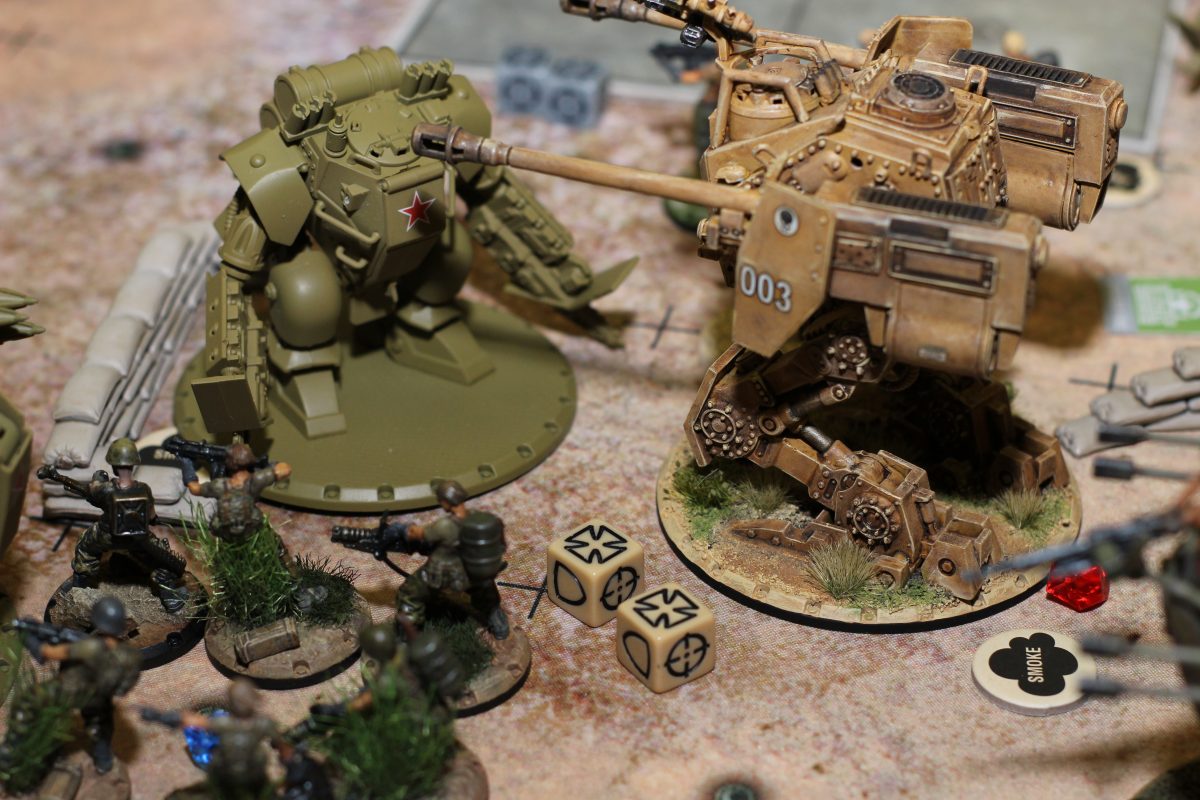 Druga bitwa to pojedynek z NDAK Tomka. Bardzo obawiałem się walki z falami piechoty niemieckiej ale okazało się, że Najemniczki są stworzone do eliminowania piechoty NDAK. Po, mniej więcej, trzech turach Tomek nie miał większości piechoty. W dodatku Justine&Co rozbiły Tropical Hermann'a w walce wręcz. Dużo nie trzeba było i gra się skończyła moim zwycięstwem . Zgarnąłem 41 punktów sam tracąc 28.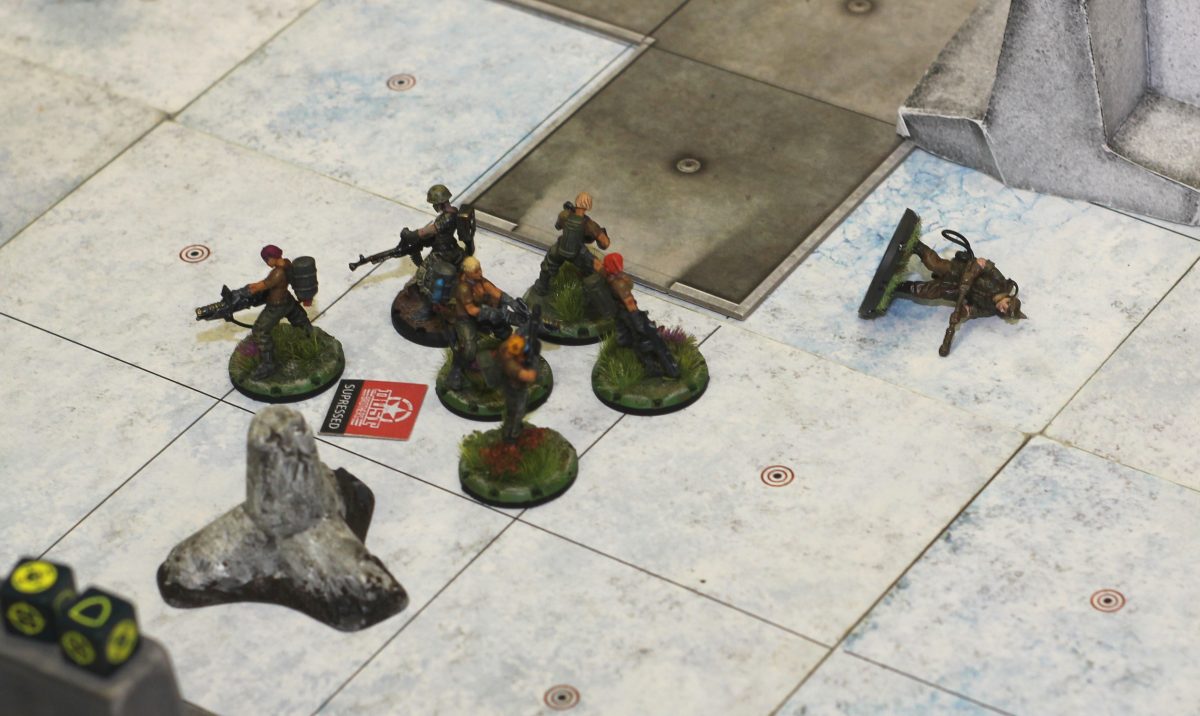 Trzecie starcie i o to są Stalowi Gwardziści Maksa. Szczęśliwie dla mnie dzień wcześniej trenowałem z Maksem, więc wiedziałem co zrobiłem źle. To mi bardzo pomogło. Zatem czekałem na Gwardię próbując ubić pojedyncze oddziały paparuchów. I tak graliśmy w kotka i myszkę, aż straciłem oddział wsparcia. Wtedy musiałem uderzyć bo bym przegrał na punkty. W siódmej turze użyłem moich dziewczynek w szturmie na Guai-Lo i Snajperów Steel Guard. Tanya wypaliła ze wszystkiego i to dało mi zwycięstwo na punkty. Wygrałem 23 do 14 🙂.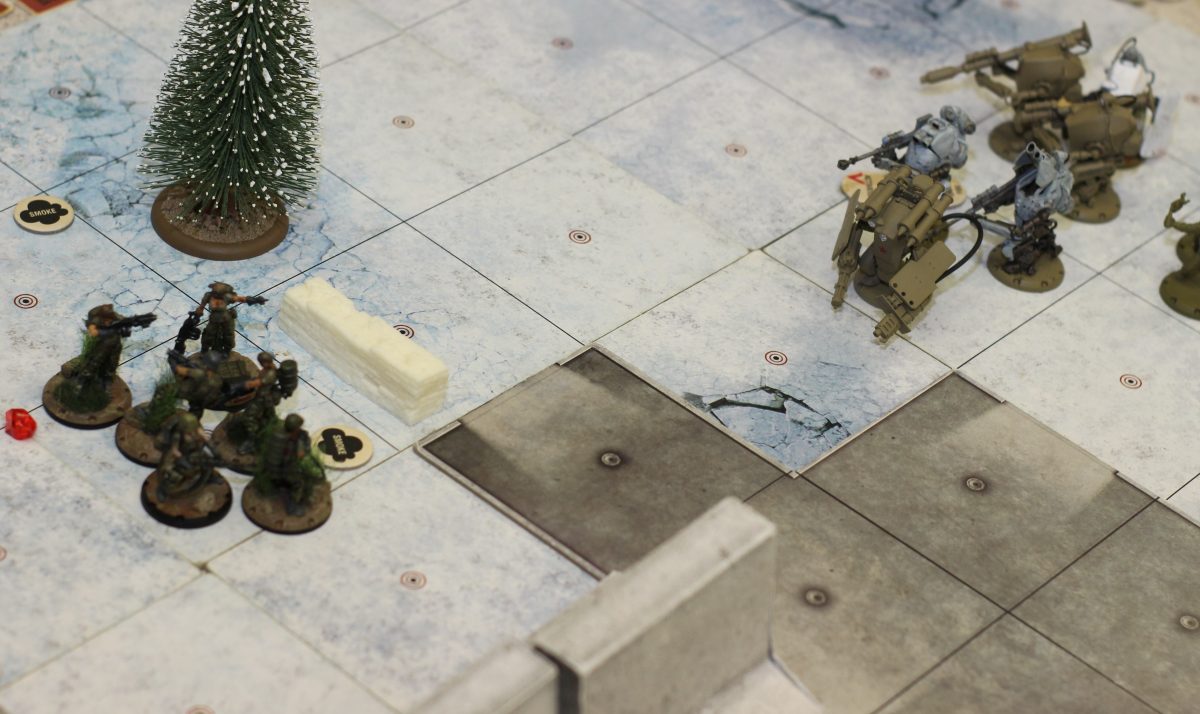 Ostatnia gra to nie było fajne. Tak szczerze nie doceniłem Tomka i jego Red Guards. Kiedy ubiłem jego combo z Yaną to poczułem, że mogę wygrać i to był błąd. Zupełnie zapomniałem o Red Rain, który był wystawiony z Nikolaim. Zupełnie nie ruszyłem jego obserwatorów artyleryjskich. Kiedy uderzył to było za późno. Jak jedyny dopadł Tanyę na otwartej przestrzeni. Potem to już była tylko rzeźnia Najemniczek. Ugrałem ledwo 15 punktów, straciłem 62. Wielkie uznanie dla tego młodego i utalentowanego Dust'era.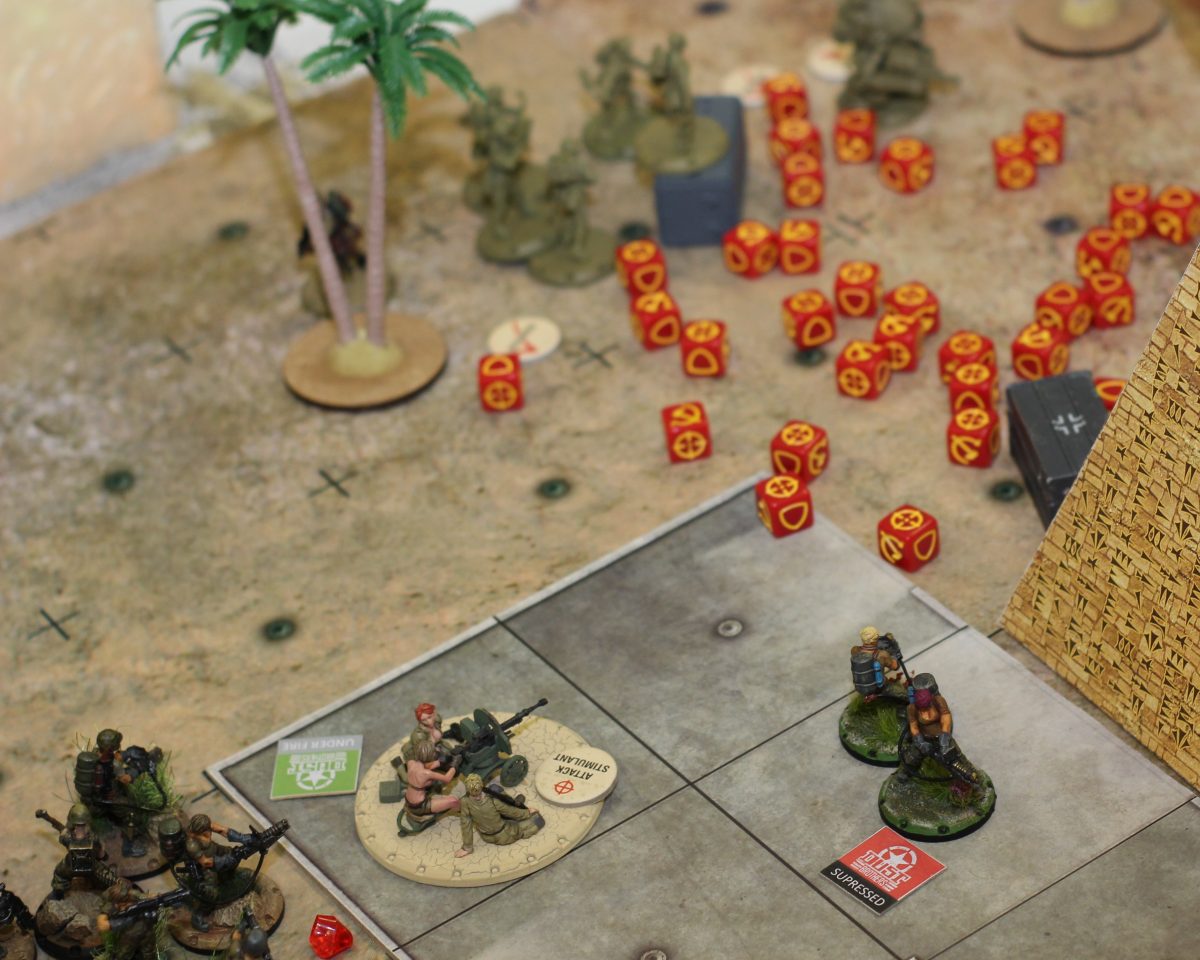 Ostatecznie zająłem 10 miejsce. Nie bardzo źle, ale też wielkiego sukcesu nie było. Niemniej jednak super spędziłem czas wśród znajomych, przyjaciół i fan'ów Dust'a.
Kolejny niezapomniany turniej za nami. Ma nadzieje na kolejne, do zobaczenie wkrótce !!!
[/ezcol_1half_end]
Big Gallery / Sporo Fotek