Luftwaffe Hero Rolf & Tree/ Rolf do Luftwaffe. I jeszcze drzewko
[ezcol_1half]That's almost last project in 2017. It's first hero to Luftwaffe fraction. I have some vehicles and a few infantry teams. I think, Rolf should help me to boost Luftwaffe. Card and photos of the hero is below.
[/ezcol_1half]
[ezcol_1half_end]To już prawie ostatni projekt w tym roku i jednocześnie pierwszy mój bohater do Luftwaffe. Mam kilka maszyn i garść spadochroniarzy, to i bohater się przyda. Jego zdjęcia i kartę znajdziesz poniżej.
[/ezcol_1half_end]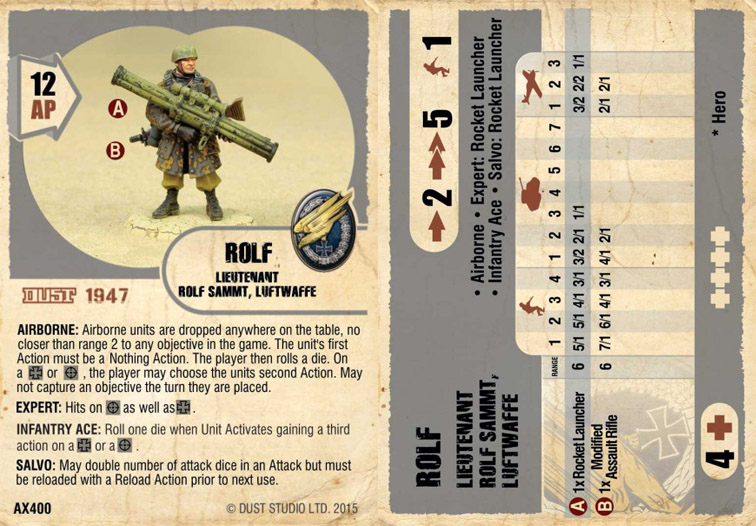 [ezcol_1half]Moreover on photos is tree which I made as 3D element to my Dust battlefield. It's rather simple&cheap solution (around 4 Euro incl. tree&basis), but looks quite well.
Any comments are most welcome. 🙂 [/ezcol_1half]
[ezcol_1half_end]Na fotografiach jest również drzewko, które nie za dużym kosztem zrobiłem sobie na matę do Dust'a. Może prosto i tanio (jakieś 15 złotych wszystkiego za drzewko do kolejki i podstawkę), ale wygląda całkiem spoko.
Zawsze miło mi poznać wasze opinie i komentarze, zapraszam. 🙂 [/ezcol_1half_end]