European Championship Approaching / Mistrzostwa Europy Coraz Bliżej
Few Details About Championship / Kilka szczegółów
5 weeks to Championships. This time event is related to relaunch of Dust Tactics (Dust47) in Poland. Marek organized crowd-funding campaign. Since last few months promoted game on several events in Poland. We are pretty sure it attracted new players. During this Championship we expect much more players.
We have prepared following attractions:
European Championship 100 Points Tournament
Special 50 pts tournament for new players!
Special 4-player battles for the underground  Vrill temple (2-part scenario).
Open Dust Tactics grid and gridless battles
New models and Dust related terrains for sale
Presentation of DUST 1947 rules by Olivier Zamfirescu
Best Painted Model Contest judged by Olivier Zamfirescu, Paolo Parente and Paweł Makuch
Please be aware that to sign in, You need to write an email confirming Your participation via e-mail:marek@warfactory.pl before 11th of May, 2016.
Już tylko 5 tygodni do Mistrzostw (Warszawa, 4-5 czerwca). W tym roku impreza odbywa się niedługo po zakończeniu kampanii na wspieram.to. Marek wspólnie z kolegami wykonał wiele pracy, aby wypromować powrót Dust Tactics do Polski. Dlatego jestem pewien, że będzie nas więcej niż rok temu.
Warto przyjechać, następujące atrakcje są pewne.
Mistrzostwa Europy na regularne 100 punktowe armie
Specjalny turniej dla początkujących, 50 punktowe armie (będzie szansa wypożyczyć modele na turniej)
Scenariusz bitwy dla czterech graczy (połączenie mapy naziemnej i podziemnej)
Niedzielne wolne rozgrywki w trybie Dust Tactics i Dust Battlefield
Prezentacja i sprzedaż modeli Dust oraz ciekawych terenów, które pasują do Świata Dust
Prezentacja zasad DUST 1947 przez Olivier'a Zamfirescu
Konkurs modelarski "Best Painted Model" sędziowany przez Olivier'a Zamfirescu, Paolo Parente z Dust Studio oraz Pawła Makucha z Monstroys.
Jeśli chcesz wziąć udział to wyślij swoje zgłoszenie na e-mail:marek@warfactory.pl przed 11 Maja 2016.
Specjalnie dla modelarzy i początkujących Dust'owców:)
Uwaga, dla graczy z Polski są przygotowane dwa pakiety wejścia na turniej.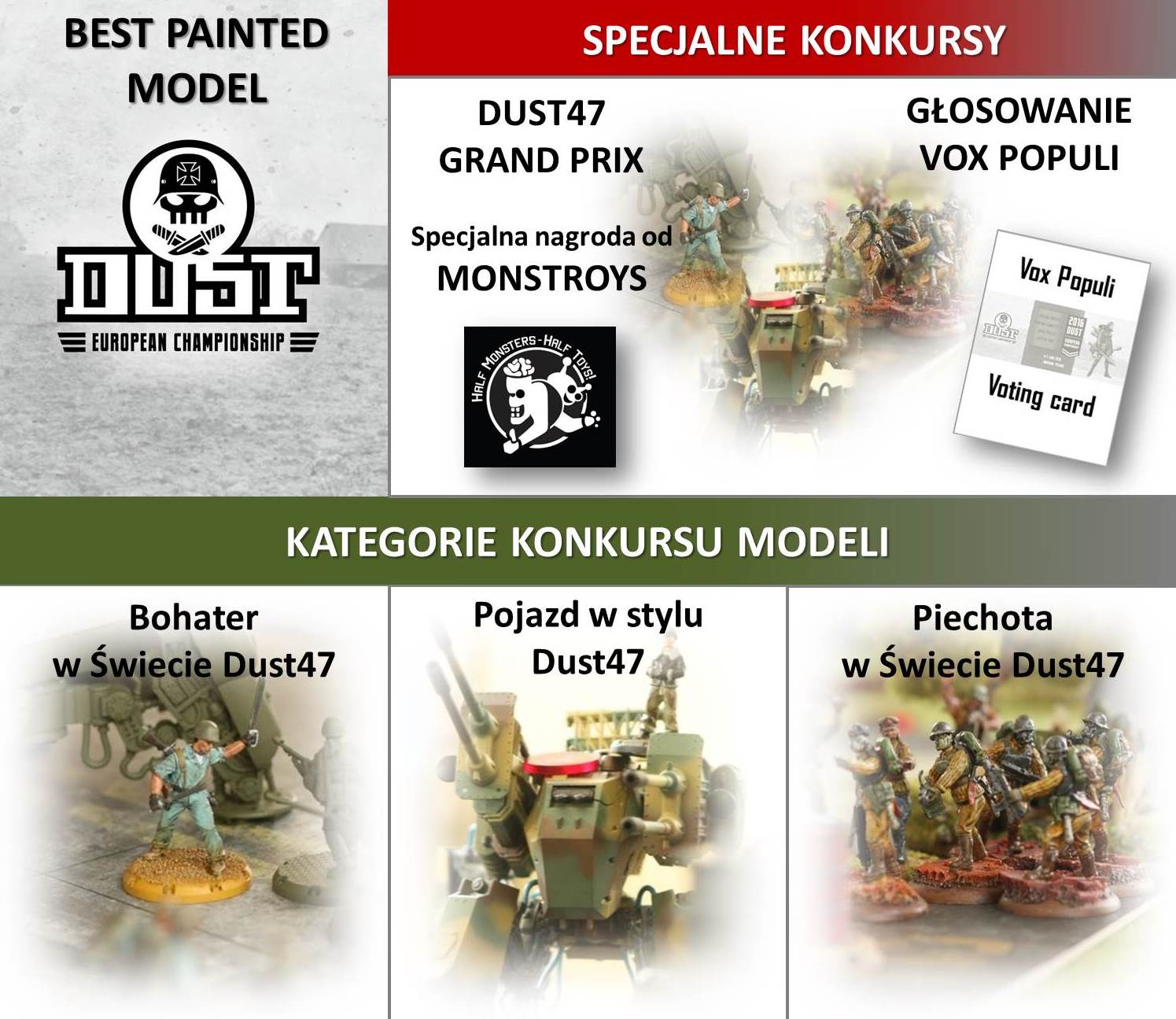 Pakiet "ENTRY" za 30 zł,

który zapewnia udział w konkursie malarskim, udział w turnieju małych armii, prezentacji zasad Dust 47 i innych niedzielnych atrakcjach. Jeśli dopiero testujesz Dust lub chcesz uczestniczyć tylko w konkursie malarskim to jest propozycja dla Ciebie.

Pakiet "FULL" za 60 zł,

który daje możliwość udziału w Mistrzostwach Europy i wszystkich atrakcjach w ciągu obu dni.
Przy zgłoszeniu warto podać, który pakiet Ciebie interesuje. Wyślij swoje zgłoszenie na e-mail:marek@warfactory.pl przed 11 Maja 2016.
Best Painted Model Categories / Kategorie Best Painted Model
Main categories of the contest:
Dust Universe Hero – 1 figure of the hero/officer/unique character
Dust Universe Infantry Unit – Dust units (3 up to 5 figures)
Dust Universe Vehicle – landing vehicle, vessel, plane or chopper
Two additional:
All presented models take part in "Dust European Championship Grand Prix Award"
All presented models take part in "Vox Populi Award" Models Presentation
Each model will have dedicated ID number and card to describe model modifications and painting techniques. Layout of the card is presented below. We allow to use entered for the painting contest model during Championship battles, but model should be available for viewing by Jury between battles.
Konkurs odbędzie się w trzech podstawowych kategoriach:
Bohater Świata Dust – 1 figurka reprezentująca bohatera lub oficera lub unikalną postać
Piechota Świata Dust – jednostka piechoty (od 3 do 5 figurek)
Pojazd Świata Dust – pojazd lądowy, pływający lub latający
Przewidziane są dwie dodatkowe nagrody dla modeli wybranych spośród wszystkich wystawionych:
Grand Prix "Dust European Championship"
Nagroda "Vox Populi"
Każdy model będzie miał przydzielony numer konkursowy oraz kartę opisu modelu, gdzie będzie można opisać sam model i sposób jego wykonania. Wzór karty poniżej. Można używać w trakcie bitew modeli zgłoszonych do konkursu malarskiego, natomiast warto umożliwić obejrzenie modelu członkom jury przed ostateczną oceną.