Dust is Alive :) / Dust żyje i mój blog też ;)…
There are some "rumors" 🙂 that Dust Tactics will be available directly in Poland again.
I believe that this time will stay for long time and will grow significantly.  My personal feeling that blog has to grow as well pushed me to make some small refurbishment. I rebuilt menu and made it bilingual and now key sections are about:

Reports is about my battles, events and workshop activities.
Armies covers articles dedicated to my units (Allies, Axis, SSU and Mercenaries).
Download section includes my cards, official cards, current rulebooks and some scenarios (Now only one, but I hope to develop more in future).
Other sections remains as they were previously.
Crucial change, I started to publish articles both in English and Polish. That's important for Polish fans. 

---
Idzie wiosna, idzie zmiana, wiele znaków potwierdza, że dystrybucja Dust Tactics wraca do Polski. 🙂
Liczę, że będzie więcej modeli, więcej graczy i więcej fanów tej fantastyczno-historycznej alternatywnej wojny.
Przy tej okazji zrobiłem mały remament mojego blogu. Wprowadziłem porządek w menu oraz jego wersję dwujęzyczną. Po drugie wracam na stałe do pisania także po polsku. Konkretnie będę starał się pisać dwujęzyczne artykuły (trochę po polsku, trochę po angielsku).
Co do samego menu, dziś krótko o trzech pierwszych sekcjach mojego blogu.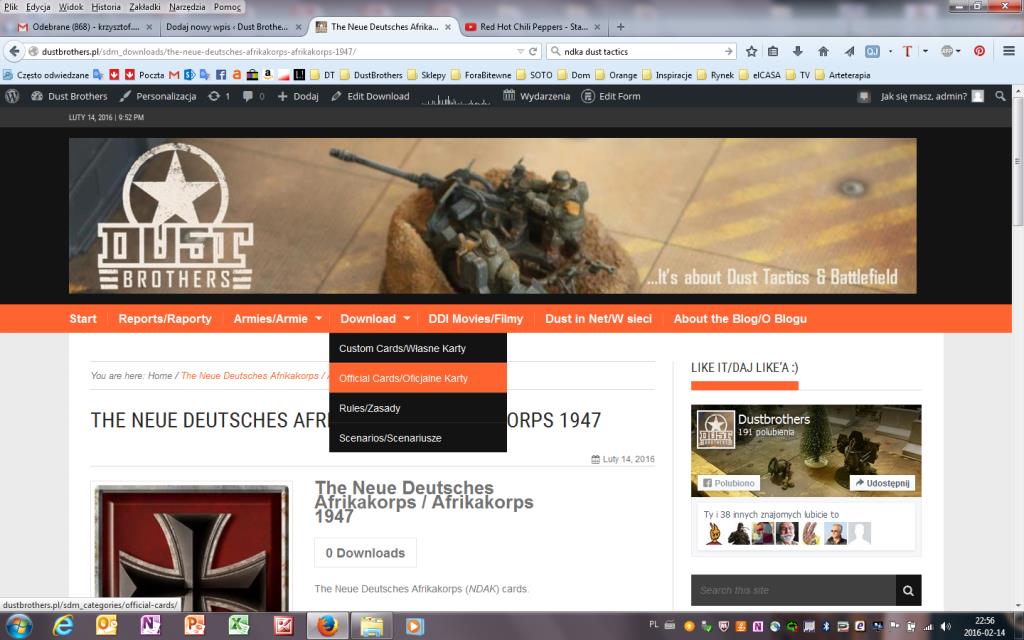 Raporty – tutaj są wszystkie artykuły o bitwach, spotkaniach, relacje z warsztatu
Armie – sekcja podzielona na cztery moduły, każdy zawiera materiały dedykowane moim wojskom. Artykuły o jednostkach, relacje z produkcji i inne teksty dot. tych jednostek, które posiadam
Download – wybaczcie, ale tego już nie tłumaczyłem. O odpowiednich sekcjach znajdziecie wszystkie niezbędne karty do gry, moje własne "customizowane" jednostki, oficjalne zasady 2.0 oraz najnowsze z zestawów startowych, jeszcze mam ambicje tworzyć scenariusze, ale życie pokaże…:)
Dust is Alive 🙂