Dust Battlefield in Friday / Piątkowy Pojedynek Dust Battlefield
W ostatni piąteczek Dust porwał Jahu, mnie i mojego brata Michała na pole bitwy.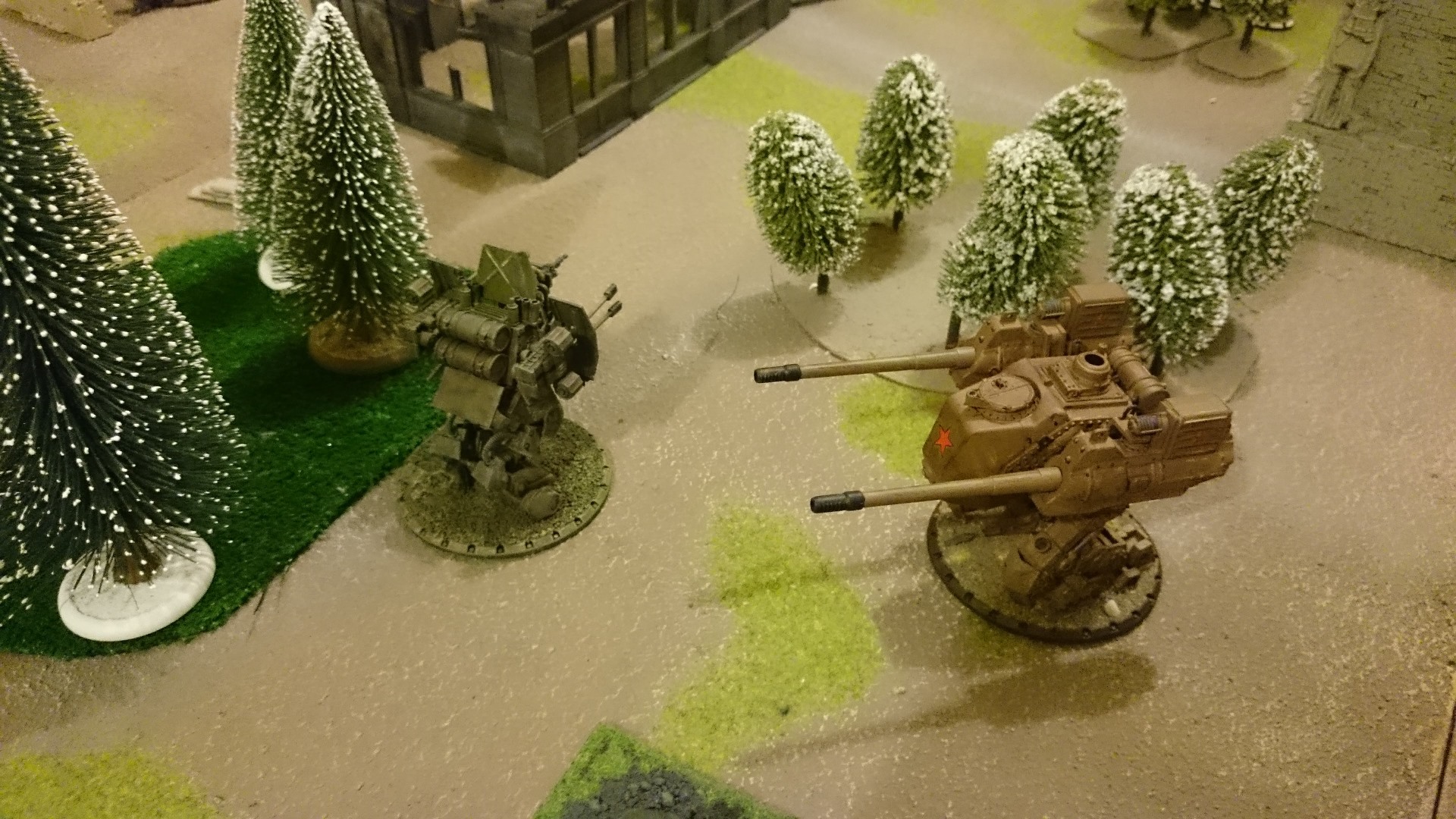 Takie jakich wiele, pole bez żadnych kresek, za to z miarką ( w cm lub calach, kto co woli) i znacznikami. Dust Battlefield wciąga, jest nieźle, zasady prawie w 100% jak w Dust Tactics, klimat i wyzwania jak klasyczny bitewniak. Co ja piszę, to jest klasyczny bitewniak, ale… nie trzeba czekać na swój ruch. Jak w Dust Tactics, ruszaliśmy się na zmianę po jednej jednostce, nie całą armią od razu. Szybko, dynamicznie, ostre zwroty akcji, to lubię.
Co do wyniku tej potyczki, to niezbyt się popisałem. Nic nie mieliśmy z Michałem na ciężkie pojazdy SSU. Ale zabawa była przednia, wycięliśmy piechotę Jahowi. Czujemy się moralnymi zwycięzcami… i gdyby tylko tego czołgu nie było.
Co tam, będzie lepiej następnym razem. Galeria ostatniej bitwy (the Gallery):
Co do samego Dust Battlefield, Dust Studio postarało się o unifikację maksymalną.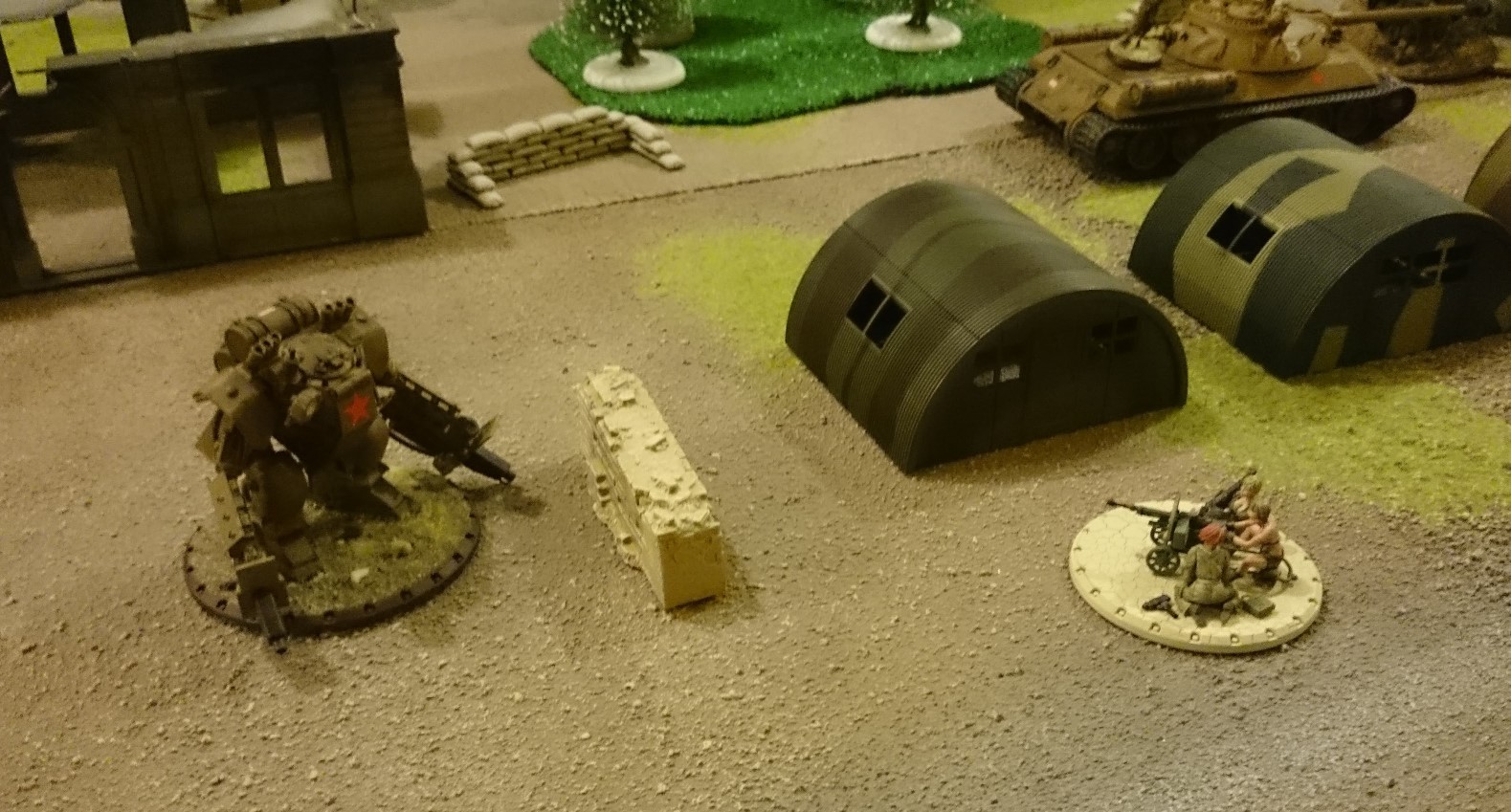 Jeden Rulebook (do Tactics i Battlefield), takie same karty. W dodatku wszystko w pdf za free (na moim blogu znajdziesz wszystko). No i nie ma jakiś super specjalnych dodatkowych książek zasad dla Armii. No bo i po co, wystarczy kilka fundamentalnych różnic, które już są opisane w zasadach podstawowych gry. Tylko wyrwać modele i jazda rozbijać wrogie armie.
Są oczywiście drobne "ośmiorniczki", różnice pomiędzy wersją Battlefield i Tactics, ale dla maniaków bitew tylko przemawiają na Battlefield'em. Totalna swoboda kierunków ruchu, jednocześnie realny wpływ terenów (typu las, ruiny, bagna) na mobilność maszyn. Template'y ostrzału piechoty, czy miotaczy płomieni powodują, że to naprawdę bitwa. No i reakcja na ostrzał, która obniża zdolności bojowe jednostek (zasady "under fire" i "suppression"). To wszystko nadaje klimatu bitew, ale jednocześnie zasady są na tyle przejrzyste i proste, że daje to komfort zabawy.
Battlefield jest stworzony dla trybu 3D w grze. Zasady są proste, jednostki piechoty latające mogą lądować na dachach, górach itd. Piechota wchodzi na wyższe pietra i nie tylko. A to wszystko ma wpływ na pole widzenia, pole dominacji nad bitwą.
Do mnie osobiście przemawia. Testowałem inne bitewniaki, gdy ponownie do świata gier wróciłem i wybrałem Dust Tactics. Choć nie dominuje na rynku, to zasady, mechanika tur i sami, bez spinki, gracze to polecam.
Dust Tactics i Battlefield wkręcają. Warto spróbować, dlatego podpowiadam, już od 25 lutego rusza kampania Dust Tactics na wspieram.to .
Projekt prowadzi mój kolega, śmiertelny fan Dust Tactics, odkąd pojawił się w Polsce. Warto posmakować, wytoczyć mechy na pola bitew. Jak wszedłem, tak już siedzę po uszy i bardzo polecam.
Co dalej 🙂
Kolejny artykuł będzie o "The Wrecker", lekkiej maszynie kroczącej Najemniczek.
W następnym wrócę z Battlefield'em i jego szczegółami.
---
Battle without grids
Last Friday I played nice Battle with my brother Michał and buddy Jahu. This time we tested Dust Battlefield. Very intensive and aggressive game. Unfortunately my AXIS forgot Wotan AR or any other Anti-tank mech (except one Hermann). That mistake impacts on final result cause Jahu had SSU led by Tank and Matrioshka. Nevertheless Battlefield is addictive, next time we will play again Grid-less Dust.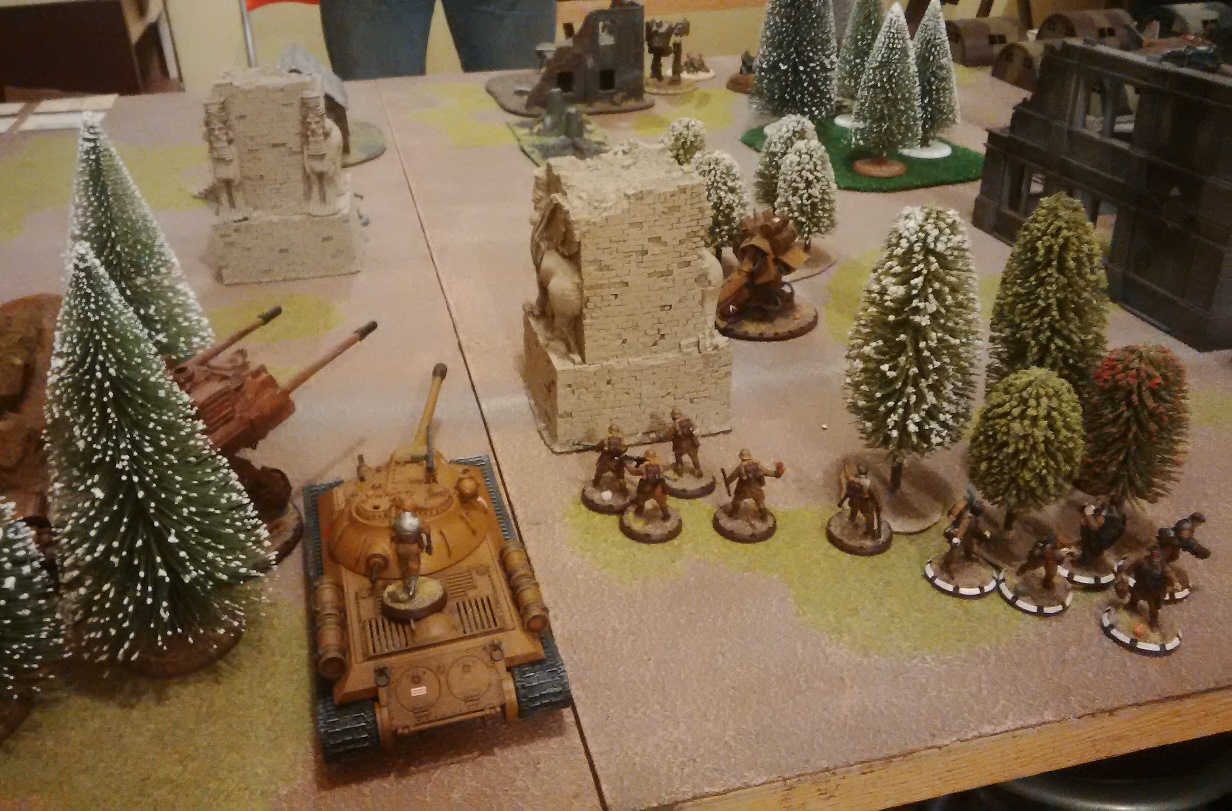 This mode could be compelling if you used to play table top battles (like WH40K, Bolt Action, Warmachine, etc.). Even if it's grid-less game, still Battlefield rules are almost 100% common with Dust Tactics. That's great advantage, this same Rulebook (pdf for free), these same cards (again for free in pdf version). In fact two games in one.
However there are small differences such as higher elasticity and reality of movement; The artillery, mortars and walkers guns attack with blast which impact on all units under template, also friendly units; The forest and other obstacles impacts on speed of vehicles; Biggest difference is Battlefield only suppression rule (under fire and suppression) which impacts on mobility and bravery of units. But that's peanuts taking into account flavor of front-line without grids :).
Polish player, at the end it's worth to remind, Polish Dust Tactics campaign will start 25th of February on wspieram.to.
It's very, very soon. Let's grab Stater Sets and start to challenge each others on grid or grid-less Battlefields of Dust Tactics World.