Desert Scorpions Truck Unboxing / Rozpakowaczka Ciężarówki Skorpionów Pustyni
From Long Range Desert Group…/ Od LRDG…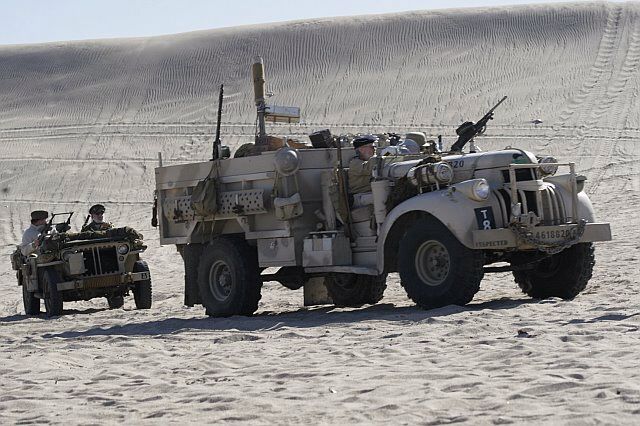 [ezcol_1half]
Long Range Desert Group (LRDG) was a reconnaissance and raiding unit founded in Egypt in June 1940 by Major Ralph A. Bagnold.
At first the majority of the men were from New Zealand, but they were soon joined by Southern Rhodesian and British volunteers, whereupon new sub-units were formed. The LRDG never numbered more than 350 men, all of whom were volunteers.
The LRDG was formed specifically to carry out deep penetration, covert reconnaissance patrols and intelligence missions from behind Italian lines, although they sometimes engaged in combat operations.
For special actions LRDG needed special vehicles, light, fast and efficient in the desert. That's why most used vehicles of LRDG were Chevrolet WB & Willys MB Jeep.
LRDG was best known as unit operated actively in Africa but several missions were conducted also in Greece, Italy and Balkans till 1945. LRDG was disbanded in August 1945 but….
[/ezcol_1half]
[ezcol_1half_end]
Jednostka Long Range Desert Group (LRDG) powstała jako oddział zwiadu i rajdów bojowy w Egipcie w 1940 roku. Założycielem oraz pierwszy dowódcą był Major Ralph A. Bagnold.
Początkowo składała się głownie z Nowozelandczyków. Następnie dołączyli żołnierze Południowej Rodezji, Brytyjczycy oraz przedstawiciele innych nacji walczących po stronie aliantów. LRDG była jednostką elitarną, nigdy nie przekroczyła 350 żołnierzy. Wszyscy byli ochotnikami.
Jednostka realizowała zadania wywiadu, rozpoznania oraz dywersji poza liniami wroga. Czasem była angażowana w klasyczne działania bojowe.
Specjalnie na potrzeby LRDG dostosowywano linie pojazdów terenowych. Z reguły pojazdów dwuosiowych, dzielnych w terenie pustynnym. Najbardziej znane wozy to Chevrolet WB & Willys MB Jeep.
LRDG najbardziej znane było z operacji realizowanych w Afryce. Jednostka realizowała misje również w Grecji, Włoszech i na Bałkanach. Oficjalnie LRDG zostało rozwiązane w sierpniu 1945 roku, ale….
[/ezcol_1half_end]
…to Desert Scorpions / …do Skorpionów Pustyni

[ezcol_1half]
…War didn't end and after several months clashes broke out again in Africa in 1947. Therefore Allies set up and send to Africa successors of the famous LRDG.
Desert Scorpions have this same role and comparable tasks. Moreover also base on volunteers from Allied countries (France, England, Australia, New Zealand and many others…).
[/ezcol_1half]
[ezcol_1half_end]
…Wojna nie zakończyła się. Po kilku miesiąca względnego spokoju wojna rozgorzała na nowo na bliskim wschodzie i afrykańskiej ziemi w 1947 roku. Dlatego Alianci powołali nową jednostkę, która uznana została godnym następcą LRDG.
Desert Scorpions otrzymali podobne zadania i misje. Co więcej również bazują na ochotnikach pochodzących z krajów należących do bloku Aliantów (Francuzi, Anglicy, Australiczycy, Polacy oraz przedstawiciel wielu innych krajów…)
[/ezcol_1half_end]
Desert Scorpions Trucks / Ciężarówki Skorpionów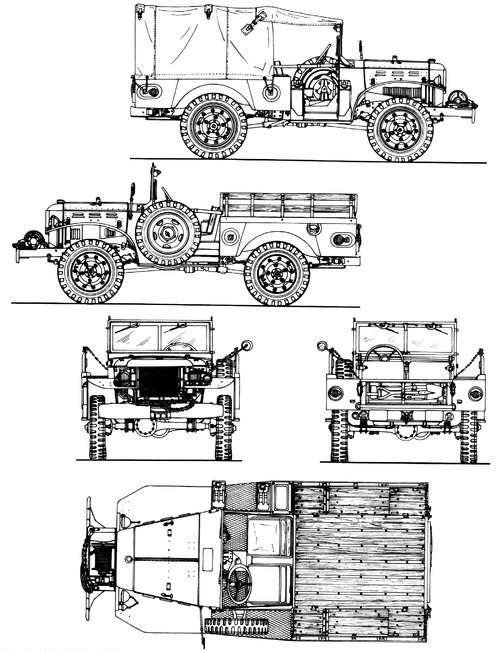 [ezcol_1half]
This time special purpose vehicles based on DODGE WC52 series were prepared. Several versions are used by Desert Scorpions.
The very first of them are Command Truck, Transport Truck and Gun Truck. Others, like Artillery Truck, should come little later.
Together with these models two new abilities (quite useful during Dust1947 battles) were presented:
Raid – Truck can do MOVE+ATTACK+MOVE, but can't be reactivated for this turn.
Assault Vehicle – Passengers in this Vehicle can disembark after the Vehicle has activated.
[/ezcol_1half]
[ezcol_1half_end]
Tym razem powstała specjalna linia pojazdów bazujących na DODGE'ach serii WC52. Desert Scorpions mają na wyposażeniu kilka modyfikacji tych pojazdów.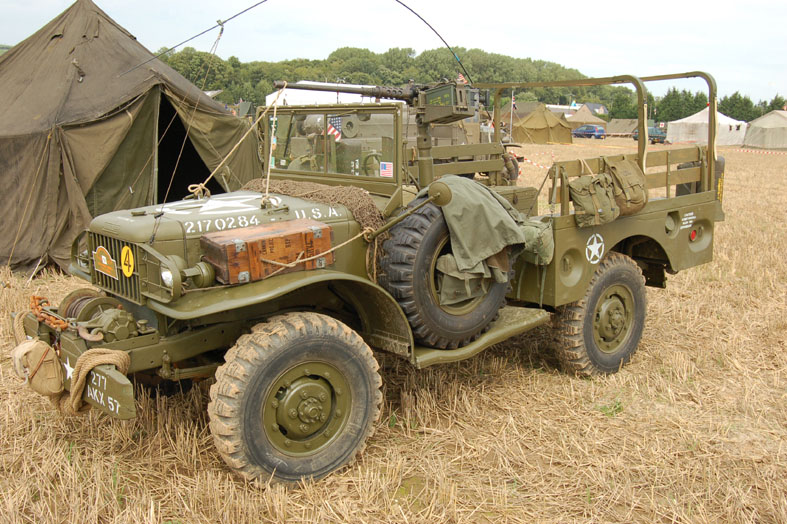 Pierwsze stosowane w większej liczbie to ciężarówka dowodzenia, ciężarówka transportowa oraz tzw. "Gun Truck". Spodziewane są również dostawy pojazdów artyleryjskim. Mam nadzieję, że niedługo.
Prezentowane wersja tych pojazdów wprowadzają nowe zdolności do Dust1947:
Rajd – Pojazd może wykonać kombinację Ruch+Atak+Ruch, ale nie może być reaktywowany w tej samej turze.
Pojazd Szturmowy – Pasażerowie mogę zostać wyładowani z pojazdu po jego aktywacji w tej samej turze.
[/ezcol_1half_end]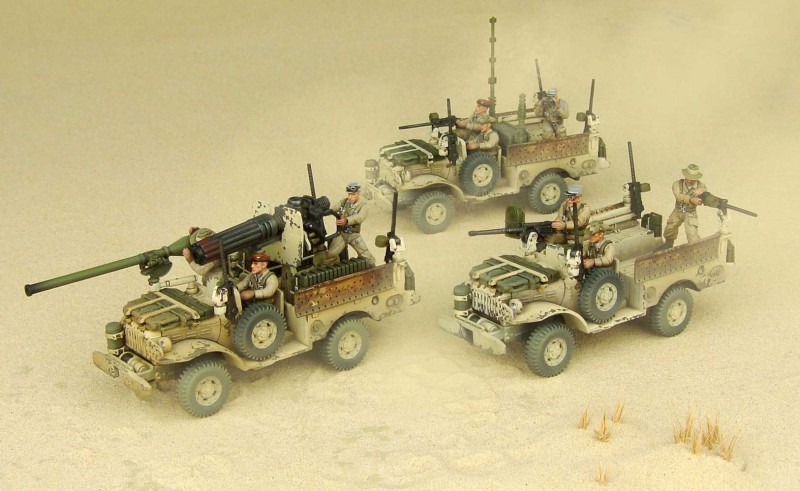 Unboxing / Rozpakowaczka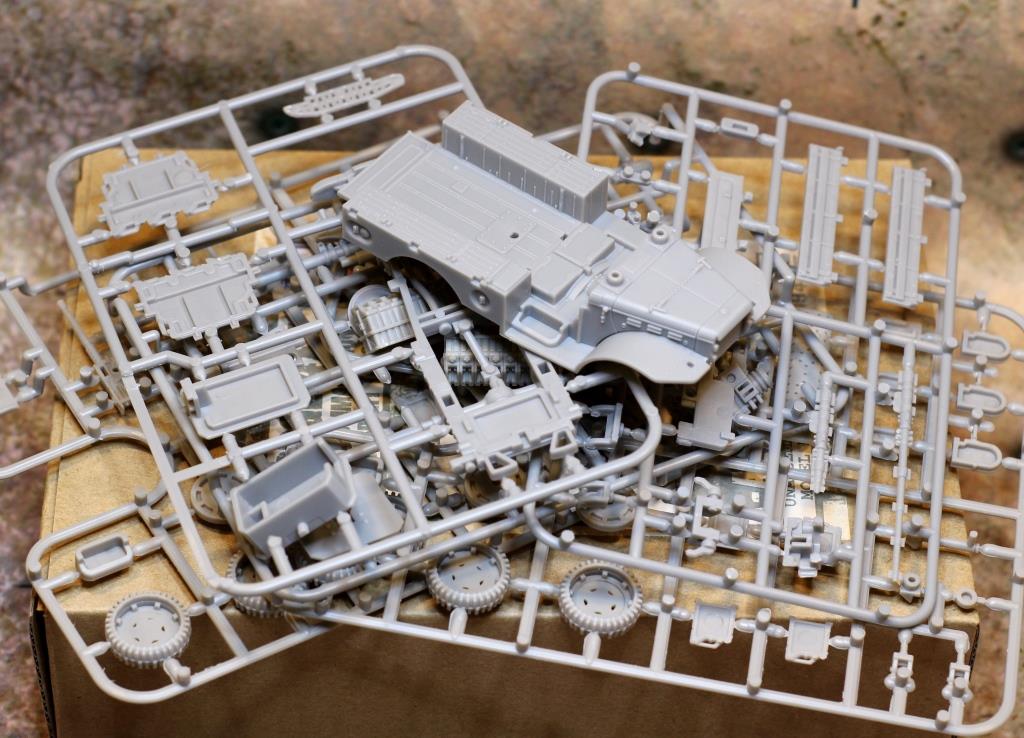 [ezcol_1half]
My trucks were delivered unassembled. Inside are four cards (three for Desert Scorpions Fraction and Block Command Truck) and parts all very well packed in plastic bags. Box includes high quality hard plastic sprues with needed elements and some surplus parts.
Set hasn't paper manual but Paolo sent me pdf version, which is available to download here. This time I didn't find and dedicated decals but trucks are so awesome that it's not an issue.
[/ezcol_1half]
[ezcol_1half_end]
W środku znajdziecie cztery karty (3 dla pojazdów Desert Scorpions i jedną do blokowego pojazdu dowodzenia). Wszystkie części są starannie zapakowane i zabezpieczone. Wypraski prezentują się super, model wykonany jest z wysokiej jakości twardego plastiku.
Zestaw nie zawierał instrukcji, ale Paolo podesłał mi wersję w pdf, którą możesz tutaj ściągnąć. Tym razem nie było darmowych kalkomanii, ale zestaw sam się broni i nie potrzebuje specjalnych bonusów.
[/ezcol_1half_end]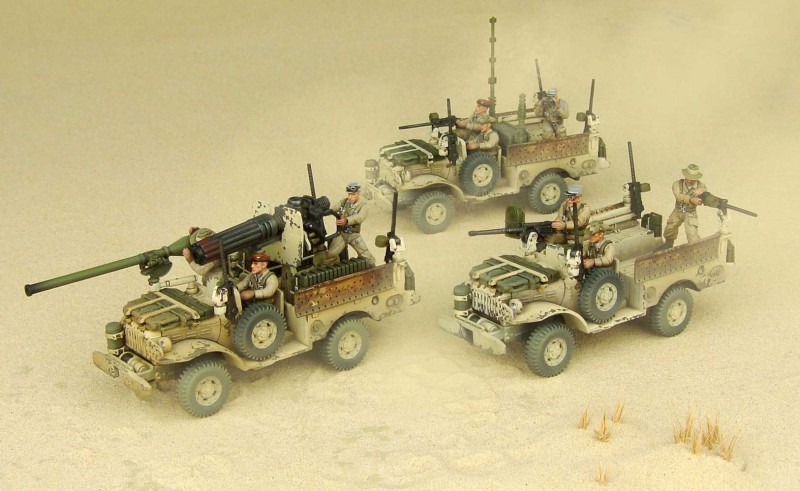 Desert Scorpions Trucks Unassembled Set Manual
Vehicle Model / Ciężarówka
[ezcol_1half]
Bone of the truck is body developed as one part but all details on the chassis are very well modeled. Model hasn't engine and engine cover is made as one element only in close position. Another core element is chassis with integrated suspension and drive system in one part. This sprue has also radio for commando car and engine cover grille.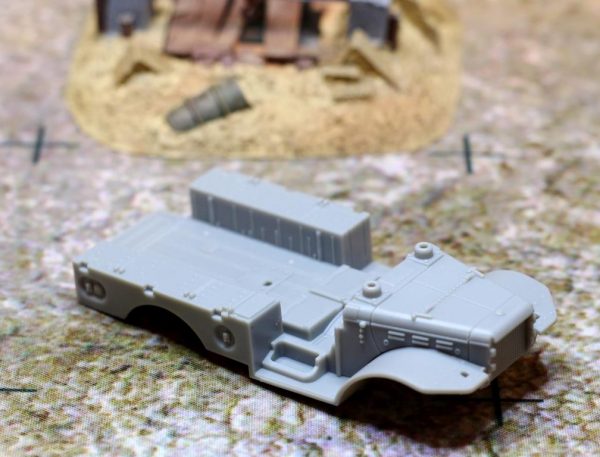 Next two sprues contain all smaller & the smallest parts of trucks like antennas, sideboard, driver cockpit. Also includes recoilless rifle and phaser.
Last two sprues are these same and have wheels, all needed machines guns (even a few more), driver's seats, cans and pierced steel planks. Moreover two sets of cans are included in addition.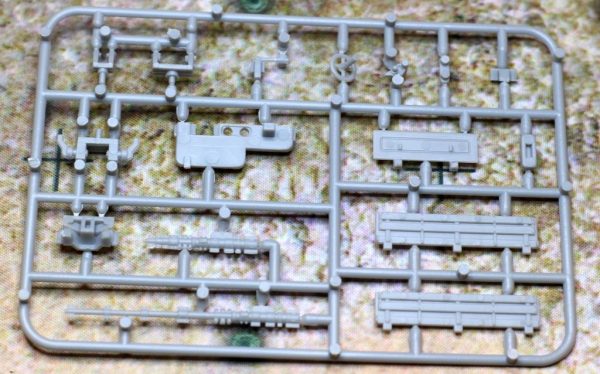 Model parts give you possibility to build one truck with swappable (if you want) weapons.
[/ezcol_1half]
[ezcol_1half_end]
Podstawę stanowi jednoczęściowy kadłub z bardzo dobrze zarysowaną strukturą materiałów, blach oraz drobnych elementów. Model nie ma silnika, a klapa silnika jest tylko w pozycji zamkniętej. Podwozie wykonane jest z jednego elementu i bardzo dobrym odlewem zawieszenia oraz układu napędowego. W tej wyprasce są również elementy radiostacji oraz kratownica na osłonę silnika.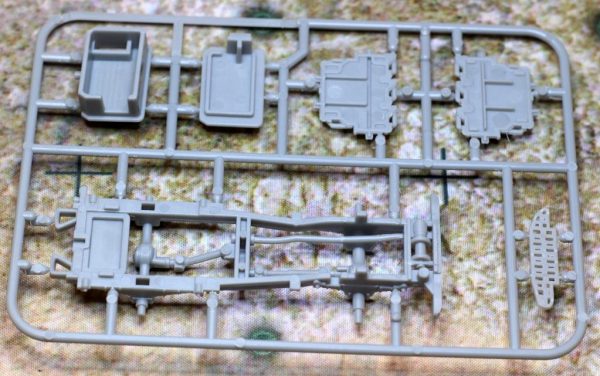 Kolejne dwie wypraski, to drobne części z których składa się anteny do radiostacji, boki pojazdu i kabinę kierowcy. Nadto działo bezodrzutowe oraz fazerowe do Gun Truck'a.
Ostatnie dwie wypraski są takie same. Zawierają koła, fotele kierowców, kanistry oraz trapy piaskowo-błotne. Oczywiście reszta niezbędne uzbrojenia też jest tutaj.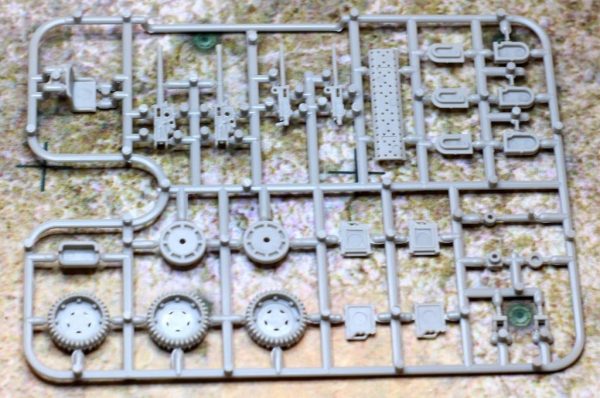 Zestaw pozwala na montaż jednej ciężarówki oraz trzech (wymiennych) opcji uzbrojenia.
[/ezcol_1half_end]
Scorpions Crew / Załoga Skorpionów
[ezcol_1half]
Creme de la crème of this set is here in my option.
Figures are packed separate. I have found bodies, legs and arms in two bags and heads packed separately. Models of figures and all parts of the trucks are from hard plastic. Heads are resign.
Set provides 6 guys, each of them in different pose. It's enough for two trucks to be honest. That's why I want to add to my collection one Desert Scorpions truck based on Airfix Bedford MWD 1/48, Dust Studio team and weapon setsJ.
But also contains 21 !!! high quality heads; 5 British Commandos, 5 British Red Devils, 5 Australians, 6 French Legionaries.
[/ezcol_1half]
[ezcol_1half_end]
Creme de la crème tego zestawu.
W zestawie znajdziesz 6 kompletów Skorpionów. Każda postać ma inną postawę. W sumie to daje zestawy do dwóch pojazdów. Dlatego planuję użyć nadwyżki do zrobienia sobie jednej ciężarówki Desert Scorpions bazując na modelu Bedford MWD Aifrix'a.
Głowy są oddzielnie zapakowane i wszystkie wykonane z żywicy. Ale ile, 21 sztuk !!!. 5 Komandosów, 5 chłopaków z Red Devils, 5 Australijczyków oraz 6 Legionistów.
[/ezcol_1half_end]
Summary / Podsumowanie
[ezcol_1half]
Model is perfect both for gamers and modelers who want to have 1/48 Dodge Truck. Quality is amazing and, to honest, I realy love Desert Scorpions style and concept which based on "so-called" traditional trucks and armor vehicles.
Thanks to Desert Scorpions I will dust off my Allies models and send again to fight with AXIS and SSU.
Model is available directly on Dust Studio page and will be available for retail customers and wholesale European distribution via Warfactory.pl at the beginning of October.
[/ezcol_1half]
[ezcol_1half_end]
Model jest idealną propozycją zarówno dla gracza jaki i modelarza, który chciałby mieć w kolecji Dodge'a w skali 1/48. Jakość jest niesamowita. Przyznam, że dodatkowo koncept na zastsowanie bardziej tradycyjnych pojazdów w tej frakcji bardzo mi pasuje.
Dzięki Desert Scorpions odkurzę moich aliantów i ponownie wyślę w bój przeciwko blokowi Osi i Sino-Sovietom.
Model jest dostępny na stronie Dust Studio. Już niedługo, na początku października, powinien być dostępny w Europie poprzez Warfactory.pl .
[/ezcol_1half_end]
[ezcol_1half]
That's all my friend. Thank You.
If you like this content, please leave comments and share via social media :).[/ezcol_1half]
[ezcol_1half_end]
Dziękuję, że przeczytałeś artykuł.
Proszę, zostaw komentarz i udostępnij, jeśli uważasz, że warto :)[/ezcol_1half_end]
Zapisz
Zapisz
Zapisz
Zapisz
Zapisz
Zapisz
Zapisz
Zapisz
Zapisz
Zapisz
Zapisz
Zapisz
Zapisz