Bloody Baron is ready / WOŚP'owy Baron już gotowy
Bloody Baron for Newborns / Krwawy Baron zagrał dla Niemowlaków
[ezcol_1half]
I was the very first charity project on my blog. Charity Auction was ended and I painted Bloody Baron as bidder propose to do it. Today I sent painted Bloody Baron to Michał. I believe that final effect will satisfy the winner.
I feel really content that I could support Great Orchestra of Christmas Charity such a way. Below I enclosed Bloody Baron gallery.
[/ezcol_1half]
[ezcol_1half_end]
Zatem ukończyłem mój pierwszy blogowy projekt dla WOŚP. Aukcję wygrał Michał i od razu przekazał, jak chciał mieć pomalowanego Barona. Oto jest, w zasadzie był, bo dziś jeszcze nadałem paczuszkę z Baron'em do zwycięzcy. Mam nadzieję, że spodoba się efekt końcowy.
Przyznam, że sprawiło mi dużo frajdy w taki sposób wesprzeć Wielką Orkiestrę Świątecznej Pomocy. Za rok znowu szansa. Poniżej kilka zdjęć Barona.
[/ezcol_1half_end]
Who is Bloody Baron? / Kto to Krwawy Baron?
[ezcol_1half]
Bloody Baron is Luftwaffe hero. Only one hero fitted to Axis planes. He could generate 3rd action thanks to "Ace Air Pilot" ability. It gives you option to use sustained attack in plane and it kills :). Card is below.
[/ezcol_1half]
[ezcol_1half_end]
Krwawy Baron to bohater frakcji Luftwaffe. Pilot samolotów, który posiada zdolność generowanie trzech akcji. Wtedy jego samolot może zrobić atak mierzony, a to zabija :). Karta poniżej do wglądu.
[/ezcol_1half_end]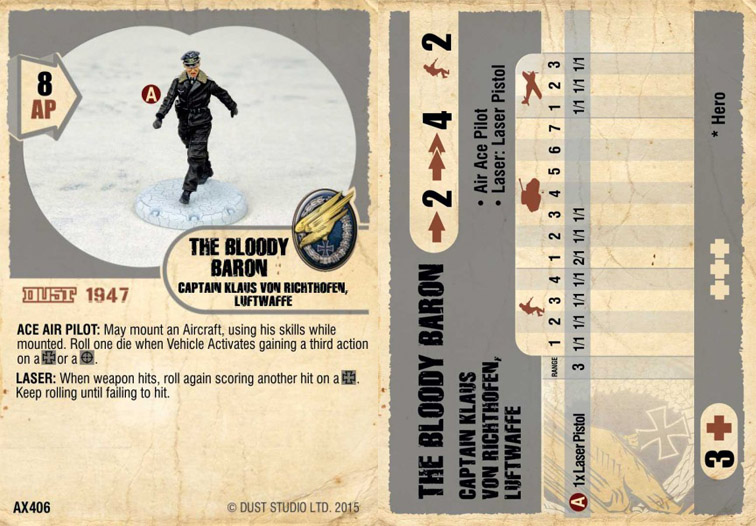 [ezcol_1half]
That's it for today. Give me like and leave comments If you like project and model itself.
Stay tune, next project will be soon on blog.
[/ezcol_1half]
[ezcol_1half_end]
Na dziś wszystko. Proszę o parę słów i łapkę w górę, szczególnie jak projekt i sam model podoba się.
Już niedługo kolejne projekty na blogu. Do zobaczenia.
[/ezcol_1half_end]