"Best Painted Model" on Dust European Championship / Konkurs Modelarski na Mistrzostwach Dust w Warszawie
It's only two months to Dust European Championship. Celebration of Dust Tactics in Warsaw will be 4th-5th of June.
Fantastic event for all players, veterans and new adepts of Tactics battles (grid&grid-less) from the whole Europe. More details on Facebook.
It will be fantastic chance to challenge for painters and modelers also
Już tylko dwa miesiące do Dust European Championship. To świeto Dust maniaków odbędzie się 4 i 5 czerwca w Warszawie.
Zapraszamy zaprawionych w boju, dopiero początkujących oraz nowicjuszy. Będzie turniej mistrzowski, mini tuniej dla początkujących, otwarte gry. Więcej na Facebook'u. Dołącz do wydarzenia i bądź na bieżąco.
Nie mogło zabraknąć konkursu modelarskiego dla adeptów sztuk magicznych modelowania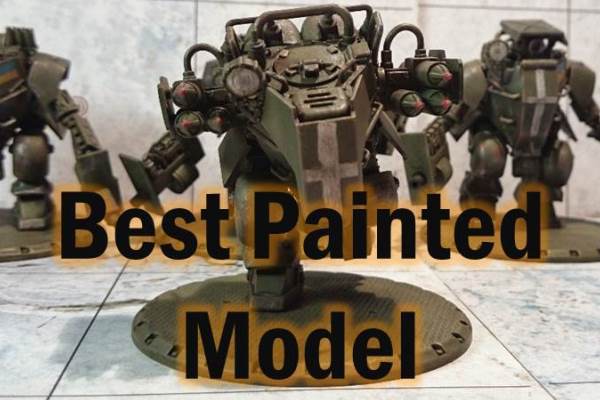 "Best Painted Model" contest is organized by me and Marek (Warfactory.pl) together, as part of "Dust European Championship". Dust Universe masters are most welcome. Yours great models, figures and units has to be presented. This year we decided to enlarge number of categories.
We propose three main categories

conducted

and evaluated

by the Jury

.
Dust Universe Hero – 1 figure of the hero/officer/unique character
Dust Universe Infantry Unit – any Dust units (3 up to 5 figures)
Dust Universe Vehicle – any landing vehicle, vessel, plane or chopper
And two other challenges:
Very well adopted by participants "Vox Populi Voting".
Each participant will have chance to vote on one model. That way we want to choose Best Model of Dust Championship Participant. Special prize for winner will be brought by me.
And first time "Dust European Championship Grand Prix Award" by Monstroy.
Special, new category with very unique prize. Grand Prix winner model of chosen character, officer or Walker (Light or Medium) will be painted by Paweł Makuch from Monstroy. So, don't forget to take your unpainted soldier, officer or walker. There is a chance that you would be one of lucky winners.
More details, also concerning official applications, will be published on Facebook. See you soon in Warsaw.
If you have any questions about "Best Painted Model" Contest don't hesitate contact with me (contact@dustbrothers.pl or via Facebook).
"Best Painted Model" organizuję wspólnie z Markiem (Warfactory.pl), jest to części całego wydarzenia "Dust European Championship". Zapraszamy do udziału  w nim wszystkich mistrzów oraz amatorów modelarstwa w stylu Świata Dust. Wasze doskonałe prace koniecznie muszą się pojawić.
W tym roku będą trzy regularne kategorie, gdzie modele będą oceniane przez Jury.
Dust Universe Hero – kategoria bohaterów/oficerów bądź unikalny postaci, gdzie wystawiamy jeden model postaci.
Dust Universe Infantry Unit – kategoria drużyna piechoty (od 3 do 5 żołnierzy).
Dust Universe Vehicle – kategoria dowolnego pojazdu ze Świata Dust (kołowy, kroczący, pływający lub latający)
Oraz dwie specjalne kategorie:
Doskonale przyjęta "Vox Populi Voting".
Każdy uczestnik turnieju będzie miał jeden głos, który będzie mógł oddać na najlepszy, jego zdaniem, model, figurkę, drużynę. W ten sposób sami uczestnicy wybiorą najlepszy model turnieju. Nagrodę zapewni blog Dustbrothers.pl.
Pierwszy raz – "Dust European Championship Grand Prix Award" by Monstroy.
Specjalna kategoria z unikalną nagrodą Grand Prix ufundowaną przez Pawła Makucha, właściciela Monstroy. Będzie to światowej klasy pomalowanie bohatera bądź maszyny świata Dust (lekkiej lub średniej klasy) zwycięzcy tej kategorii.  Każdy ma szansę na tą nagrodę, zatem warto mieć swój model do pomalowania.
Więcej szczegółów znajdziesz na stronie wydarzenie na Facebook.  Śledź wydarzenie i do zobaczenie wkrótce.
W razie jakichkolwiek pytań dotyczących konkursu "Best Painted Model" proszę, pisz do mnie (contact@dustbrothers.pl lub via Facebook).
"Best Painted Model" Contest rules / Regulamin "Best Painted Model" (english version only/polish will be published soon)