Battle for Zverograd Goes On / Bitwa o Zverograd Ciągle Trwa
People wonder if it's worth to buy "Battle for Zverograd" starter. Starter has all what you need to start, It's cheap but armies based on classic models (made before Babylon campaign). That's why some say that units aren't playable.
I don't think so. Me and Filip decided to play the test game based on models from starter (We chose Axis and Allies units). To add little more flavor and increase attractiveness of the challenge we agreed to expand our armies by units from new starters.
Niektórzy koledzy zastanawiaja się, czy warto kupić zestaw startowy "Battle for Zverograd". Zestaw zawiera wszystko co potrzebujesz, aby zagrać. W dodatku wcale nie jest taki drogi, ale te modele sprzed kampanii Babylon. Zdarzają się tacy, co uważają je za mało grywalne.
Ja nie zgadzam się z taką tezą i wspólnie z Filipem chcieliśmy zrobić test. Zagraliśmy bitwę w oparciu o modele ze startera (wersja Axis i Alianci). Aby było więcej akcji dorzuciliśmy sobie po jednym z nowych zestawów startowych.
I took Axis Wehrmacht from Zverograd starter and NDAK from Christoph Starter. Finally I had 65 points, two combos, two anti-tank walkers and one heavy unit against Tank. My army list is below:
Stefan + Sturmgrenadier Recon Squad
Ludwig, PanzerKampfLaufer II-B
Heavy Laser Grenadier Squad
Christoph + Grenadier Security Squad
Hermann Trop, PanzerSpahLaufer I-D
Wybrałem Axis (niespodzianka 😉 ), których uzupełniłem o NDAK z zestawu Christoph Starter. To dało mi 65 punktów wojska oraz mieszankę dwóch pojazdów, dwóch zestawów piechoty z bohaterami oraz ciężkich laserowców w charakterze piechoty przeciwpancernej. Tak powstała lista:
Stefan + Sturmgrenadier Recon Squad
Ludwig, PanzerKampfLaufer II-B
Heavy Laser Grenadier Squad
Christoph + Grenadier Security Squad
Hermann Trop, PanzerSpahLaufer I-D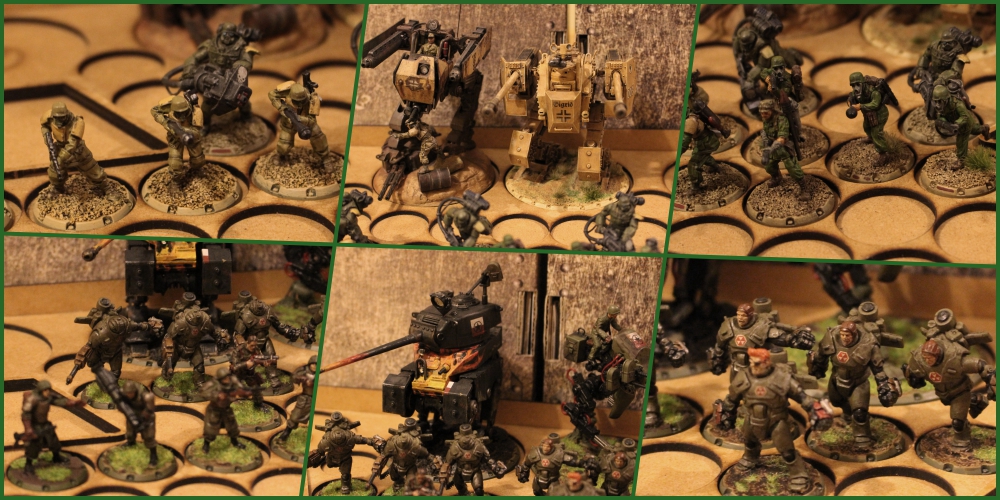 Filip prepared mix of Rangers combining together Bazooka Joe units with Rhino starter. He had solid 72 points based on two walkers (one anti-tank and one anti-infantry), two heavy units with ability to fly, one anti-tank rangers team and Bazooka Joe who is officer. His army list:
Bazooka Joe
Ranger Heavy Weapon Squad
Heavy Ranger Attack Squad
Pounder, M3C Medium Combat Walker
Rhino + Heavy Ranger Assault Squad
Wildfire, M1A Light Assault Walker
We used first scenario of Dust Endless Global Campaign.
Filip wystawił kombinację Rangers'ów bazując na uzupełnieniach z zestawu startowego Rhino. W ten sposób zebrał 72 punkty całkiem mocnej grupy. Dwa pojazdy (jeden przeciwpancerny, drugi przeciw piechocie), dwa ciężkie oddziały piechoty posiadające zdolność latania, Ranger'sów przeciwpancernych oraz oficera Bazooka Joe. Oto jego armia:
Bazooka Joe
Ranger Heavy Weapon Squad
Heavy Ranger Attack Squad
Pounder, M3C Medium Combat Walker
Rhino + Heavy Ranger Assault Squad
Wildfire, M1A Light Assault Walker
Zagraliśmy na pierwszej mapie z kampanii Endless War.
Never Underestimate Rhino / Zawsze Uważaj na Rhino
I felt confident, cause expected that combination of Stefan & Christoph with their units is fair enough to win this clash. First turn didn't bring any skirmishes, both armies placed positions. Moreover I used smoke of Ludwig which gives me possibility to provide cover to Christoph combo. On the second flank I placed rest of my forces and had a plan to hunt some walkers.
I won activation in second turn. I decide to assault using Christoph without any reflection what may happen after. I finished my move in front of the building and couldn't use flame due to range 2 to Allies infantry. I shoot with all weapons to Rhino unit but wounded just once.
Czułem się pewnie z moją armią. Kombinacja Krzysztofa i Stefan z oddziałami piechoty powinna mi wystarczyć, aby odnieść zwycięstwo. Pierwsza turan to było jedynie rozpoznanie wyjście na z góry ustalone pozycje. Ludwig postawił dym i tam ukryłem Krzysia. Na drugiej flance pojawiła się reszta mojej piechoty, aby wykosić Alianckie pojazdy.
Wygrałem aktywację drugiej tury. No i poszedł Krzysztof do przodu bezmyślnie. Zakończyć z zasięgem dwa do jednostek Filipa. Bez miotacza nie ma mocy i tak też się stało. Ledwo drasnął drużynę Rhino.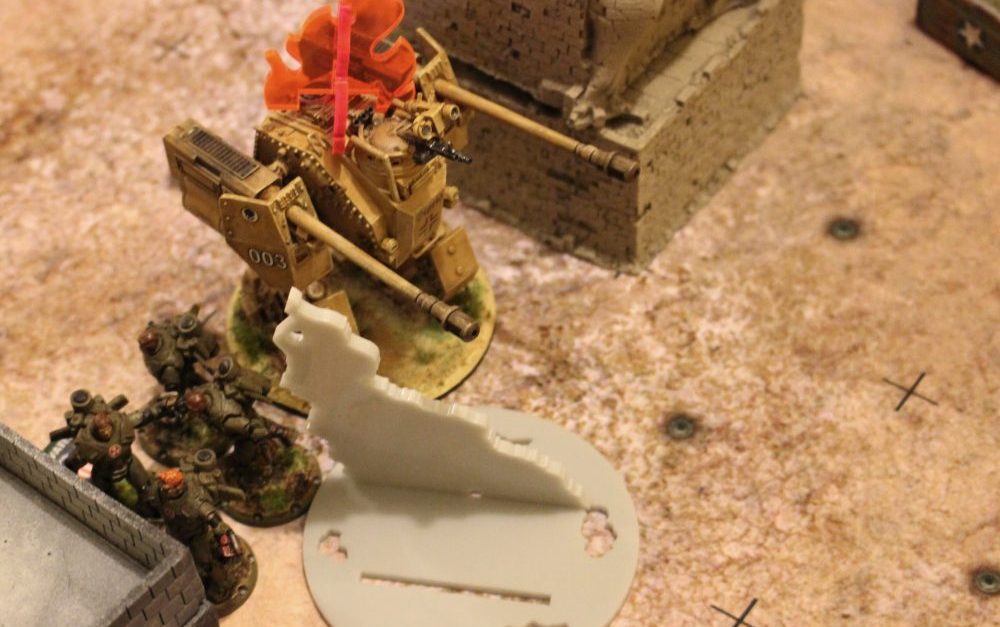 Filip's Rhino Combo jump over my units and smash my Ludwig in close combat. This was the beginning of trouble. I wanted revenge. I used my Heavy Laser Grenadiers using combination of move + attack. That's trigger action which allows to make reactive fire by opponents.
Filip did reactive fire using Wildfire which is dedicated to such a actions (has Advanced Reactive Fire ability). Wildfire killed all Lasers and my revenge ended with nothing. Moreover Bazooka Joe took place of Rhino in the building and shot to Christoph with grenade launcher. It hurt :(.
My last chance was to activate Stefan combo. I move to second building and attack both Bazooka Joe and Rangers but without any spectacular success. He responded using Heavy Ranger Attack Squad. It cost me 11 hits and many wounds.
Filip tylko czekał, aby uruchomić Rhino. Chłopaki skoczyli wprost koło mojego Ludwiga i piłka była krótka. Ludwig odpalony, a ja szukałem zemsty. Zatem moich Heavy Laser Grenadiers wysłałem, aby uderzyć w pojazd aliantów. Wykonałem akcję ruchu i potem planowany był atak. A to jest kombinacja, która pozwala na reakcję przeciwnika.
Filip zareagował Wildfire'em, który jest do tego stworzony (posiada zdolność Advanced Reactive Fire). Wildfire jedną salwą rozniósł Laserowców i czas zemsty się skończył. Co więcej Bazooka Joe na koniec tury odpalił granatnik w zespół Krzysztofa i to bolało.
Moja ostatnia szansa to Stefan z zespołem. Zatem przerzuciłem ich do budynku, gdzie byli alianci, chłopaki trochę postrzelali, ale nie było spektakularnych sukcesów. Za to dostali się pod ostrzał Heavy Ranger Attack Squad. To było aż jedenaście trafień i sporo ran.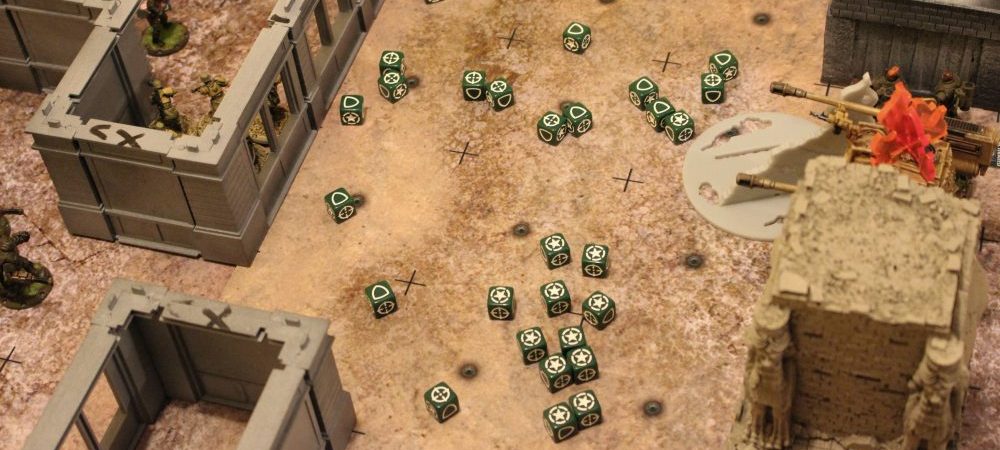 Last Chapter / Ostatni Rozdział
Third turn was the last one. Filip won activation and Rhino showed claw again. This time charged and eliminated my Hermann L buuu !!! In response Stefan with remains of the Strumgrenadier unit finally killed some Allies (both Heavy Range Attack Squad and Bazooka Joe). To be honest it was biggest success which I achieved. Immediately after Filip used Pounder and Rangers to smash Stefan.
Battle is over this time but Dust War Goes On.
Trzecia tura to był już koniec. Filip wygrał aktywację i Rhino znów zadarł pazura. Zaszarżował i rozbił Hermann'a. Pozostało mi użyć Stefan i resztki jego zespołu. Zlikwidowałem Heavy Range Attack Squad i Bazooka Joe. Ale to był koniec moich sukcesów, Pounder wspólnie z Rangersami dobił resztki mojej piechoty.
To był koniec tej bitwy, ale wojna w Świecie Dust trwa.
Zverograd Battle Gallery / Galeria Zverograd'owej Bitwy
Post-Battle Report / Raport po Bitwie
Frist of all, Thank you Filip for such a fun, fast and fury battle. I pretty sure, that both armies were more than less equal but my first attack was stupid. I wasn't able to use real power of Christoph, which costed me loss of tactical advantage. I left my walkers without any infantry support. Due to this action Filip could and used to maximum Heavy Rangers abilities (both units). I didn't expected that can lost Ludwig during beginning of second turn which defined next moves.
Po pierwsze dziękuję Filip, za super przyjemną gierkę, która była szybka i dosyć emocjonująca. Co do naszych armii, to są porównywalne. Przyznam, że mój pierwszy atak był głupi. Tym posunięcie odsłoniłem moje pojazdy i jednocześnie nie wykorzystałem mocy miotacza Krzysztofa. Dzięki temu Filip wykorzystał bezwzględnie możliwosci Rhino i Heavy Rangers'ów. Strata Ludwiga zdecydowania zarysowała scenariusz tej potyczki.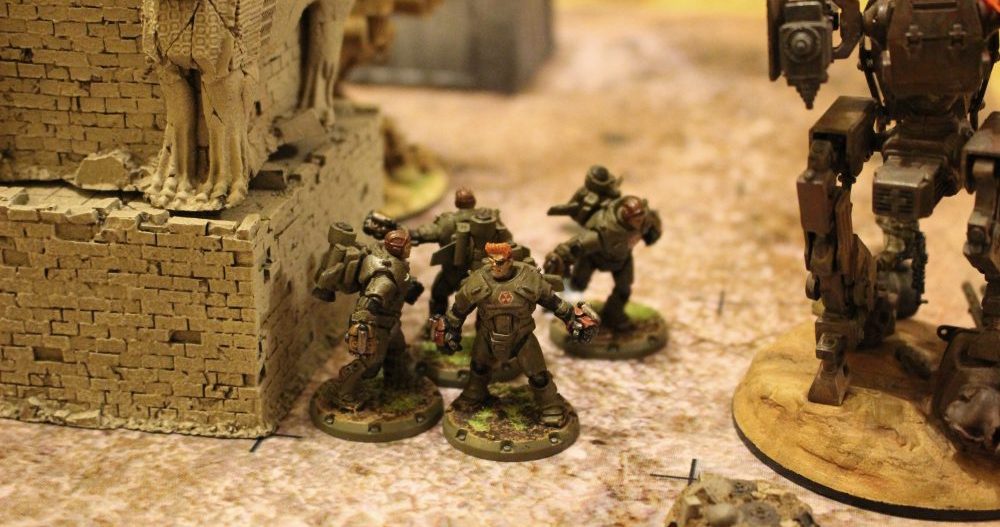 What is crucial Ally forces were little more universal vs. Axis, cause Zverograd starter provides Ally units with range weapons when Rhino units are typical close combat and high maneuverable combo.
Axis were rather prepared for close range attacks with flames but I hadn't any idea how to use it. Moreover Filip known that Pounder isn't best in class anti-tank walker so he left it behind and prepared ambush for my infantry. Finally shoot some of them.
Jednak też warto nadmienić, że armia Aliantów było trochę bardziej uniwersalna. Zverograd daje jej zasięg, kiedy Rhino manewrowość i silne uderzenie w walce wręcz.
Armia Axis tak zmontowana była nastawiona na szybkie zwarcie i walkę w krótkim zasięgu z użyciem miotaczy. No nie udało mi się tym razem. Filip natomiast znając słabość Poundera nie poszedł na bitwę z Ludwigiem tylko wykorzystał go do uderzenia w piechotę z zaskoczenia. No i kilku Niemców ubił.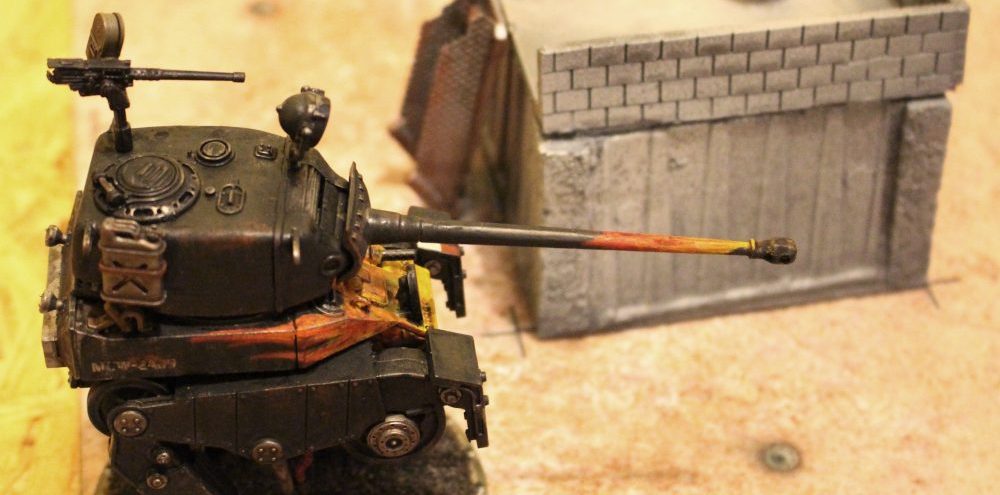 By the way, it's worth to mention that Pounder can be easily switch to Mickey (by shortening of the barrel). Mickey cost little less army points and has grenade launcher which hits ignore cover in exchange for shorten range of attack. That's good switch.
On the other hand Axis set is very good combination if player can effectively use abilities of the Stefan and Christoph. I didn't this time. Also It's good to have Ludwig. Can be deadly if it isn't kill at the start J. Has smoke ability, two big guns and anti-aircraft machine gun. Moreover it's basis for one of better platoons in Axis army (Kampfgruppe Platoon) but it's story for another article.
Warto wspomnieć, że Pounder bardzo łatwo przerobić na inny pojazd tj. Mickey. Moim zdaniem bardziej efektywny dlatego, że ma moździerz strzelający granatami, które ignorują osłonę. Za krótszy zasięg jest dobra zamiana.
Natomiast zestawy piechoty Axis ze Stefanem i Krzysztofem mogą być bardzo groźne. Znam takich, którzy ciągle używają Krzysia. Sam Ludwig, choć nie jest najpotężniejszym pojazdem Axis to może być śmiertelnie groźny dla lekkich i średnich mechów. Do tego ma zdolność stawiany zasłony dymnej oraz KM przeciwlotniczy. Jak go lubię, bo jest również niezbędny do zbudowania chyba najmocniejszego plutony w armii Axis (Kampfgruppe Platoon), ale to już opowieść na kolejny artykuł.
I'm Beginner / Zaczynam
If you consider to start playing Dust1947 combination of "Battle for Zverograd" and two other starters is perfect proposal. Combination of these three boxes provides you roughly 60-70 army points which is enough to have a fun. Moreover you have all needed components for two players.
Kombinacja zestawu "Battle for Zverograd" oraz dwóch innych zestawów startowych to idealny starter do Dust'a. Taka kombinacja da Tobie około 60-70 punktów armii co wystarcza w zupełności na dobry początek. Jednostki, jeśli dobrze wykorzystane, zrobią swoje. Co więcej taki zestaw to komplet wszystkie co potrzeba, aby zagrać we dwóch.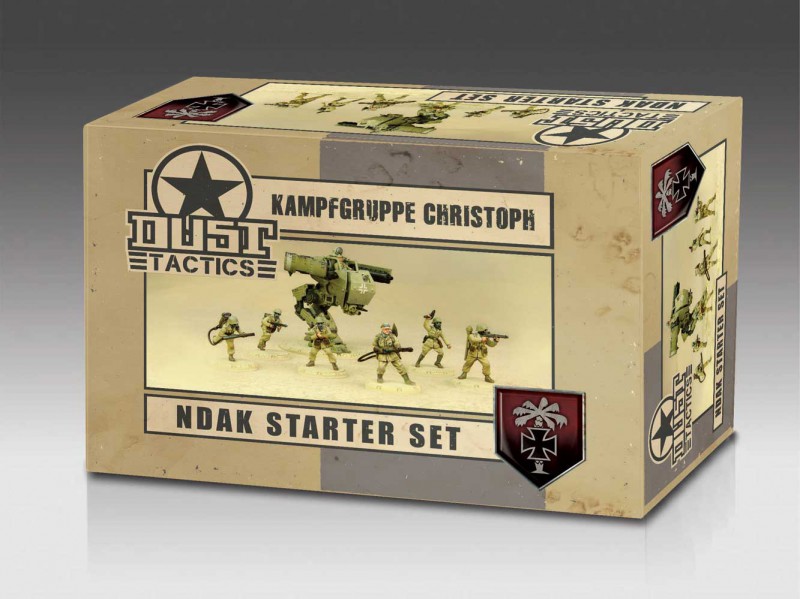 How much it cost? Based on Warfactory.pl offer set (three starters) will cost you 220 euro (2x65eu + 90eu). It's just 110EU per each player. It's worth.
That's all folks. Dust for Ever.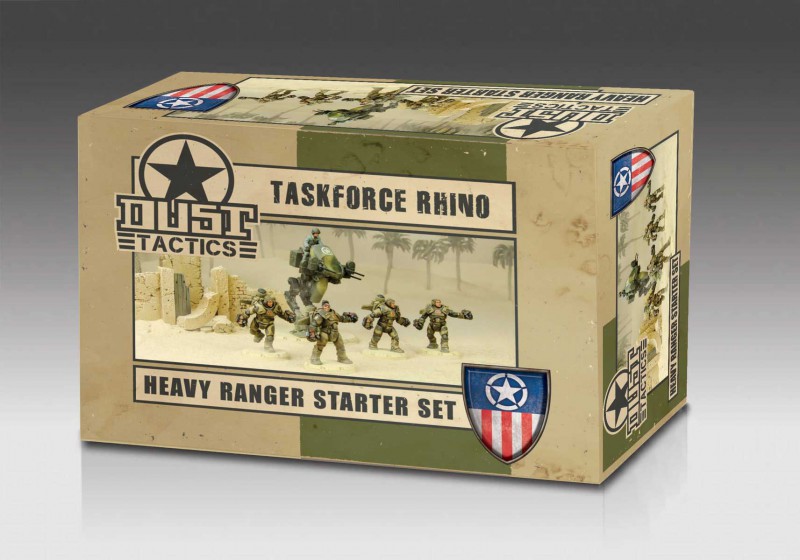 Dobra, a jaka kasa za tym stoi. Jak spojrzysz na ceny na Warfactory.pl to koszt wejścia to 833 zł za trzy startery (2x249zł + 335zł). Czyli jakieś 420 zł od gracza, jakbyście kupowali we dwoje/dwóch. Warto.
To wszystko. Pozdrawiam i do zobaczenia przy stołach bitewnych Dust1947.