30DWF10 – Ulubiona frakcja, którą dowodziłeś lub którą pomalowałeś?
Codziennie jeden post w ramach "30 Dniowego Wyzwania Figurkowego". Drogi czytelniku, wszystkie posty znajdziesz tutaj na jeden klik.
Jedno słowo, jedna frakcja,….
MERCENARIES / NAJEMNICZKI
Odkąd się pojawiły to są zawsze przy mnie.  Choć nie jest to duża frakcja, to jednak wnosi coś świeżego, kobiecego do Świata Dust :).  A te jednostki, która już są to…
Mech Wrecker – Wrecker jest połączeniem walker'a SSU z działkami pochodzącymi z Heinrich'a Axis.  Dodatkowo ma również wyrzutniki dymu (może stawiać zasłony dymne) i zdolność Damage Resilient. A mój Wrecker prezentuje się, jak widać. Więcej o tym mechu znajdziesz tutaj.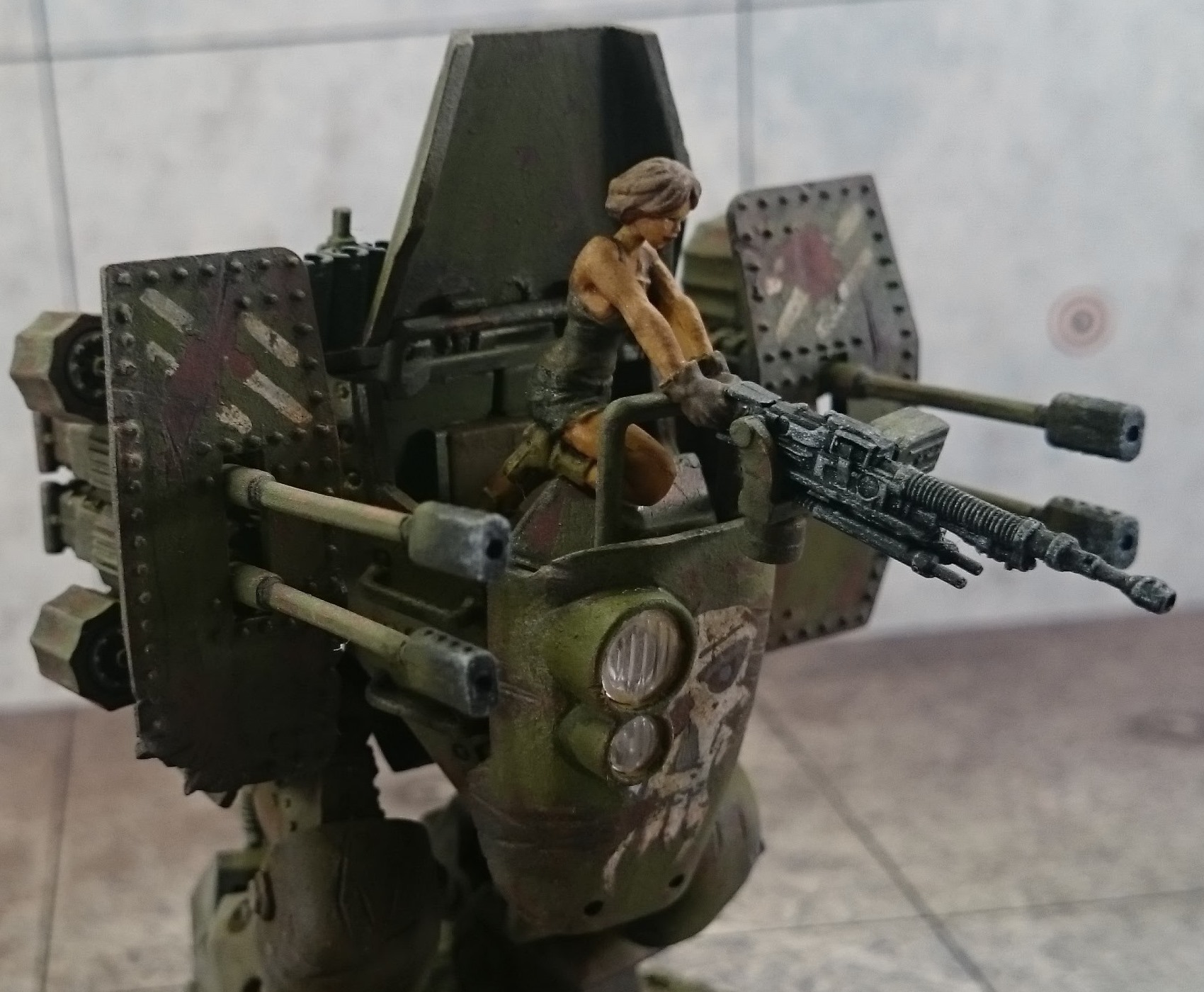 Sisters of Demolition – Zespół pięciu dziewczynek, które bawią się miotaczami i granatnikami. O ich sile stanowi szybkość i zabójcza broń, nawet dla zombiaków. Ale w połączeniu z Tanyą, ich liderką, są niepokonane. Tanya ma potężny karabin i powoduje, że ona i jej team ma zdolność Damage Resilient, gdy stoją na polu, które daje im Cover (osłonę). Moje siostrzyczki poniżej, a więcej o nich tutaj.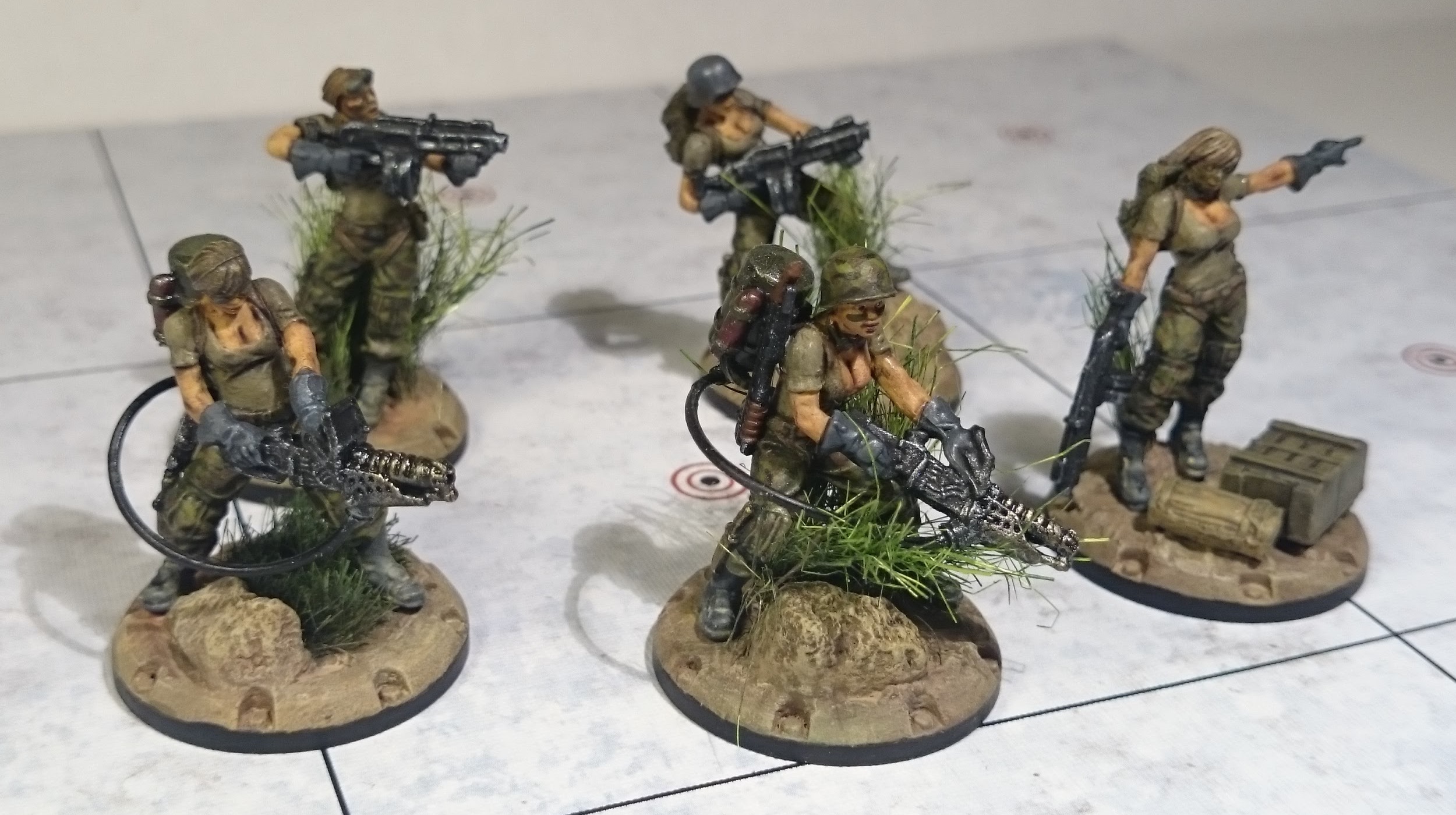 Tanya poniżej. Model pomalowany przez Pawła Makucha (Monstroys).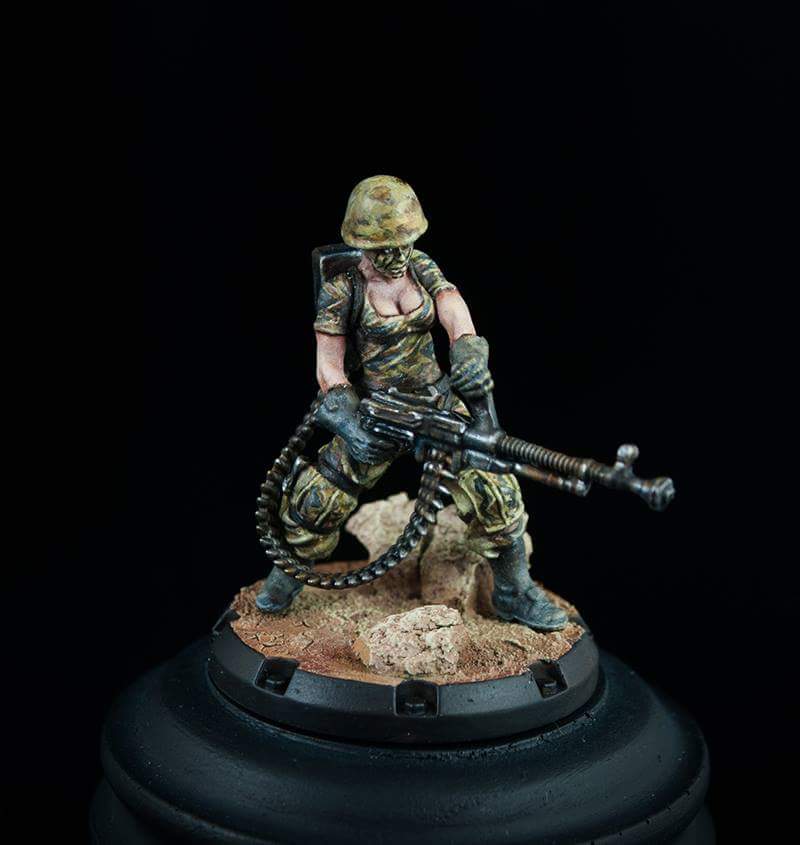 Justine & Co – to zespół mechaniczek, które są sexi, trendi i potrafią naprawić wszystko lepiej niż inni mechanicy 🙂 Moje mechaniczki poniżej i link do artykułu o nich.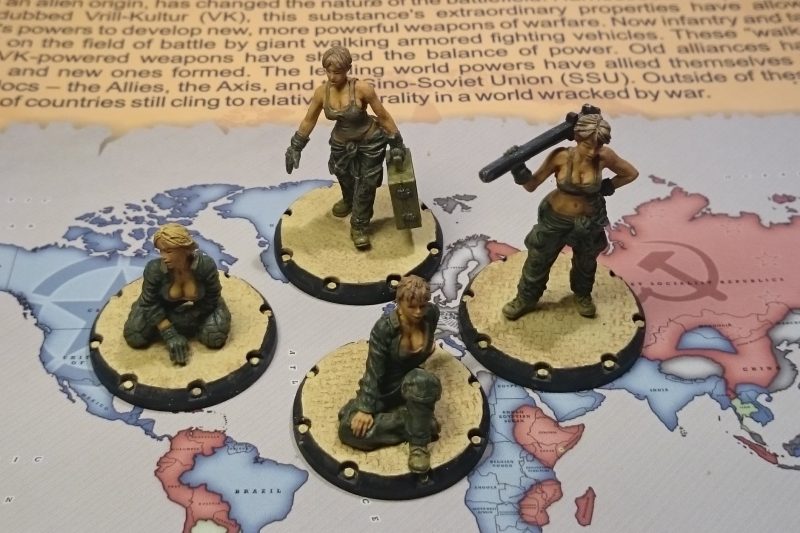 Sisters of Mayhen – trzy laseczki z taczanką SSU, BAR'em od Aliantów i pistoletem maszynowy od Axis. Szybkie i zwinne wsparcie ogniowe (zdjęcie pochodzi ze strony Dust Studio).
Uwielbiam używać je w kombinacji piechoty ze wsparciem Mech'a. Wtedy, pod osłoną dymu robią miazgę. Jak wpadną do budynku lub siedzą w lesie, to jest twardy orzech,….a może cycek do zgryzienia. Doskonały batalion do szturmu na budynki i do walki w lasach oraz terenach, które dają osłonę.
Najemniczki testowałem zarówno w wersji Dust z matą oraz wersji Gridless. Zawsze się sprawdzają, zarówno jako części Zabójczego Batalionu Tiny (na macie) oraz w bitwie, gdzie laserowy batalion AXIS walczył  kontra Zombiaki bez maty w Dust'a 47.
To wszystko, no to dalej do przodu…:)
Excuse me Dear English language followers for posting this series only in Polish. But don't worry, it's about Dust 😉 .
Zapisz
Zapisz
Zapisz
Zapisz
Zapisz
Zapisz
Zapisz
Zapisz
Zapisz
Zapisz