2019 Dust European Championship
Kiedy:
Czerwiec 15, 2019 – Czerwiec 16, 2019
całodniowy
2019-06-15T00:00:00+02:00
2019-06-17T00:00:00+02:00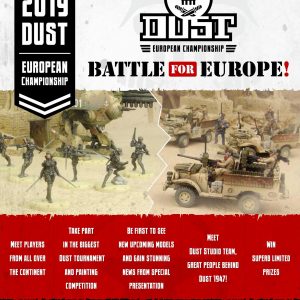 Dusters of Europe and beyond! Rejoice as again we will meet in Poland to fight for the title of European Champion ! 2019 DEC is coming !
15-16 June 2019 in Warsaw, Poland!
Be sure to reserve the date, book plan tickets and get ready for one of the best weekends in your life!
-Meet players from Europe and beyond,facing against them in epic battles!
-Get a special miniature!
-Meet members of Dust Studio crew!
-Take part in painting competition organised by Krzysztof Kaczurba from dustbrothers.pl
-Enjoy the annual Dust Bar Trip after day full of fun and games!
For more info about the event please view the posts in this event or go to our site -> http://euchampionship.warfactory.pl/